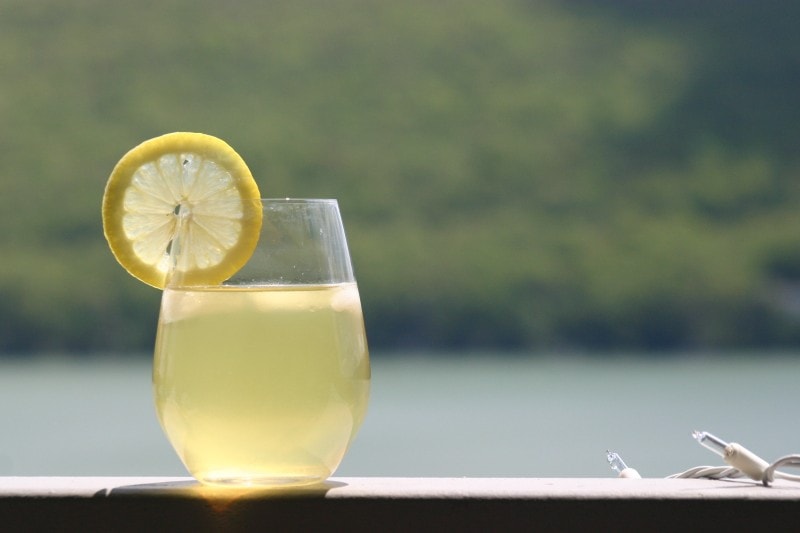 While it is best known for its coffee, Dutch Bros has an impressive range of lemonades on offer. You can even make your own creation using any of the brand's syrups. You can add a dash of tea, an extra drizzle of syrup in or on the drink, and can even have a soft top, which is a buttermilk froth.
None of the true lemonades have caffeine except for green tea lemonade or if you choose to add tea or coffee to your drink. Also, no matter how many flavors you choose to add, your lemonade has a single shot of syrup added, which means that all flavor combinations have the same 56 milligrams of sugar per medium serving, which is about the same as you get in a can of your favorite soda.
As well as giving you the option to dream up your own concoction, Dutch Bros does have a selection of ideas for you to choose from, including the 19 lemonades below.

Top 19 Dutch Bros Lemonade Drinks:
Typically, Dutch Bros lemonade is served iced. Effectively, it's a carbonated lemonade with a shot of your chosen syrup and any extras added, with a load of ice. You can also opt to have it blended. Blended lemonades include the same ingredients but are blended to give the drink a smoother consistency.
1. Aquaberry
| | |
| --- | --- |
| Flavors: | Blue Raspberry, Kiwi, Strawberry, Watermelon |
Aquaberry lemonade gets its name from the fact that it combines watermelon and kiwi, strawberry, and blue raspberries. It has a sweet, slightly bitter taste and is a refreshing choice.
---
2. Astronaut
| | |
| --- | --- |
| Flavors: | Almond, Blackberry, Raspberry |
Presumably, the Astronaut is so-called because it's out of this world. It combines the berry flavors of blackberry and raspberry with the nuttiness of almond for a lemonade that's a little bit different from the norm.
---
3. Blue Raspberry Lemonade
Blue raspberry lemonade is popular for its color, as well as for its refreshing and slightly bitter flavor. If you want even more of a fruity kick, you can have a blue raspberry drizzle added to the top of the cup.
---
4. Dragon Slayer Lemonade
| | |
| --- | --- |
| Flavors: | Blue Raspberry, Raspberry, Blackberry Drizzle |
This berry-heavy lemonade has blue raspberry and raspberry syrup in the lemonade with an extra blackberry drizzle on top to inject even more fruity flavor.
---
5. Eclipse Lemonade
| | |
| --- | --- |
| Flavors: | Passion Fruit, Peach, Blackberry Drizzle, Blue Raspberry Drizzle |
The Eclipse has a tropical base with passion fruit and peach-flavored lemonade. Blackberry and blue raspberry drizzles give it a berry topping. If you drink it through a straw, you get the tropical flavors first with the acidic berry kick at the end.
---
6. Electric Berry Lemonade
| | |
| --- | --- |
| Flavors: | Blue Raspberry, Lime |
Electric Berry Lemonade combines the shocking color of the blue raspberry with a citrus lime kick to give you a lemonade with a kick.
---
7. Fire Lizard
| | |
| --- | --- |
| Flavors: | Banana, Orange, Strawberry |
The sweetness of strawberry, the acidic kick of orange, and the smooth filling texture of banana make up the Fire Lizard: another popular Dutch Bros lemonade flavor combination.
---
8. Green Tea Lemonade
Green Tea Lemonade is refreshing in several ways. You get the sparkling fizz of lemonade as well as the antioxidant-rich, mild caffeinated kick of green tea.
---
9. Laser Cat
| | |
| --- | --- |
| Flavors: | Coconut, Raspberry |
Coconut has a slightly nutty flavor and is sweet, which adds to the sweetness of the raspberry syrup in the Laser Cat Lemonade.
---
10. Lemonade
The plain lemonade flavor is refreshing and, whether iced or blended, it's a cool and pleasant drink. Not only does this form the basis of all of Dutch Bros' lemonades but it is a popular drink in its own right.
---
11. Palm Beach Lemonade
| | |
| --- | --- |
| Flavors: | Peach, Pomegranate |
Palm Beach Lemonade is peach and pomegranate flavored and it tastes great as is, but during certain times of the year, some stores will also add a real fruit topper, at which point the drink becomes known as a High Dive.
---
12. Palm Tree Lemonade
| | |
| --- | --- |
| Flavors: | Lime, Passion Fruit, Pomegranate |
Lime is a great flavor for lemonade because lemon and lime complement one another so well, but the lime drizzle adds a little bite to the beverage. The Palm Tree Lemonade takes advantage of this bite and adds passion fruit and pomegranate fruitiness to the mix.
---
13. Passion Water
| | |
| --- | --- |
| Flavors: | Passion Fruit, Watermelon |
Passion water is a combination of passion fruit and watermelon flavors. Like any of the lemonades here, it can be customized with the addition of a drizzle on top of the drink.
---
14. Ray of Sunshine
| | |
| --- | --- |
| Flavors: | Blackberry, Grapefruit, Peach |
The Ray of Sunshine contains grapefruit and peach with blackberry, giving it a sweet flavor that refreshes the pallet.
---
15. Stop Light
| | |
| --- | --- |
| Flavors: | Kiwi, Passion Fruit, Pomegranate |
The kiwi, passion fruit, and pomegranate flavors in the Stop Light give it the three colors of a traffic light, as well as a lemonade zing.
---
16. Strawberry and Pineapple Lemonade
| | |
| --- | --- |
| Flavors: | Pineapple, Strawberry |
Strawberry and Pineapple Lemonade is one of Dutch Bros' favorites. It takes a strawberry lemonade and packs it with a little more fruit punch by adding tropical pineapple syrup.
---
17. Strawberry Lemonade
Strawberry Lemonade is fresh and refreshing, whether you have it iced or blended. And, if there isn't enough strawberry flavor for you, you can always add a strawberry drizzle on top.
---
18. Tiger's Blood
| | |
| --- | --- |
| Flavors: | Coconut, Strawberry |
Tiger's Blood cocktails are quite common in bars and restaurants, and the Tiger's Blood Lemonade at Dutch Bros has the same bright red blood color and the same combination of coconut and strawberry to give an exotic flavor.
---
19. Tropical Lemonade
| | |
| --- | --- |
| Flavors: | Blue Raspberry, Coconut, Passion Fruit |
A combination of the tropical flavors of blue raspberry, coconut, and passion fruit, gives this Tropical Lemonade its name, and it will remind you of holidays on the beach.

Conclusion
Lemonade is a refreshing drink that is naturally caffeine free, although you can add a caffeine kick by incorporating tea or coffee. At Dutch Bros, you can choose from any of the company's syrups and sauces and mix these with their lemonade blend. The drink can be served iced or blended with ice, and you can add a drizzle or cream to the top for a truly unique drink.
Above are some of the best Dutch Bros lemonades, but part of the joy in this range of drinks is creating your own unique combination.