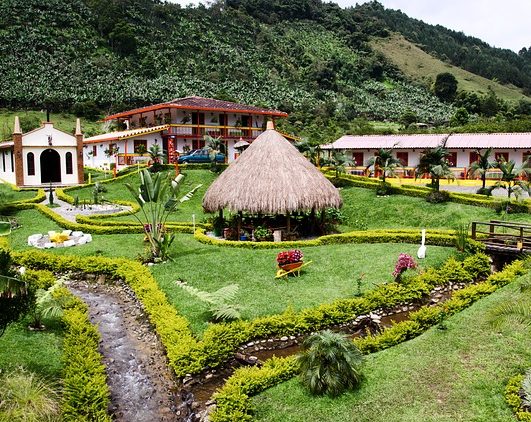 With a landscape dominated by small family farms, Colombia is home to nearly half a million coffee-growing families. As the world's third-largest producer of coffee, it's also the top producer of high-quality Arabica coffee. With an ideal climate prime for producing luscious beans, coffee isn't just a crop in Colombia –  it's a way of life.
Arabica beans, generally considered to be the very best, have a mild, sweet taste caressed with light undertones and pleasant acidity. Colombia produces 100% Arabica beans. Since you know all of Colombia's beans are fairly high-quality, which brand should you choose? We're providing our top ten reviews of our favorite Colombian coffees to give you some guidance.
---
Comparison of our Favorites in 2023:
Image
Product
Details

Best Overall

Volcanica Supremo

Smooth flavor
Nutty aroma
Pleasant acidity

Cooper's Cask Dark Roast

Fair Trade and single-origin
Low acidity and strong flavor
Dark and aromatic, with notes of cocoa and fruit

AmazonFresh

Economical
Citrus aroma
Full-bodied

Juan Valdez Organic Fairtrade

Pleasant acidity
Strong aroma
Organic and Fair Trade certified

Blackwelder

Sweet aroma
Balanced acidity
Roasts day of shipping
The 10 Best Colombian Coffees:
1. Volcanica Supremo Colombian Coffee – Best Overall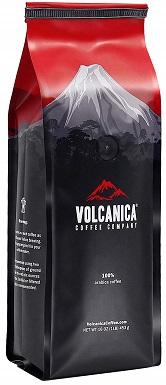 *Use code AFFECTION12 at checkout
Volcanica Colombian Supremo Coffee is grown in the volcanic soils of the Colombian Andes and imported to Atlanta, Georgia, where these beans are roasted to a medium finish. This rich coffee has a delicious aroma and a smooth finish that will start your day off right.
However, with its full-bodied profile, it may taste more like a dark roast. For those looking to satisfy a true medium taste, this one will be overpowering.
Although this gourmet brand is somewhat pricey, it may appeal to the environmentally-minded as it is Fair Trade and Rainforest Alliance certified.
All in all, we think Volcanica's Colombian Supremo is the best Colombian coffee available this year.
Pros
Smooth flavor
Nutty aroma
Pleasant acidity
Fair trade & Rainforest Alliance certified
Cons
On the dark side of medium roast
---
2. Cooper's Cask Colombian Dark Roast Coffee
Our runner-up is the Colombian Dark Roast from Cooper's Cask. These Fair Trade, single-origin beans are dark and aromatic, with notes of chocolate and fruit. This pick delivers a true, consistent dark roast with low acidity and a cocoa-toned finish. The sweet aroma will have you smiling into your cup.
If you know Colombian coffee as having a mild flavor, this roast may be a bit more bitter than you're expecting. But if you like dark roasts, we think you'll be pleased with this complex coffee.
Pros
Fair Trade and single-origin
Dark and aromatic, with notes of cocoa and fruit
Low acidity and strong flavor
Cons
May be too dark or bitter
---
3. AmazonFresh Colombia Whole Bean Coffee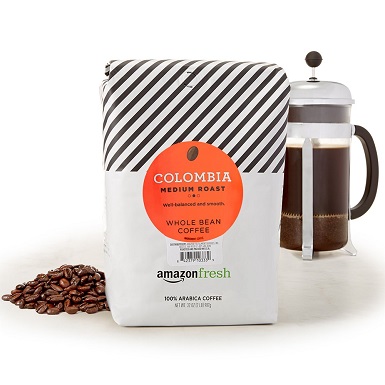 AmazonFresh Colombia Coffee offers a light citrus aroma to start our day and will have you refilling quickly. It has sweet notes of chocolate and brown sugar with low acidity. With a favorable price and a flavor-rich conveyance, this is a good value for the money.
This medium roast has balanced flavor, yet does land on the softer side of spectrum. For those looking for a bolder, medium roast, this choice may not satisfy the craving.
Priced for those on a budget, this pick is noted as being an everyday choice for many. If you're seeking a go-to blend, subscribe-and-save is an option that will leave a few more dollars in your wallet.
Pros
Economical
Citrus aroma
Full-bodied
Smooth finish
Low acidity
Money-back guarantee
---
4. Juan Valdez Organic Colombian Fairtrade Coffee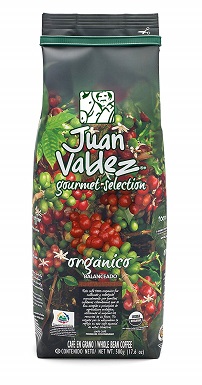 Known to many as the father and face of Colombian coffee, Juan Valdez has a reputation for unmatched consistency and broad appeal to the masses. This Juan Valdez Organic Colombian Fairtrade Coffee is a medium roast with a strong aroma that is sure to get you moving in the morning. It has little acidity and bitterness making this a perfect match with the straight black coffee drinker.
If you're looking for a robust profile, you may be disappointed with the milder flavor of this medium roast, especially with its higher price tag. If you are underwhelmed by the flavor, at least it's available in a ten-ounce size.
Pros
Pleasant acidity
Strong aroma
Rich flavor
Organic and Fair Trade certified
---
5. Blackwelder Coffee Whole Bean Colombian Coffee
If you're looking to wake up to a sweet aroma, welcome to our next choice, Blackwelder Medium Dark Roast Colombian Coffee. It's a family-owned business of Californian micro artisans roasting who offer same-day shipping. This pick is a single-origin coffee noted as a smooth breakfast coffee. It has chocolate and orange tinges combined with enough strength to have you coming back for a refill.
For the coffee lover who desires a bold, strong flavor with the added bite, this sweet coffee may not hit the right spots. This brand is also on the pricier side of one-pound purchases; however, if you do like this choice, it is less expensive than the five-pound purchase.
Pros
Sweet aroma
Rich flavor
Balanced acidity
Roasts day of shipping
Cons
Slightly expensive
Too mild
---
6. Fresh Roasted Coffee LLC Dark Colombian Supremo Coffee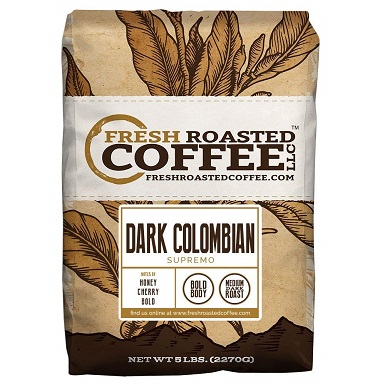 With a darkness similar to a French roast, Fresh Roasted Coffee LLC, Dark Colombian Supremo Coffee, delivers a robust body with a smoky flavor and no harsh edges. This budget-friendly choice is noted as having undertones of honey and cherry.
If you prefer a bit of a milder tone to your cup of Joe, this true dark roast will not fit the bill. However, if you're a French roast lover, this bean may be more to your liking. Although at an affordable price, the smallest size is a two-pound bag.
This brand prides itself on the quality of care and integrity when it comes to sourcing.  Noting the company's commitment to the next generation, it's certified Direct Trade, Fair Trade, Rainforest Alliance, and USDA Organic.
Pros
Affordable
Robust body
Sweet notes
USDA Organic & Fair Trade certified
---
7. Don Francisco's Colombia Supremo Whole Bean Coffee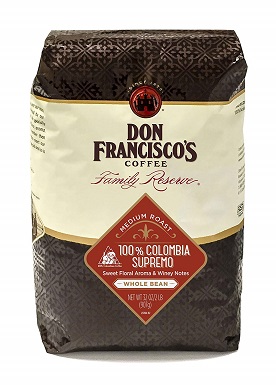 As a brand with 140 years under its belt, we have Don Francisco's Colombia Supremo Whole Bean coffee. If you're searching for that satisfying cup of "just right" medium roasted coffee, our number seven review may be where you land in your search. With a sweet aroma and tangy notes, it provides a bold, rich flavor.
If you're a straight black coffee lover, this one may seem a little harsh and have a sour aftertaste. However, with the affordable price, it's a popular choice for everyday coffee lovers.  Take note that if you decide to try these beans, the smallest size available is 32 ounces.
Pros
Affordable
Sweet aroma
Tangy notes
Cons
Sour aftertaste
Slightly acidic
---
8. Koffee Kult Colombian Huila Fresh Coffee Beans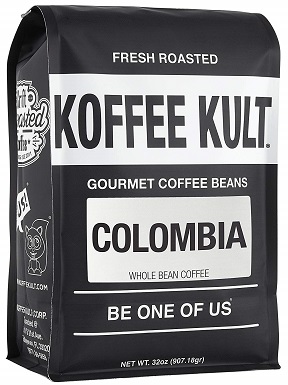 Koffee Kult Colombian Huila has an excellent aroma and works well for espresso. With a sweet finish and no bitterness, this is brand has a cult following. It's a bold choice with a medium roast. If you do decide you love this option, you may feel the urge to do a hula dance, but if you're curious about the name, Huila, pronounced [wee – la] refers to the Colombian region where the beans are grown.
Some coffeeholics have noted that this roast is too light and packs a weak flavor. As one of our most expensive picks, its price keeps this one further down on our list.
Customer service is a high priority for this family-run business and it hasn't gone unnoticed. As for the price, this coffee comes with a money-back guarantee, in case it doesn't suit your taste.
Pros
Bold aroma
Smooth flavor
Money-back guarantee
---
9. Peet's Coffee Colombia Luminosa – Best Pre-ground
For quick and easy brewing, Peet's Colombia Luminosa is our choice for best ground Colombian coffee. "Luminosa" means bright or full of light, and this gentle roast lacks a bitter bite – an ideal choice for a smooth breakfast coffee. This selection has a slightly sweet flavor that is not overpowering.
On the downside, it lacks the nuttiness that is typically expected with a light roast. Although we consider it the best ground Colombian coffee choice, it's also the most expensive on our list and comes in a pack of two 12-ounce bags.
Pros
Mild flavor
Smooth finish
Delicate aroma
---
10. Cubico Coffee Colombia
From a single source, Cubico Colombia coffee is grown in the mountain region, Narino, located in southwest Colombia. This coffee producer has 15 farms and is a member of the "Million Pesos" Program that's unique to Colombia. In the program, producers are paid double the price for high-quality coffees.
This medium roast features an intense citrus-tinged flavor with sweet undertones. With its complex profile, it may not meet the expectations of a coffee lover who wants the chocolate hit of a hearty, robust flavor.
Pros
Unique profile
Rich aroma
Cons
Slightly expensive
Acidic
Not suitable for those with sensitive stomachs
---
Factors to Consider When Picking the Best Colombian Coffee
Now that you've read through our list of the best Colombian coffee on the market, it's time to start shopping. But if you're still not sure which you'll like best, we've put together this handy buyer's guide to help you choose. A few things you want to consider when choosing Colombian coffee beans are: grind, origin, roast, and company ethics.
Grind
Ultimately, whether you purchase whole bean or ground coffee will come down to personal preference and lifestyle. Because oxygen reacts with ground beans and causes them to lose flavor, buying whole beans and waiting to grind them until you're ready to brew provides the freshest and most flavorful cup of coffee. It's a completely different experience.
Origin
Understanding the different regions in Colombia will help you better understand the coffee bean. Different regions have different altitudes, temperatures, wet and dry seasons, and harvest times. With a wide array of distinctive coffees available, understanding the differences will ensure you find the bean you'll love. If you're interested, do your research and learn a little geography in Colombia. Then start shopping for the best Colombian coffee from your new favorite region!
Roast
Colombia produces 100% Arabica beans, typically considered a superior variety. Generally speaking, Colombian coffee is known for its sweeter taste, lower caffeine content, and stronger acidity. The final flavor of a bean will depend on the region where it was grown and how it was roasted. As with any coffee, you may have to play trial and error. A lighter roast may be too mild, a dark roast may be too bitter, and everything in between is considered a variation of a medium roast. So just have fun with the process!
Company Ethics
With the creation of the National Federation of Coffee Growers of Colombia in 1927, the coffee growers' interests are protected nationally and internationally. This organization was born out of the growers' need to improve their quality of life and ensure coffee is grown sustainably. If environmental ethics are important to you, many companies are offering organic and fair trade certified options and support quality practices to benefit the growers. Read more about the companies to determine which ones will align with your ethics.

Conclusion
If you've never tried Colombian coffee and decide you want to add a little culture to the start of your day, hopefully, you have a better idea of where to start with our reviews of our top ten choices. If you're looking for the best Colombian coffee brands, here are our two cents:
Our top choice is Volcanica Coffee Colombian Supremo, with its smooth flavor and nutty aroma. Our runner-up is the Cooper's Cask Colombian Dark Roast, a dark, aromatic bean with a chocolatey finish. Lastly, our best ground coffee pick is Peet's Coffee Colombia Luminosa, which has a mild flavor and a delicate aroma.
Whichever one you choose, you'll also want to pick a great brewing method. Keep it fun and happy brewing. We truly hope that you find the best Colombian coffee for your tastebuds!