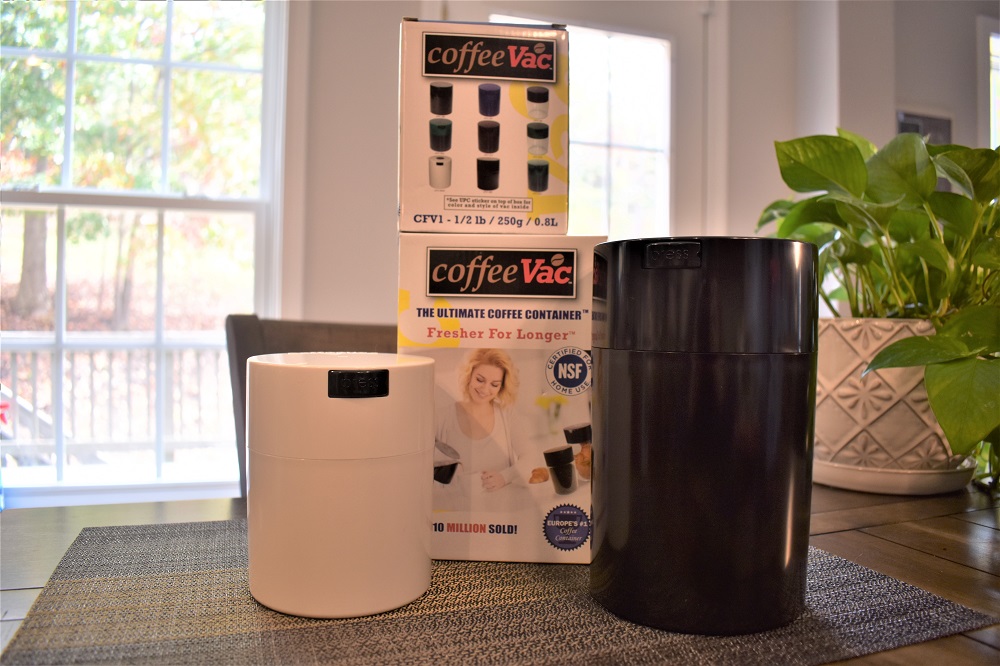 Our Final Verdict
We give the Coffeevac coffee container a rating of 4.7 out of 5 stars:
Build Quality
Airtight Storage
Freshness
Price
Coffeevac Coffee Container: Review Summary
This storage canister is geared toward the coffee lover who wants to keep coffee grounds or beans fresh. It's designed with a patented vacuum seal system to keep contents fresh for as long as possible. Proper storage is essential in protecting the value of a coffee lover's coveted beans because it's widely known in the coffee community that the freshest beans produce the most delicious cup of coffee.
These containers are brought to you by Tightpac America Inc., which offers a large selection of airtight containers. The company has two patented vacuum systems that assist in storage for a variety of consumer goods. Additionally, these storage containers are recyclable and made with NSF- and FDA-approved plastic (PS #6).
Coffeevac – A Quick Look
Pros
Easy to use
Compact
Light
Durable
Cons
Hand-wash only
Dry storage only
Easy to Use
We tried this out to see just how easy it is to use, and it's as simple as it looks. Press the button on the cap and pull it up. Pressing the button releases the vacuum. Add your dry goods, place the cap on the container, and press the button while pushing the cap down. Release the button, and pull up slightly on the cap to engage the vacuum.
---
Size
These containers are available in 8-ounce and 16-ounce sizes, as well as a variety of colors.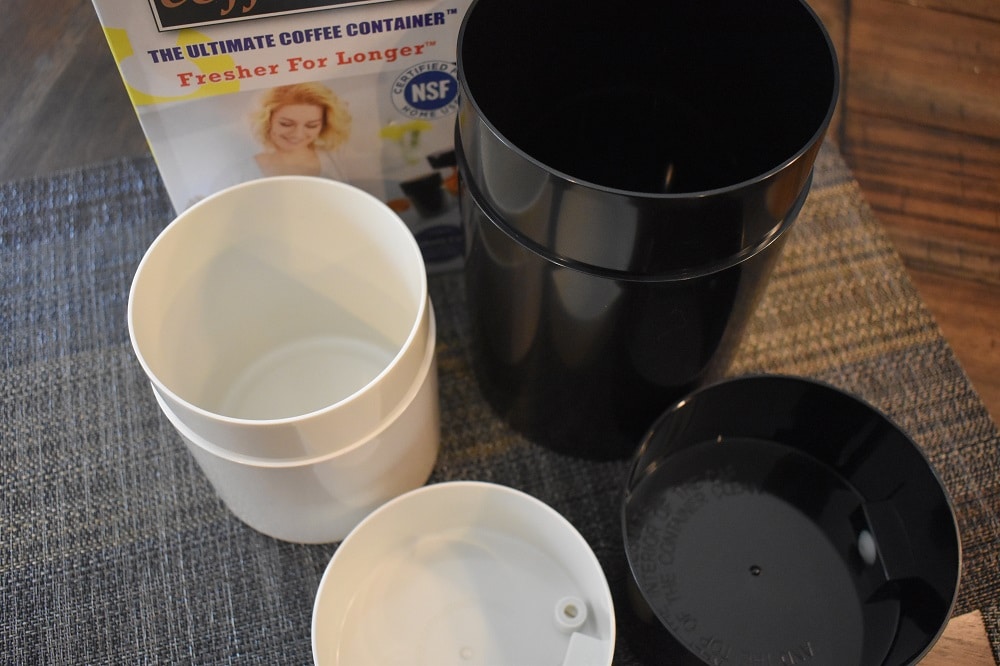 Cleaning
These containers are hand wash only. Be sure to keep the lid and seal clean and free from debris to ensure an adequate vacuum seal.

Our Conclusion
The Coffeevac is convenient and sturdy for anyone needing to store dry goods. It's a great product for storing coffee and can also be used for tea or other dry goods like nuts, snacks, crackers, and cookies. The downsides? It can't go in your dishwasher, and you won't be able to store liquids. Still, if you're willing to hand-wash and want a good coffee storage container, give the Coffeevac a try! And if you're wondering about your brewed coffee, learn how long it stays good.

Frequently Asked Questions
What comes in the box?
The Coffeevac arrives assembled in the box. Taken apart, it consists of a lid and the container body.
Is it vacuum sealed?
The patented system creates a partial vacuum. After you place the top on the container and press the button, you pull the top up to create the vacuum. The volume of air removed is equal to the size of the cap, and this is enough to keep dry goods fresh for extended periods.
Are Coffeevacs smell proof?
The vacuum system allows goods to de-gas through a one-way valve while not letting oxygen in; however, stronger odors may leak during de-gassing. It's recommended to keep medicinal herbs in a storage bag inside the Coffeevac to contain their heavy smell.
Are Coffeevacs durable?
Yes, the containers are made with sturdy plastic (PS #6). If your delivery person tends to throw your packages onto your front porch or the container otherwise arrives damaged, the manufacturer will replace it.
Can I put it in the dishwasher?
No, the containers are hand-wash only.