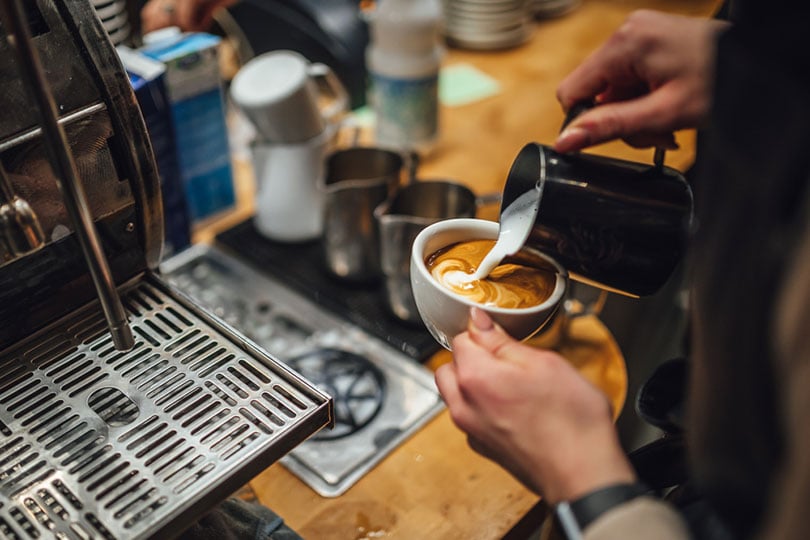 Whether you're just passing through or relocating to St. Petersburg, Florida, if you're a coffee addict, then the first thing you want to know is where the best coffee shops are to get your morning cup of Joe.
From coffee shops downtown to charming coffee cafés on the beach, there's a lot to be said about the fragrant mugs of coffee, lattes, and even summery drinks you can find at the coffee shops in St. Petersburg.
In this list, we'll give you our picks for the top 9 best coffee shops in St. Petersburg, Florida, as we see them.

The 9 Best Coffee Shops in St. Petersburg, Florida
1. Bandit Coffee Co.
The Bandit Coffee Co. is a trendy little shop that features an airy, open atmosphere for its customers. The café has ten different coffees to choose from, including lattes, cappuccinos, pour overs, espressos, and more. The shop even offers a subscription service, so if you love their coffee, you can have beans delivered to your home.
Bandit Coffee has seasonal offerings as well, so don't forget to order an autumn-themed latte and some food from the kitchen. Then, take a little time to unwind by drinking it in front of one of the massive windows the establishment offers.
---
2. Black Crow Coffee Shop
2161 1st Ave S
722 2nd St. North
The Black Crow Coffee Shop has two different locations in St. Petersburg and has something of a cult following. Either location has amazing coffee and a laid-back atmosphere. This shop is considered to be a hidden gem, situated in the historic Old Northeast section of the area.
The café is surrounded by historic houses and charming brick roads, making it the perfect setting to sip a morning cup of coffee while you take in the scenery. Don't forget to take in the art by local artists on the walls and enjoy the cozy feel of the place while you're sipping on a cold brew or waking up with a flavored coffee and pastry. At the Black Crow Coffee Shop, everyone will feel at home.
---
3. Gypsy Souls Coffeehouse
Gypsy Souls Coffeehouses' claim to fame is that they source their beans from everywhere, including Tanzania, Brazil, Peru, and Indonesia. So you're guaranteed to get a cup of Joe that will transport you around the world with the unique taste of the roasted beans. They roast their beans almost daily and always in-house, so the coffee you get is going to be fresh and fragrant.
If you enjoy taking your laptop to the coffee shop for peace and quiet to get work done, then the many seats and calm atmosphere will certainly fit your needs.
The coffeehouse offers different varieties of coffee, and you can even purchase beans to take home to make your own coffee in the mornings. We recommend the Brazilian light roast, as it has just a touch of cinnamon flavor you're going to love. Don't forget to order a sandwich for the complete experience.
---
4. Kahwa
204 2nd Ave S
475 2nd St N
Kahwa coffee is made of only the highest quality ingredients. So no matter what your palate is in the mood for, Kahwa has a coffee blend that caters to your needs and gives you that coffee buzz you crave.
This is another shop that sources its coffee beans from all around the world. However, the beans are ground daily, so you'll always get fresh, fragrant coffee in your cup. Kahwa has two downtown locations for you to visit. Both locations have a quaint, cozy feel and offer a great cup of coffee.
---
5. Intermezzo Coffee & Cocktails
If you love a great mug of coffee but occasionally enjoy a well-made cocktail as well, then Intermezzo Coffee & Cocktails is your type of coffee shop. Stop in at any time during the day for a fragrant cup of Joe, then come back at night after the menu changes to enjoy a mug of beer, a glass of wine, or a well-made cocktail.
The environment is chic and minimalist, and the drinks are trendy. Come for the delicious coffee, then stay for the amazing cocktails. You'll be glad you did.
---
6. Driftwood Kava and Roastery
Driftwood Kava and Roastery is a great place to just chill with friends or a quiet place to get some work done. The interior of the shop is rustic and has a modern yet warm vibe. This atmosphere makes it perfect for sipping coffee and tasting the incredible food Driftwood creates.
The coffee is roasted right inside the café, so it always smells great in there, and you're guaranteed that the coffee you drink is fresh.
---
7. Craft Kafé Downtown
200 Central Ave
6653 Central Ave
Craft Kafé Downtown is located in the hustle and bustle of downtown St. Petersburg. If you want to take a break from all that hustle and bustle, then stop in for a cup of coffee and a poppyseed cake. Everything is gluten-free at Craft Kafé Downtown, and you can indulge in a guilty pleasure without the guilt.
The café offers everything from cold brews to shots of espresso, along with the specialty drinks they have on the menu. They even make their own almond milk, so what's not to love about that?
---
8. Beans & Barlour
Beans & Barlour is known for being open after other coffee shops in the area have closed up shop for the day, which means you can get a specialty drink or coffee almost all the time. In the mood for a boozy dessert drink? This shop has it, along with some amazing desserts.
They offer crème Brule, which you can crack into your coffee, cappuccinos, and more. If you have a cramming session scheduled for an exam the next day or if you're up against a deadline for work, this is the coffee shop to come to for not only interesting company and an entertaining atmosphere but also to get that jolt of caffeine no matter what time of night it is.
---
9. Paradeco
If you're looking for an adorably cute coffee shop to spend time in while you sip a fragrant mug of coffee, then Paradeco is where you want to be.
Paradeco is decorated with a blend of paradise and a touch of art deco, and this adorable location is one of the hottest spots around at the moment. Our favorite menu item is the avocado toast and anything that's made with the creamy oat milk. If you're looking for ambiance, good food, and great coffee, come on in and give them a try.

Final Thoughts
These are just a few of the great coffee shops that you'll find in and around St. Petersburg, Florida. Whether you're a full-time resident, a tourist, or someone just passing through, you'll be sure to find great coffee, great food, and great company in any of these fine coffee shops.
---
Featured Image Credit: Aleksandrs Muiznieks, Shutterstock