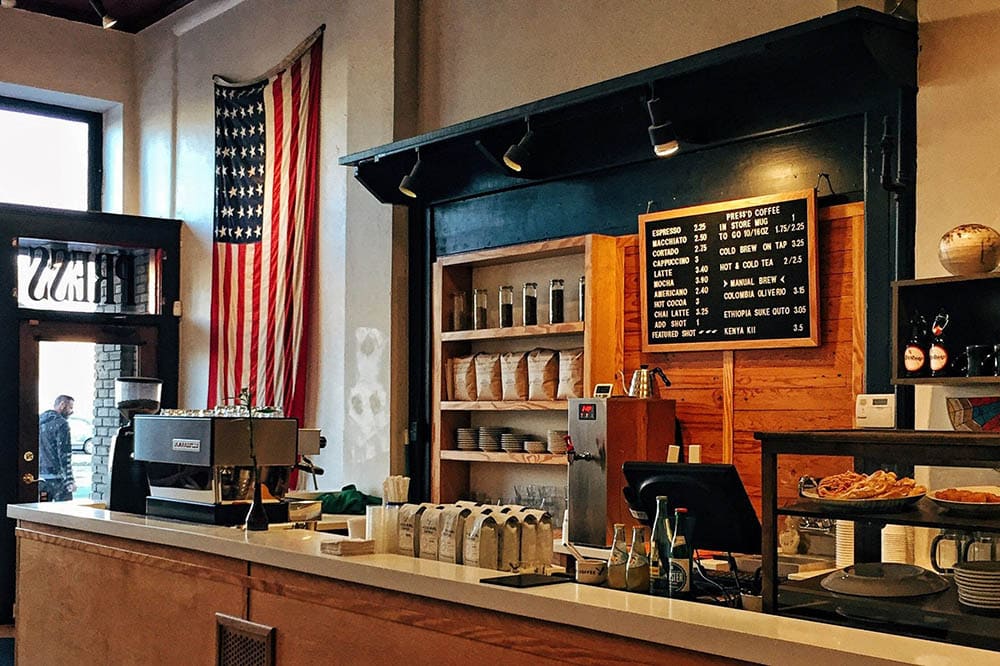 Nestled in between National City and Tijuana, Chula Vista is the second-largest city in the San Diego metropolitan area and the seventh largest in California.
Alongside quality coffee, Chula Vista is also serving up culture.
The next stop after Chula Vista is Tijuana, Mexico. Being located so close to a coffee-producing country means rich coffee culture. Both border towns offer up unique drinks like Mexican spiced coffee, often known as Cafe de Olla.
If you find yourself in or around San Diego, Chula Vista is worth a visit – for its coffee and its culture.

The 6 Best Coffee Shops in Chula Vista
1. The Rambler Cafe
225 Bay Blvd, Chula Vista, CA 91910
The Rambler Cafe is a hipster foodie's paradise and for good reason. Attached to the trended and newly converted motel, the Rambler, this cute little cafe is more than just a hotel coffee kiosk.
Try out their selection of classics or go for a custom iced or blended drink if you're feeling adventurous. Even better? They have a gorgeous patio for enjoying the SoCal sunshine while you sip your drink.
---
2. Heave Ho Coffee Roasters
2240 Main St. Unit 22 Chula Vista 91911
Heave Ho may be a small operation, but it's got a big flavor. This small batch roastery is run by two brothers who not only roast but serve up coffee in this roastery/cafe hybrid.
Featuring the roaster right in the cafe, Heave Ho is a great place to grab a brew while sneaking a behind-the-scenes look at the coffee roasting process.
---
3. Grindhouse
260 1/2 Third Ave. Chula Vista, CA 91910
While coffee is their specialty, Grindhouse serves up more than one kind of brew. With beer and wines on the menu, you can easily transition from daytime fun to nighttime hangs.
Not to mention, their lunch menu hits the spot!
---
4. Brew Bar
277 3rd Ave Chula Vista, CA 91910
Brew Bar may be a vegan's paradise, but it hits just right for non-vegans, too! Serving up Stumptown Coffee Roasters, this little cafe has amazing drip coffee, as well as other options with house-made syrups galore.
---
5. Cool Down Coffee
750 E St, Chula Vista, CA 91910
Cool Down Coffee is family-friendly and all about feeling good. Whether you're into a healthy lifestyle or like to support ethical companies, this is the cafe that will help you do both.
With a wide variety of blended drinks with and without espresso, there is something for everyone. Of course, we'll always be choosing the ones with espresso!
---
6. Caffe Tazza
374 E H St, Chula Vista, CA 91910
If you're looking for a taste of Chula Vista, Caffe Tazza just might be the place. Serving up brews since 1994, Caffe Tazza is an old-school spot.
Their traditional Hot Mexican Mocha is the star of the menu, but you won't be hard-pressed to find a drink to suit every occasion!
Looking for more coffee shops?
---
Featured Image Credit: Ian Baldwin, Unsplash