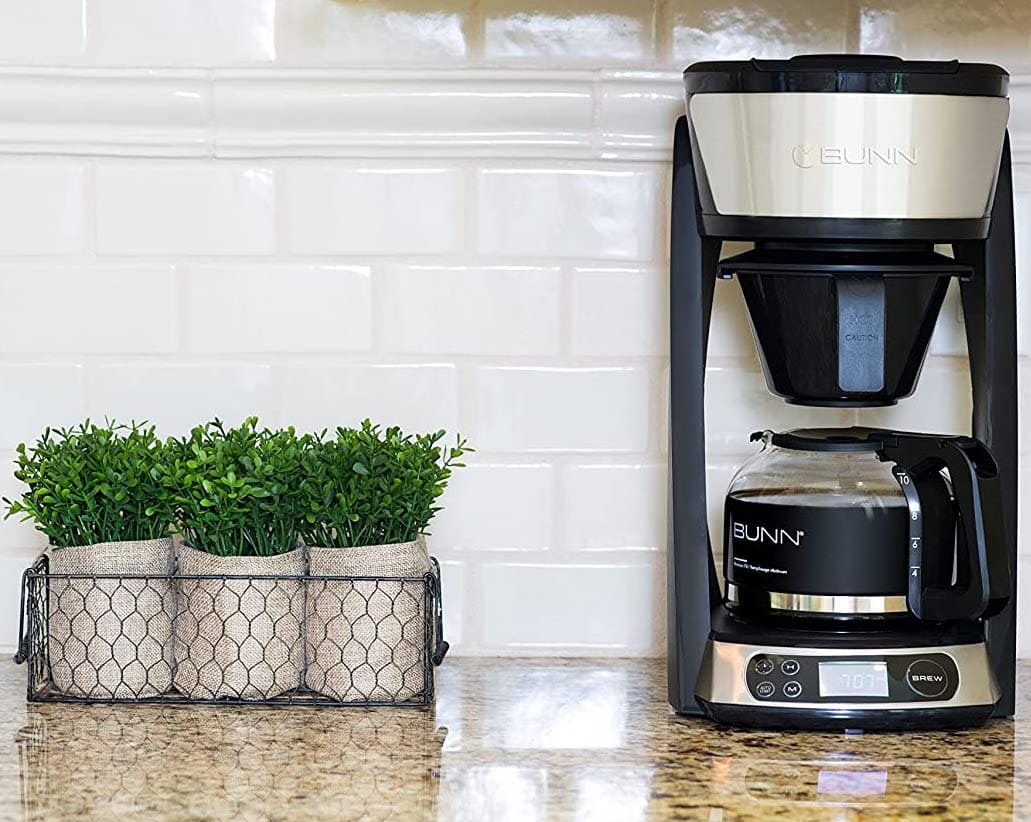 If you drink coffee at all, you are sure to have heard of Bunn brand coffee makers. Bunn is one of the best brands of coffee makers on the market, and it has been for quite a while. If you have tried Bunn coffee machines, you know how smoothly they work and how they make great coffee.
Since your coffee is such an essential factor in getting your day started, we are going to share our top five picks of coffee brewers from Bunn. We will share the positive as well as the negative so that you will have a complete picture of each unit.
---
Quick Overview of our Favorites (updated in 2023):
Image
Product
Details

Best Overall

BUNN Velocity

Brews in 3 minutes
Drip-free carafe
Brews 4 to 10 cups

BUNN Speed Brew

Brews in 4 minutes
Drip-free carafe
Internal hot water tank

Best Single-Serve Pick

Bunn Coffee Brewer (MCU)

Easy to use
Comes with a cup
Brews K-cups & more

BUNN Heat N Brew

Programmable digital clock
Brews in 10 minutes
Shatter-resistant, drip-free carafe

Best Commercial

BUNN Coffee Brewer

12-cup capacity
Two glass decanters
Two warming plates
The 5 Best Bunn Coffee Makers:
1. BUNN Velocity Brew 10-Cup Coffee Maker – Best Overall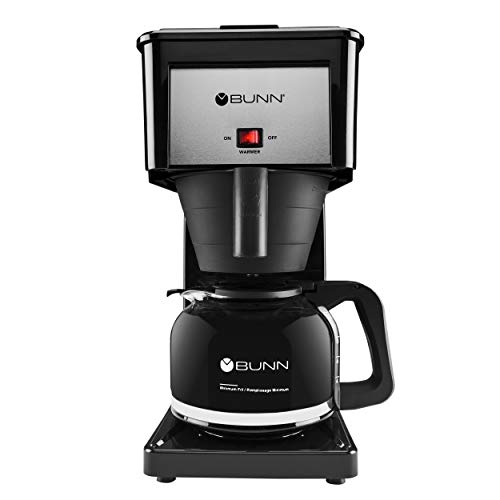 The Bunn GRB Velocity Brew 10-Cup Home Coffee Brewer has a stainless steel hot water tank that keeps water warm, so you can brew your hot pot of coffee on demand. It only takes about three minutes to brew a full pot, and you can brew four to 10 cups at a time.
This Bunn model features a multi-stream spray head that distributes the water equally over your coffee beans, allowing you to get the fullest flavor possible. The coffee is then deposited into a pot that is specially designed so that it won't drip when you pour it. There's also a has a porcelain-coated warming plate to keep the coffee hot for late risers.
The only thing that could make this machine any better would be if it were programmable, so your coffee could be ready for you when you get up. You also need to be careful of the amount of water you put in the water tank. If you get it too full, this machine tends to overflow from the coffee ground drawer and make a mess.
At the end of the day, we think this is the best Bunn coffee maker you can currently buy.
Pros
Brews in three minutes
Can brew hot coffee on demand
Drip-free carafe
Stainless steel hot water tank
Porcelain-coated warming plate
Brews four to ten cups
Cons
Frequently overflows
Not programmable
---
2. BUNN Speed Brew 10-Cup Coffee Brewer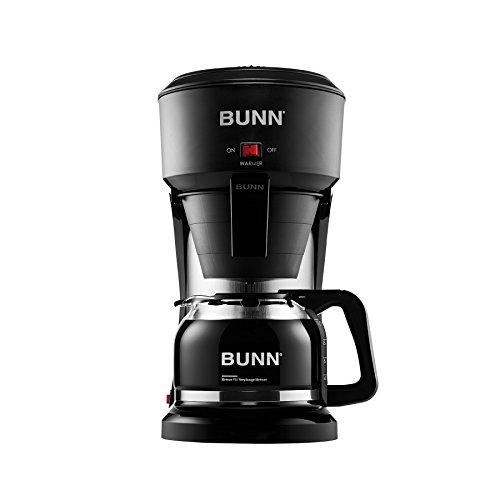 The Bunn Speed Brew 10-Cup Home Coffee Brewer also has the capability to brew ten cups of coffee at a time. It has an internal hot water tank for faster brewing, though this model tends to take closer to four minutes to brew, compared to the Velocity's three minutes.
The Bunn Speed Brew is very simple to use. The only big problem with it is that there is no timer to shut it off automatically. Coffee can get a scorched taste if it stays on a burner too long, so to help solve that issue, Bunn has set the warming plate to 180°. However, many people like their coffee to be hotter, and that just isn't possible with this machine.
This coffee maker features a specially shaped drip-free carafe. It also has a lime-tolerant coating to help prevent mineral buildup.
Pros
Simple to use
Brews in four minutes
Internal hot water tank
Drip-free carafe
Lime-tolerant coating
Cons
No timer
Low maximum temperature
---
3. Bunn Coffee Brewer (MCU) – Best Single-Serve Pick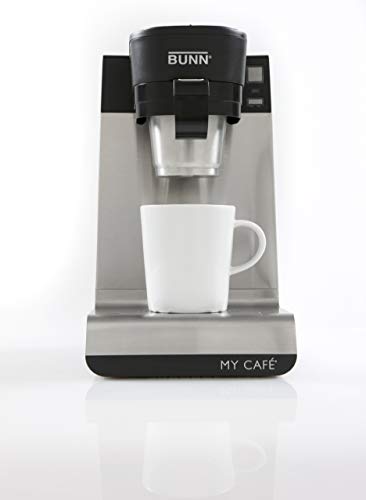 Single-cup coffee makers have become very popular. They are easy to use and can quickly brew the single perfect cup of coffee. Bunn's MCU Single Cup Home Coffee Brewer is very versatile. You can brew K-cups, ground coffee, loose tea, tea bags, or just plain hot water. Plus, it comes with a cup!
We found two significant drawbacks with this coffee maker. First, there is no on or off switch. You have to plug it in when you're ready to brew and unplug it when you are done. Make sure you have your coffee cup in place before plugging the unit in, as it will begin brewing immediately.
Second, even though you can brew freshly ground coffee with this machine, there is no mechanism to help easily eject the grounds into the garbage can. You either have to use a spoon or knock it against the side of the garbage can. When you go the trash can route, the lid often comes off and falls in, requiring you to dig around in the garbage to find it.
Pros
Easy to use
Comes with a cup
Brews K-cups, ground coffee, tea bags or pods, loose tea, or hot water
Cons
No on/off button
No way to eject wet, packed grounds
Does not fit all coffee cup sizes
---
4. BUNN Heat N Brew Programmable Coffee Maker
The Bunn HB Heat N Brew Programmable Coffee Maker is great to have for convenience. It features an easy to use programmable digital clock. It takes approximately 10 minutes to brew a pot of coffee, and the automatic warming plate will keep your coffee warm for up to two hours. It will automatically shut off after that, which is a nice safety feature.
This particular model of Bunn coffee brewer tends to require more coffee grounds than other models to make the same strength of coffee. It uses a little more water, which gives it a watered-down taste. It's also easy to overfill the filter, causing messy overflows.
This model has a shatter-resistant, drip-free carafe. Unfortunately, the carafe's strange shape means you'll have a hard time pouring the final cups.
Pros
Programmable digital clock
Brews in 10 minutes
Warming plate turns on during brewing and shuts off after two hours
Shatter-resistant, drip-free carafe
Cons
Strange pot shape is hard to empty
Water spills out of filter container
Requires more coffee grounds to make the same strength of coffee
---
5. BUNN VPR-2GD Coffee Brewer – Best Commercial Pick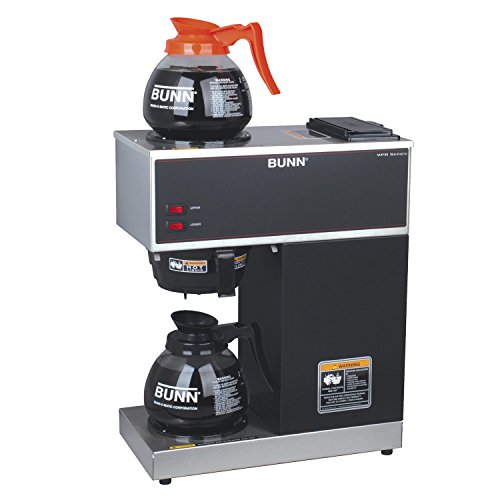 The Bunn VPR-2GD has the capacity to brew up to 12 cups of coffee at a time. It comes with two glass decanters and two warming plates. This Bunn model has a rather large footprint and takes up quite a bit of counter space. It is better for businesses than it is for the average homeowner.
There are a couple of other drawbacks with this particular model. There is no on or off button. Once you plug it in, it runs continuously. It's also hard to gauge the water level, so you have to measure your water beforehand so you can pour more accurately.
Probably the biggest problem with this particular brewer is the sound level. It's fine when it's just keeping your coffee warm, but it is loud when heating up the water to brew. You'll need to be careful where you place this machine so it won't interrupt work.
Pros
12-cup capacity
Two glass decanters
Two warming plates
Cons
Loud when heating water
Hard to gauge water level
No on/off button
Large footprint
---
Considerations When Choosing the Best Bunn Coffee Maker
There are several things for you to consider when you are looking for a Bunn coffee maker. The decisions you make before you go shopping will help with any guessing issues that may come up while you're in the store. They include:
Usage
Consider these things when it comes to usage:
Where will you keep it? Make sure you have a place large enough to store your Bunn without having to move it often.
How many cups per day? How much coffee do you drink, and how many people will be using your machine?
Bunn home models can make up to ten cups of coffee at a time, while the standard commercial model can make up to 12 cups of coffee at a time. If you're a moderate coffee drinker, you may prefer a single-cup brewer.
Style
What kind of Bunn machine are you looking for? The standard Bunn coffee maker uses ground coffee beans, brews a pot at a time, and keeps it hot on a warming plate. Pod machines, on the other hand, use individual pods to make one cup of coffee at a time. They can be nice if you are serving several people with different taste preferences.
Another option is the airpot, which brews your coffee directly into a large insulated pitcher. This pitcher allows you to make large quantities of coffee at a time and can be transported to different locations if needed. The insulated pot keeps your coffee hotter longer without the use of warmers. This helps the coffee taste fresher for a longer period of time.
Thermal coffee makers also deliver your coffee into a thermal stainless steel container. The thermal coffee maker typically has a 10- to 12-cup carafe, while the airpot is larger.
Water Source
You can choose between two water sources: pour over and automatic. For a pour over model, you'll need to pour water into the top of the machine before turning it on. This works well if you're not making huge quantities of coffee and if you want to be able to move your brewer around.
Alternatively, you can buy a coffee maker that can be connected directly to a water line, allowing the hot water reservoir to fill up automatically. With these more expensive models, you can generally still add water manually if a water line isn't accessible.
SEE ALSO: How to Clean a Bunn Coffee Maker (Simple Steps)
Hot Water Dispensers
Do you like to drink tea or hot chocolate as well as coffee? Some Bunn coffee makers have a hot water dispenser, which will allow you to quickly brew a wider range of hot drinks.
Settings and Customization
How much control would you like to have over your coffee? Some models come with digital brewing controls, which automatic shut-off, customizable brewing volumes, additional hot water reservoir controls, and improved temperature control. Keep in mind that you'll probably have to pay more for these extra features.

Conclusion
Now that we have told you about the different kinds of coffee makers there are and what types of models are available, let's quickly review our top five Bunn coffee brewers. Our top pick is the BUNN GRB Velocity Brew 10-Cup Home Coffee Brewer, though the BUNN Speed Brew 10-Cup Home Coffee Brewer can also be a great option. If you're shopping for a commercial coffee machine, we recommend the BUNN VPR-2GD 12-Cup.
We hope these reviews and buying tips have helped you choose the Bunn coffee maker that is best for you. Whether you are looking for the right machine for home or for the office, Bunn has you covered.
Other coffee maker brands we've reviewed: