Our Final Verdict
We give the Mr. Coffee ECM160 a rating of 4.3 out of 5 stars.
Mr. Coffee ECM160 Espresso Machine – At a Glance:
The steam-based espresso machine from Mr. Coffee is a good machine that is not going to break the bank.
The Mr. Coffee ECM160 Steam Espresso Machine is steam-powered and pulls 4 espresso shots at a time. Read our review of Mr. Coffee 4 Cup Steam Espresso System for full details and our opinion on it. Like the machine made by Bella that you can read about here, this coffee machine retails on Amazon for just over $40 dollars. However, there are a few details that differentiate this machine from the Bella and the other low-end, steam-based espresso machines.
Read on to find out what they are!
A Quick Look
Pros
The most affordable espresso machine with a milk steamer/frother.
 This machine is ready to use right out of the box.
It also makes coffee very quickly with a pull time of just a few seconds.
It brews up to four espresso shots at a time, which is double what a pump espresso machine brews.
Even with the cup heating tray, the machine is still very small and makes a small footprint in your kitchen.
The Mr. Coffee machine is a typical steam-based machine in that there are no moving parts and this makes it a super quiet unit.
Cons
Mr. Coffee has prioritized the presentation and look of the machine. Therefore, the espresso from this machine isn't up to the same standard as some of its competitors that cost a similar amount to buy.
If you are particular about your coffee, or you drink it black, this probably isn't the machine for you. Mr. Coffee's steam-based espresso machine works best with milk-based drinks.
The milk frother's design doesn't allow for any type of creativity or good quality micro-foam.
The steam that comes out of this machine is very powerful and is not adjustable.
Overall Design
This machine, like its competitors, brews into a glass carafe and brews large amounts of coffee at a time. Here you can get up to 20 ounces of coffee in one go. This is compared to pump-based machines that brew one double espresso shot at a time.
This model does offer a milk steamer, but it serves to heat the milk and that is about it. The holes in the top of the steam wand mean that it needs to be completely submerged in the milk otherwise steam blows up and can potentially be dangerous and messy. This leaves little room for technique.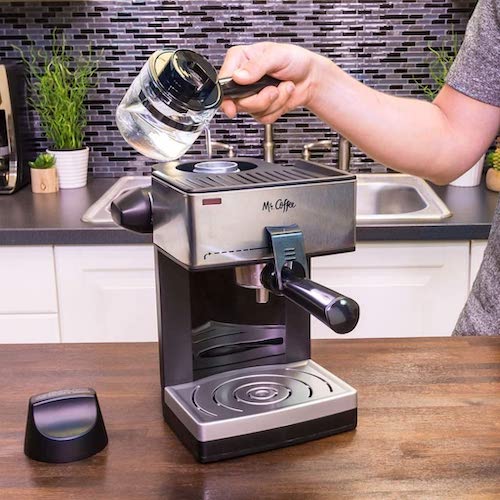 Steel coverings
The main way in which Mr. Coffee's machine is different from its competitors is the way it looks. A lot of the body of the machine is covered with steel. This makes the machine look twice as expensive as it actually is.
Drip tray
The drip tray is removable and is also metal. Most of the drip trays from other steam-based machines are made of plastic and are problematic.
Cup heating tray
The other impressive feature of this machine is the cup heating tray on top of the machine. These cup heating trays are commonplace in some of the higher-end, pump-based espresso machines but it is rare to find one on a machine at this price point.
As I have often talked about in other articles, pre-heating your coffee cup is a very important step. I have owned several steam-based machines in the past, one of which had a heating tray for the cups. This machine was my favorite, probably due largely to the tray if I am being honest.

Mr. Coffee ECM160 Espresso Maker: The Verdict
The ECM160 espresso coffee maker is one of the least expensive solutions for brewing espresso at home. You can buy one on Amazon. The flexible return policy makes it an easy decision if you are on the fence about trying it.
As a steam-driven espresso machine, ECM160 generates only about 3 bar pressure for brewing. This will not be your Starbucks espresso shot, however, for many latte lovers, the espresso from the Mr. Coffee Steam Espresso maker is better. In fact, Mr. Coffee ECM160 made it on our top steam espresso machine list, competing with just a handful of other makers.
What do you want out of your espresso machine?
As I have said before in similar reviews, the key here is really what you are looking for from your machine.
Mr. Coffee makes it possible to have a machine that is nice to look at and that you can proudly keep on display in your kitchen for a very affordable price. People are generally surprised by the look of the machine that it costs as little as it does. In this way, Mr. Coffee's machine almost seems like you are cheating the system.
The trade-off, though, is the coffee extraction and preparation. The coffee produced is quite basic and, as is typical with steam-based machines, will be strong and bitter tasting.
At this price point, the manufacturer is going to have to prioritize certain aspects over others in order to keep the cost down. It just isn't possible to make a fully comprehensive espresso brewer for $40.
If you like strong, bitter coffee, however, and what you are looking for from your machine is something quick and easy that will give you a caffeine fix, Mr. Coffee will fit that brief and make you look a little bit more sophisticated at dinner parties.
If you would prefer to prioritize the taste of the coffee over its look, have a read of some of our other steam-based espresso machine reviews.
See Also: