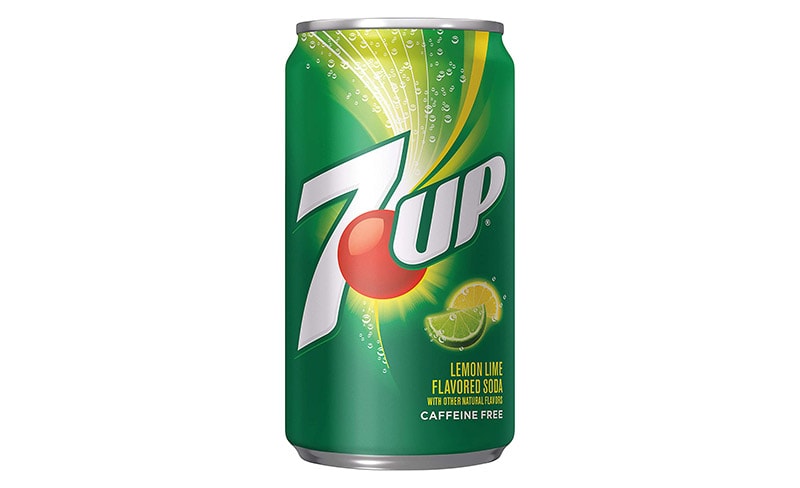 There's a lot of competition in the world of soft drinks. We've witnessed the rivalry between Coke and Pepsi for years, but that isn't the only one out there. Sprite vs 7-Up is another rivalry that is at the top of the soda game. 7-Up is a lemon-lime-flavored soda made by the Keurig Dr. Pepper company. This familiar drink is crisp, refreshing, and packs serious flavor.
But one of the biggest questions out there has to do with caffeine. Is there caffeine in 7-Up? For those who prefer their drinks without added caffeine, you're in luck. There is no caffeine inside your can, or bottle of 7-Up. It is one of the benchmarks of this drink from its early years. 7-Up has always claimed to be caffeine-free and they are one of the few who stand by their word.
Let's take a deeper look at 7-Up, how it compares to other soft drinks, and why so many people love this lemon-lime thirst quencher.

The Story of 7-Up
In a world full of soft drinks that offer different flavors, sugar content, and levels of caffeine it's hard to make an impression. That's exactly what 7-Up has done, however. With its long history, you'd think people would've forgotten this tasty drink. That's simply not the case.
According to a ranking done by Newsweek,1 7-Up is the 10th most popular beverage on the market which is quite impressive if you consider the hundreds it is competing against. But how did it all come about? The story of 7-Up actually begins with a man named Charles Leiper Grigg and two sodas by the name of Howdy and Whistle. These sodas were the brainchild of Grigg but truly didn't stand a chance in the soda world for a couple of reasons. They were orange-flavored and Orange Crush was a thing. Knowing he didn't have a chance against Crush, Grigg decided to try his hand at a new flavor, lemon-lime. In 1929, Bib-Label Lithiated Lemon-Lime Soda was born.
Now, the original 7-Up name was a mouthful, but there was a reason behind it. The reason was lithium citrate which was used to treat manic episodes and bipolar disorder. Grigg didn't run from the lithium content in his soda. Instead, he promoted it. His claim was that the lithium inside would help improve the drinker's mood. The lithium hiding inside the drink, trying to avoid being talked about, didn't last long. In 1948, lithium was banned for use in sodas. This left Grigg without his special ingredient and a name.
It wasn't long though until 7-Up came into play. You may be curious how Grigg landed on this name and there are a lot of theories out there. Unfortunately, no one can say for sure why Grigg chose 7-Up but we're all glad he did.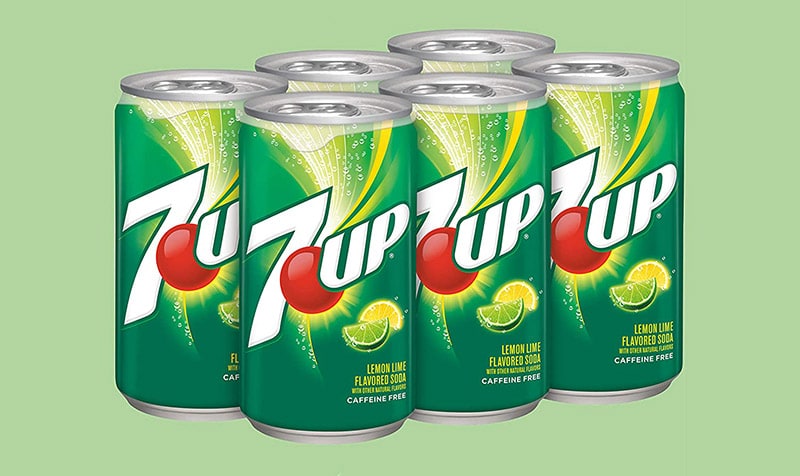 The Uncola
7-Up and its parent company went through a lot over the next few years. Additional flavors came and went while the parent company went through several name changes and owners. One thing that didn't change was the fact that 7-Up remained a caffeine-free lemon-lime beverage that people were enjoying. It was something different.
This was especially noticeable in the 60s when the Vietnam War was underway and what is often referred to as the "hippie movement" began. 7-Up wasn't Coke or Pepsi. You could simply look at 7-Up beside one of the other beverages to see the difference. Due to the noticeable differences, the uncola label found its way to 7-Up.
As the uncola, 7-Up was fighting the establishment. This made those promoting the end of the war and peace turn to 7-Up when they wanted something cool to drink. This ingenious marketing ploy helped 7-Up gain the traction it needed to become a powerhouse in the soda world.
The Lack of Caffeine In 7-Up
One of the main reasons people turn to soda is the caffeine drink makers add to the recipe. This caffeine provides a bit of energy and even promotes mental clarity. While this is great for some people, not everyone can enjoy caffeine. This is where caffeine-free beverages enter the playing field.
Sadly, though, not every caffeine-free beverage claim is true. 7-Up doesn't have that issue. The makers of 7-Up have always claimed it to be caffeine-free and have adhered to these claims for decades.
7-Up is high in sugar. This is why people who enjoy 7-Up still claim to feel a boost of energy even though there's no caffeine inside to provide it. Unfortunately, the crash associated with a sugar rush can be extreme. For this reason, drinkers should enjoy 7-Up in moderation.
Now, let's take a look at the caffeine content in other popular sodas on the market so you can get a better understanding of what you're drinking.
| | |
| --- | --- |
| 7-Up | 0 mg of caffeine |
| Sprite | 0 mg of caffeine |
| Coke | 34 mg of caffeine |
| Pepsi | 38 mg of caffeine |
| Dr. Pepper | 41 mg of caffeine |
Is Drinking 7-Up Bad for You?
As we previously mentioned, 7-Up does have sugar in the recipe. Each 12-ounce can contains 38 grams of sugar. While you may not think this is a lot, when you have several 7-Ups a day, it can become an issue. Too much sugar can lead to higher risks of certain health issues and even cause a person to become overweight.

Final Thoughts
Understandably, many people question whether claims made by soda companies are true. Luckily for 7-Up, their claim of being caffeine-free is 100% accurate. You can sit back in your chair, enjoy a nice 7-Up and not worry about caffeine side effects or crashes. What you will need to be concerned with is the amount of sugar in a 7-Up. Without moderation, these sugars can be potentially dangerous to your body. If you drink wisely, however, there is no reason you shouldn't get the opportunity to enjoy 7-Up and it's clear, crisp, and refreshing taste.
See also: