In the world of sodas, or pop if you prefer, there are certainly big names that everyone has heard. Coke, Pepsi, and Dr. Pepper are some of the first to spring to mind. That doesn't mean there aren't other brands out there with a great taste and even cult followings. One such brand is Faygo. Faygo has been around for ages and does something lots of other brands don't do. They offer multiple flavors and mixes that people can enjoy.
Have you heard of Faygo Moon Mist? If not, you may be missing out. This citrus-flavored pop, as Faygo prefers you call it, is the company's rival to the ever-so-popular Mountain Dew and Coca-Cola's version, Mello Yello. It tastes great and quenches your thirst, but how much caffeine is in Faygo Moon Mist? If you're someone who is watching your caffeine intake, this canned pop is a great choice. In a 12-ounce can of Faygo Moon Mist, you'll find 19.7 mg of caffeine, which is quite low in comparison to others out there. Let's learn more about Faygo, their Moon Mist, and the caffeine inside each can.

How the Pop Legend Began
Whether you've heard of Faygo or not, it's been around for quite some time. Founded in Detroit, Russian immigrants Ben and Perry Feigenson started the bottling company in 1907. The company started by bottling mineral water, beer, and soda water. There was more to these brothers, however, than met the eye. They had an extensive background as bakers. This gave the idea of combining their love of baking, and the flavors involved, with their bottling company. What's better than frosting, right?
The brothers used grape, strawberry, and even fruit punch as a few of their first flavors. These first drinks were sold from a horse-drawn wagon where the bottled sodas promoted freshness as the main selling point. Before long, the Feigenson brothers realized they needed to rename their product, as their surname was a bit long for the bottles. So, in 1921, a name change took place and Faygo was born.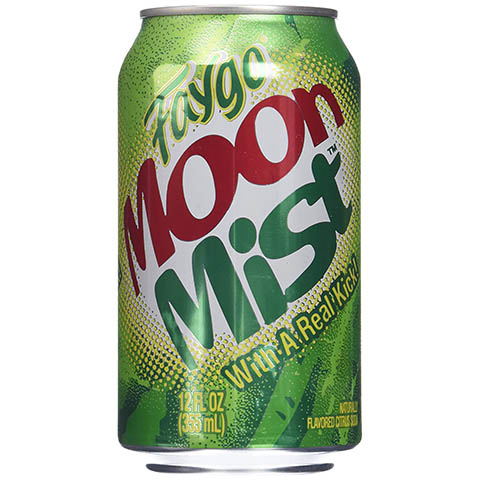 Faygo Revolutionized the "Pop" Industry
The people at Faygo didn't want their beverages called sodas. They preferred the term, "pop". Their reasoning was due to the pop the bottles made when you opened them. To push this point home, they even named their most popular drink at the time, RedPop. While they wanted to be known as pop, that didn't stop them from revolutionizing the drink industry. The first way they did this was by introducing twist-off bottle caps. This made it easier for people to access their Faygo. Of course, nowadays, every company uses them. Thanks, Faygo.
Another big thing the company did for the bottling industry extended the shelf life of drinks. Up until the 1950s, Faygo didn't have a long shelf life. Leaving a bottle sitting on a grocery store shelf could lead to flat or tasteless products. To put a stop to this issue, the chemists at Faygo set to work trying to filter the water used in bottling to help the CO2 inside last longer. With a few tries and a lot of dedication, the Faygo chemists created the filtration system used to provide carbonated beverages with the long shelf life they have today.
Caffeine Content Comparison
According to Faygo, Moon Mist comes from a citrus spring located on the moon. Now, that's most likely not the truth, but as one of Faygo's most popular flavors, fans feel it is out of this world. What's even better about Moon Mist is that it is low in caffeine content. This is especially good for people who are trying to watch their caffeine intake or who have sensitivities to caffeine in general. Let's take a look at how the caffeine in Faygo Moon Mist compares to other sodas or pops on the market.
| | |
| --- | --- |
| Faygo Moon Mist  12-ounce can | 19.7 mg of caffeine |
| Mountain Dew  12-ounce can | 55 mg of caffeine |
| Coca-Cola  12-ounce can | 34 mg of caffeine |
| Pepsi  12-ounce can | 38 mg of caffeine |
| Mello Yello  12-ounce can | 49.5 mg of caffeine |
In comparison, especially to the other citrus-flavored drinks on the list, Mountain Dew and Mello Yello, Faygo Moon Mist is considerably lower. However, sodas and pops aren't the only beverages out there that people enjoy that are caffeinated. Here's how Faygo Moon Mist stacks up against the other caffeinated competitors we enjoy.
| | |
| --- | --- |
| Faygo Moon Mist  12-ounce can | 19.7 mg of caffeine |
| Coffee  8-ounce cup | 91 mg of caffeine |
| Tea  8-ounce cup | 25 mg of caffeine |
| Red Bull  8-ounce can | 80 mg of caffeine |
| Rockstar Energy  16-ounce can | 160 mg of caffeine |

Final Thoughts
As you can see, Faygo Moon Mist is a tasty pop that can be enjoyed without a lot of concern when it comes to caffeine content. The 19.7 mg of caffeine inside each 12-ounce can is considered relatively low and safe to consume. However, as with any caffeinated beverage, moderation should always be key. If you drink tons of Moon Mist a day, you may start to notice that you've overdone it. Keep this in mind when enjoying this citrusy treat.