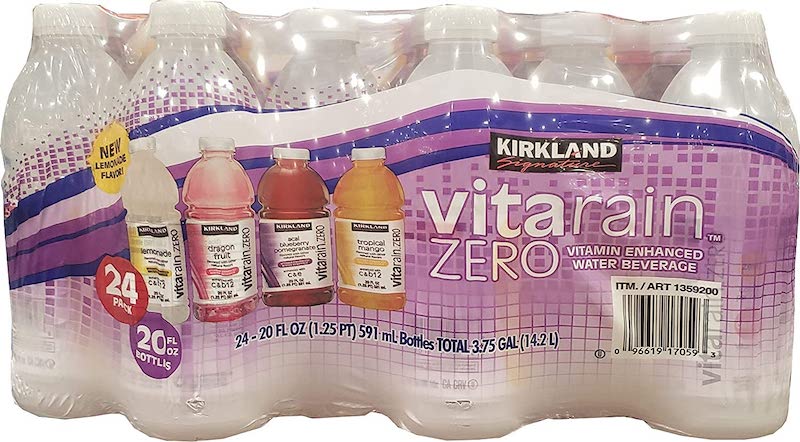 If you go to Costco to look for the best deals, you might be familiar with their store brand version of enhanced water. Kirkland's VitaRain Zero is a sugar-free drink that's supplemented with vitamins and electrolytes to give your day a little boost. While it appears that the tropical flavor once contained added caffeine, the raspberry green tea flavor is now the only caffeinated VitaRain Zero – containing 21 mg of caffeine – but it seems to have been discontinued in favor of a lemonade flavor. The other standard flavors are all caffeine free. In short, Kirkland's VitaRain Zero is caffeine-free.

Does VitaRain Zero Enhanced Water Contain Caffeine?
VitaRain Zero is usually sold in a variety pack featuring four flavors: lemonade, tropical mango, dragon fruit, and acai blueberry pomegranate. The recipes changed in 2020 and it seems like raspberry green tea might have been swapped for lemonade at that time. Additionally, there are reports that tropical mango contained caffeine prior to 2020, but now all of the formulas are caffeine-free.
Unlike decaf coffee, enhanced waters don't contain a natural supply of caffeine, unless they contain tea like the raspberry green tea flavor did. Artificially added caffeine isn't necessarily a great thing to have in your drink, so you'd be better off picking up a cup of coffee in addition to a bottle of enhanced water if you need an extra push.
How Does VitaRain Zero Compare to Other Popular Enhanced Waters?
Since caffeine isn't naturally found in water, only a minority of enhanced water brands add the stimulant. Here are some popular enhanced waters so you can compare the caffeine amounts:
| | |
| --- | --- |
| Beverage | Caffeine in mg |
| VitaRain Zero Enhanced Water | 0 mg |
| Vitamin Water Zero | 0 mg |
| Vitamin Water Energy | 50 mg |
| Hint+ Vitamin Flavored Water | 0 mg |
Vitamin Water Energy is the only one listed that features added caffeine. While vitamin waters are often labeled with words like "energize" and "boost" that may make you automatically think of caffeine, always read the labels before you purchase. Most of these waters rely on vitamin B to give you an energy boost instead of caffeine. They're a great choice if you want to cut down on caffeine, but are not what you need to fix late afternoon caffeine withdrawals.
Are Enhanced Waters Actually Healthy?
All of the "zero waters" skip sugar and calories. Most even leave out the caffeine. Since the idea behind enhanced water is H2O hydration + vitamins, you might think they're the most nutritious beverage you could possibly choose. Not necessarily.
Unfortunately, a lot of "sugar-free" and "low-calorie" drinks contain artificial sweeteners and loads of chemicals to supply them with flavor and keep it fresh. VitaRain Zero Enhanced Water is no exception, with most recipes containing both sucralose and aspartame, artificial sweeteners that have been linked to cancer.
While enhanced waters may be a healthier choice than sugary sodas, they're still not necessarily the best option. A no-sugar added smoothie or a naturally sweetened enhanced zero water such as Vitamin Water Zero would be the best choice if you're looking for a caffeine-free, sugar-free way to hydrate and rejuvenate.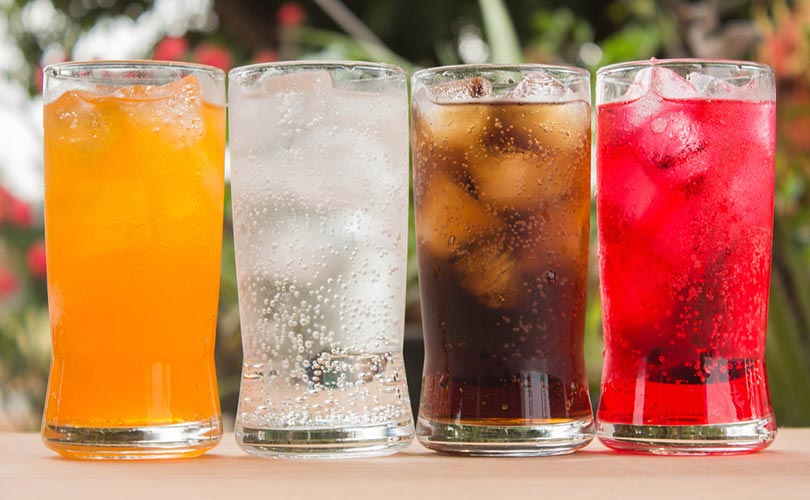 How Much Caffeine Should You Consume?
By giving you a caffeine-free energy boost, enhanced waters can help you stay within the 400 mg daily caffeine limit recommended by the FDA. Certain populations, such as individuals with caffeine sensitive medical conditions and pregnant women, are recommended to consume much less, or steer clear from the stimulant entirely.

Conclusion
Although a couple of flavors of VitaRain Zero once contained caffeine, they're all caffeine-free now. Since manufacturers alter recipes from time to time, it's a good idea to periodically read the labels of your favorite beverages to make sure there aren't any new ingredients you're trying to avoid. Additionally, water enhancers are a smarter choice than sodas or energy shots, but they sometimes contain controversial artificial sweeteners which might not make them the best idea in the long run. Look for naturally sweetened, zero sugar enhanced waters if you want to give your body some vitamins and electrolytes, and brew a cup of coffee if you want an extra caffeine boost.