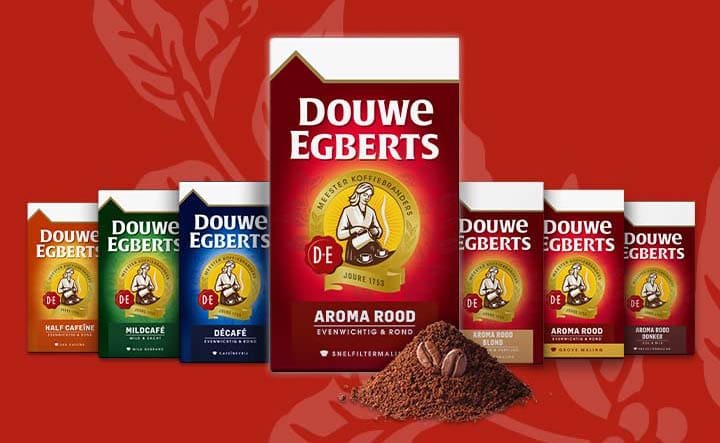 In the caffeinated world, instant coffee has earned itself quite a reputation. If you visit a coffee shop or ask friends while you sit over a hot cup of joe, the majority of them claim that instant coffee will never pass through their lips. While it can't be denied that there are some instant coffee varieties out there that shouldn't be allowed to use the word coffee in their title, there are a few that offer a great taste along with the simplicity instants provide. One such instant coffee is Douwe Egberts.
Douwe Egberts has been around for more than 250 years and is known as one of the first coffee companies to use advertising to reach drinkers. The brand promises a bit of sophistication with each cup you drink, but for coffee lovers that worry about the amount of caffeine they drink, how much caffeine is hidden in a cup of this instant coffee? In most varieties of Douwe Egberts coffee, you'll find 65 mg of caffeine inside your cup. Let's take a deeper look at Douwe Egberts' coffee, the caffeine inside, and the dangers of consuming too much caffeine.


What Is Douwe Egberts?
As we've already mentioned, Douwe Egberts has had a long, rich history. The story begins in the Netherlands when Egbert Douwes founded De Witte Os in 1753. When the store first launched, it was simply a general store. It wasn't until 1780, that Douwe Edbert, the founder's oldest son, took the reins. When this change took place, the days of being a general store ended. Instead, the company began focusing on coffee, tea, and tobacco. Over the following years, the company flourished.
Douwe Egberts opened one of the first distilleries in 1919. To transport bags of coffee to the distillery, horses and carriages were used. It wasn't long after the opening of the distillery and establishment of the company's first headquarters that the official name was changed to Douwe Egberts in 1925. The company's famous logo also first appeared at this time featuring a red seal with D.E. printed inside. Since its early years, Douwe Egberts has been launched in several countries around the world and even added more flavors to its lineup.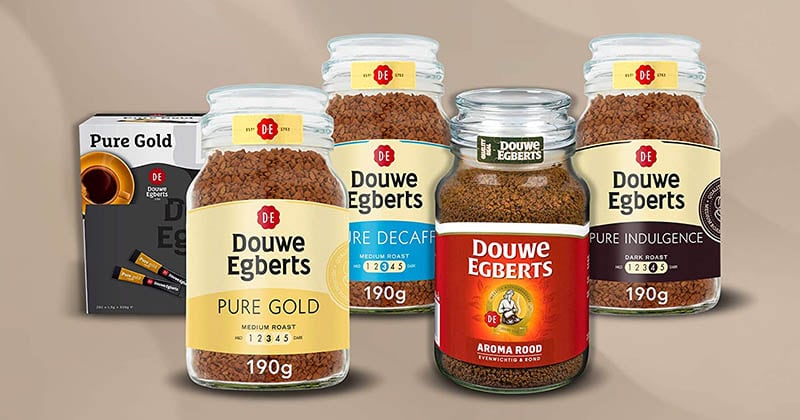 The Caffeine in Douwe Egberts
It's understood why coffee drinkers worry about the amount of caffeine they consume daily considering caffeine is in other drinks and foods we enjoy. There are instant coffee brands out there whose caffeine content is quite high. Fortunately, for those who enjoy having Douwe Egberts when they are in a rush, the caffeine content per cup isn't considered that high. In fact, 65 mg of caffeine per cup in Douwe Egberts is considered a mild amount. But how do you control how much caffeine is in a cup when using instant coffee?
According to Douwe Egberts, the 65 mg of caffeine inside a cup of their coffee is based on using a single teaspoon of their instant. If you prefer a stronger cup of coffee, you would need to use more of their instant coffee which would increase the caffeine amount per cup. The same can be said for people who prefer a weaker cup of coffee and use less than a teaspoon of Douwe Egberts. Those drinkers would receive less caffeine per cup than most.
Let's see how the caffeine in Douwe Egberts stacks up against other popular instant coffees on the market.
| | |
| --- | --- |
| Starbucks Via | 135 mg of caffeine per serving |
| Taster's Choice | 98 mg of caffeine per serving |
| Waka Colombian | 70 mg of caffeine per serving |
| Douwe Egberts | 65 mg of caffeine per serving |
| Nescafe | 61 mg of caffeine per serving |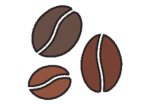 The Dangers of Too Much Caffeine
Most of us consume caffeine without thinking too much about it. This is especially true for those who have a high tolerance level when it comes to the natural stimulant. Normally, caffeine is used to aid with mental alertness. This is why so many of us reach for a cup of coffee each morning to help us wake up and get our minds and bodies functioning correctly. However, that doesn't mean there aren't dangers associated with caffeine.
According to the FDA, a healthy adult can consume 400 mg of caffeine per day without issue. This is comparable to four regular cups of coffee. Those who have a high tolerance for caffeine may take in more and barely notice it. Everyone isn't this lucky, though. People who have low caffeine tolerances or aren't used to having caffeine daily can experience side effects when they use too much caffeine. If you experience any of these effects, you should stop consuming caffeine and speak to your doctor.
These side effects include:
Insomnia
Increased heart rate
Elevated blood pressure
Anxiety
Upset stomach
Increased urination
Is the Caffeine in Douwe Egberts Dangerous?
Luckily, for those out there that enjoy a cup of this instant coffee on the go, Douwe Egberts features a low amount of caffeine. This means, even for those who aren't constant caffeine consumers, having a cup of their Instant should be safe. Keep in mind, however, the amount of caffeine per cup is dependent on how many instant granules you add. If you use more than 1 teaspoon, the amount of caffeine in your cup will be higher than 65 mg.


Final Thoughts
As you can see, not only is Douwe Egberts a great-tasting instant coffee for people on the run, but it's also a low-caffeine option for coffee drinkers. When you don't have time to brew your favorite coffee before work, school, or errands, no worries. A nice teaspoon of Douwe Egberts in your cup will provide you with 65 mg of caffeine, and the energy to get your day started right.