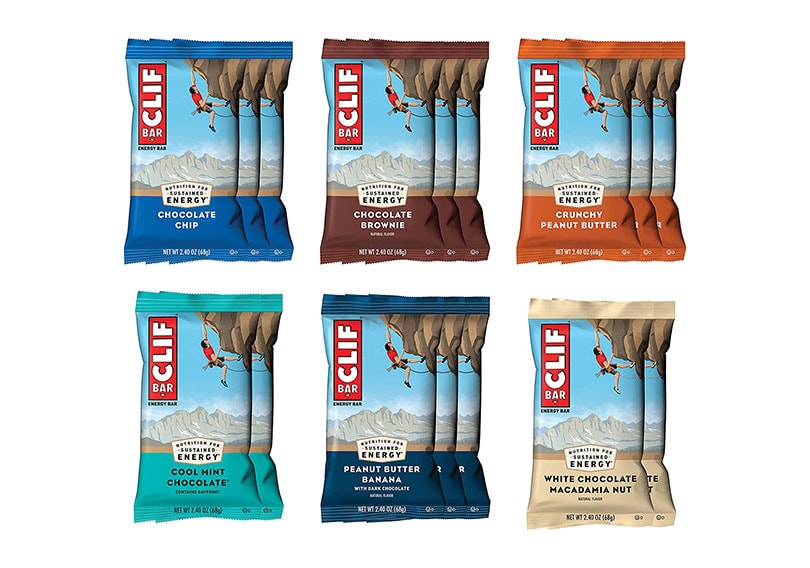 Clif Bars are popular energy bars that come in various flavors, such as Chocolate Chip Peanut Crunch and ​​Vanilla Almond Latte. You can choose from 20 flavors, and the company expanded its product line with three seasonal flavors for the holidays. Clif Bars are popular with serious athletes and weekend warriors alike. If you've ever eaten one of the brand's coffee-flavored bars and thought—wow, this bar really packs a punch, you'd be right! In addition to tons of healthy nutrients, every Clif Coffee Collection energy bar contains 60–70 mg of caffeine.

Which Clif Bars Flavors Contain Caffeine?
Clif has an extensive range of products; some contain caffeine and others do not. Popular flavors such as Blueberry Crisp, Chocolate Chip, and Chocolate Chip Peanut Butter Crunch don't contain caffeine.
Clif also has two Coffee Collection flavors, Caramel Macchiato and Espresso Mini's, that contain plenty of caffeine. The company used to make Vanilla Almond Latte and Chocolate Mocha flavored options that also have caffeine, but those choices are no longer available.
Clif states that each Caramel Macchiato or Espresso Mini bar features 65mg of caffeine. According to the fine print on the bars' wrapper, the caffeine can range from 60 to 70 mg, making the bars less than ideal for pregnant women, kids, and people who are sensitive to caffeine. As a comparison, a 1-ounce cup of espresso generally contains around 63 mg of caffeine.
What Types of Ingredients Do Clif Bars Feature?
Clif Bars are known for being extremely healthy. They're designed to be good for you and good for the planet. All Clif Bars feature the same core ingredients, including organic rolled oats, and several are sweetened with organic brown rice and cane syrup.
At least 70% of the ingredients in each bar are certified organic, and the bars never contain trans fats, genetically modified ingredients, or high fructose corn syrup. All cocoa included in the bars comes from farms certified by the Rainforest Alliance, and the products in the Clif Coffee Collection feature organic Colombian coffee beans.

Are There Other Caffeine-Containing Energy Bars Available?
Better than Coffee makes a delicious French roast-flavored energy bar that features 100 mg of guarana and maca-based caffeine. Eat Your Coffee has a range of choices with around 80mg of caffeine, and Verb Energy's ​​Vanilla Latte Bars feature 65 mg of caffeine. You can also try the espresso-flavored Paleo Thin Protein Bar. It has probiotics and prebiotic fiber, making it a wonderfully healthy option high in fiber and protein.
If you're interested in caffeinated bars without coffee flavors, try the Awake Dark Chocolate Bar with 100 mg of caffeine in a delicious sweet package or the Vibe Dark Chocolate Peanut Butter Bar which has as much caffeine as a cup of coffee. Here's a quick table with the previous information in an easy-to-scan format!
| | |
| --- | --- |
| Clif Bar: Caramel Macchiato | 65 mg per bar |
| Clif Bar: Espresso Mini | 65 mg per bar |
| Better Than Coffee: French Roast | 100 mg per bar |
| Eat Your Coffee: Caramel Macchiato | 80 mg per bar |
| Paleo Thin Protein Bar: Espresso | 100 mg per bar |
| Awake: Dark Chocolate | 100 mg per bar |
| Vibe Energy Bar: Dark Chocolate Peanut Butter | 100 mg per bar |
| Verb Energy: Vanilla Latte | 65 mg per bar |