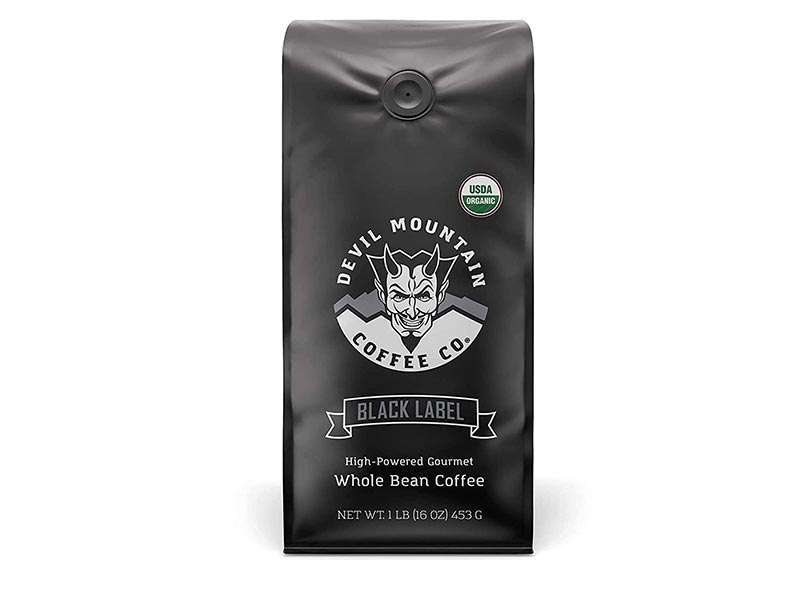 Forget Death Wish. Black Label coffee by Devil Mountain officially holds the title of the world's strongest coffee, packing a powerful punch of 1,555 mg of caffeine per 12 oz. brewed cup. A single cup exceeds the FDA's recommended allowance of 400 mg per day almost four times over!
Black Label may wake you up, but you should be careful if this crazy strong brew becomes your habitual morning go-to. It's a very strong coffee and you may develop symptoms related to caffeine dependence. Here's how Black Label compares to other coffee brands, as well as how to tell if you might need to scale back on your caffeine consumption.

What Is Black Label Coffee?
Devil's Mountain is a coffee brand that makes Black Label Coffee. They also sell other roasts such as Inferno Bold and Diablo's Roast. All of their options are USDA Organic and sell for around $20 for a pound. Currently, they hold the highest caffeine score of any coffee in the world. Darkly marketed, the company was founded next to Diablo Mountain in California, and their labels use a cartoon of the devil on the front. While their coffee may not kill you, it certainly isn't a healthy habit to drink that much caffeine every day.
Black Label Vs. Other Coffee Brands
| | |
| --- | --- |
| Coffee Brand | Caffeine per 8 oz. cup |
| Black Label | 1,040 mg |
| Very Strong Coffee | 800 mg |
| High-Voltage | 766 mg |
| Black Insomnia | 736 mg |
| Death Wish | 484 mg |
| Starbucks Pike Place Roast | 155 mg |
| Dunkin Donuts Brewed Coffee | 120 mg |
| Cafe Bustelo | 100 mg |
| Folgers Classic | 70-150 mg |
| Maxwell House | 112 mg |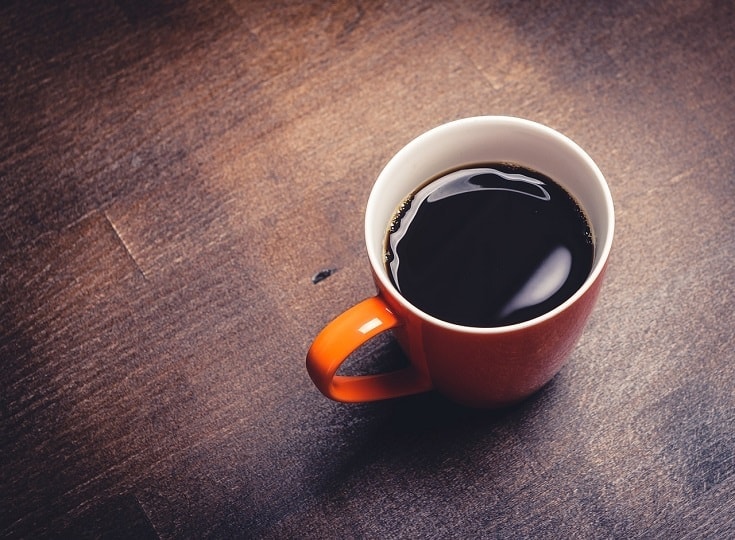 How To Tell If You're Drinking Too Much Caffeine
The FDA recommends that the average adult drink no more than 400 mg of caffeine a day. While that may not sound like a lot, it adds up quickly because caffeine can sneak into foods such as chocolate. You might be drinking too much caffeine in your daily routine if you have these symptoms without probable cause:
Insomnia. You can't sleep, feeling wide awake or restless even if you're exhausted. Reducing your caffeine intake and switching to decaf in the afternoon can help you enjoy coffee without its wakeful effects disrupting your sleeping hours.
Restless or anxious. Your heart is racing, and you can't sit still. Too much caffeine can leave you feeling jittery or out of control.
Stomach upset. Coffee causes more frequent bowel contractions, which is great if you're constipated or just need a little digestive support, but it can be terrible if you have a sensitive stomach or have been diagnosed with IBS. Drinking cold brew may help counteract some of these effects because coffee loses some of its acidity during the 24-hour brewing window. However, you should know that cold brew coffee contains more caffeine than its hot counterpart, so keep that in mind so you don't drink too much.

In Conclusion
With over 1,000 mg of caffeine per 8 oz. cup, Black Label claims to be as strong as death. It's not, but it's also a brand that you should consume in extreme moderation. The caffeine content greatly exceeds the FDA's daily allowance, and there are serious physical and mental side effects that come from chugging down an excessive amount of caffeine.
See Also: