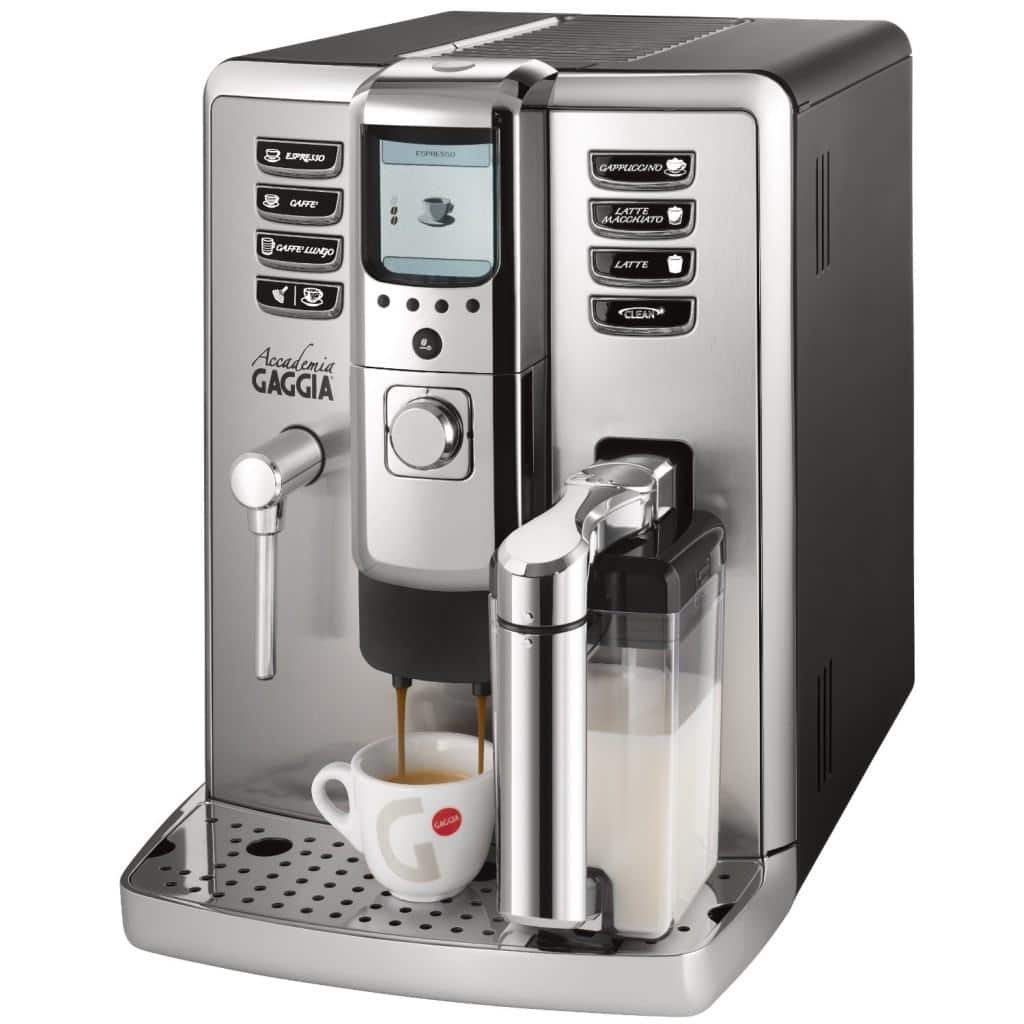 Our Final Verdict
We give the Gaggia Accademia a rating of 4.4 out of 5 stars.
Gaggia Accademia – At a Glance:
The Gaggia Accademia espresso machine or the Gaggia 1003380 Accademia is right up there, in the first row of super-automatic coffee machines. Designed for brewing approximately 60 cups a day, the Gaggia Accademia has rapidly become a much-loved office espresso machine.
The unit is also one of the most searched commercial super-automatic espresso machines for bars and coffee places.
Due to its intuitive operating system, many coffee drinkers choose the Gaggia Accademia for use at home. This espresso maker is easy to operate, anyone can learn in just a few minutes how to use it, and it gives you the exact coffee that you want.
The fact that is designed to operate in busy places like an office, or a restaurant, offers domestic users the confidence of a reliable and dependable machine. All these at a decent price.
A Quick Look
Pros
Super-automatic & very easy to operate
Reasonably priced given all the features
15 bar pump
Double boiler for faster brewing
Built-in grinder and milk frother
Cons
Short 1-year warranty
Milk may not get hot enough
Needs frequent emptying and cleaning
Small water reservoir

Best Features
Here are some of the notable features of the Gaggia Accademia:
15 bar performance pump.
The double boiler allows you to switch between frothing and brewing without wasting any time.
Alert system for the drip tray or the dregs drawer.
Steamer for manual milk frothing or just hot water.
Height adjustable dispensing head which allows you to alternate between cups and mugs of various sizes.
Coffee doser that permits the use of both coffee beans and ground coffee.
An adjustable ceramic grinder that allows up to 10 different grind settings.
LCD control panel which allows monitoring and easy programming. With a few button touches, you can obtain the exact strength and aroma you want.
Pre-brewing function for improved extraction.
Active cup warmer.
Digital display.
Detachable brewing group.
One-touch operation for 7 preset beverages including latte and cappuccino.
The built-in grinder has a freshness lid, to keep the beans fresh longer.
Gaggia 1003380 Accademia Review
The machine is manufactured in Italy, which gives us the confidence of a quality product. It weighs 17 kg, within the average for a device of this type.  The bean container has a capacity of 350 g, which is a decent amount for an office. The drip tray can hold 10 oz of spilled coffee, which might be a little inconvenient.
The adjustable height spout makes it very easy to change between mugs of various sizes. The water tank holds up to 1.6 L, (just a little under 2 quarts). The Gaggia 1003380 is built with a detachable milk carafe for a convenient operation.
Custom-tailored to deliver 7 programmable drink options. You can use this super-automatic to make not only coffee and espresso but also cappuccino, coffee lungo, latte macchiato, and more. All of these by just pressing on one of the 7 pre-set drinks. Of course, the coffee will not have the same taste as drip coffee. If you want real drip coffee and authentic espresso, your best bet is a drip coffee and espresso combo machine, but if you ask me, the Americano from the Gaggia Accademia tastes better than a drip coffee.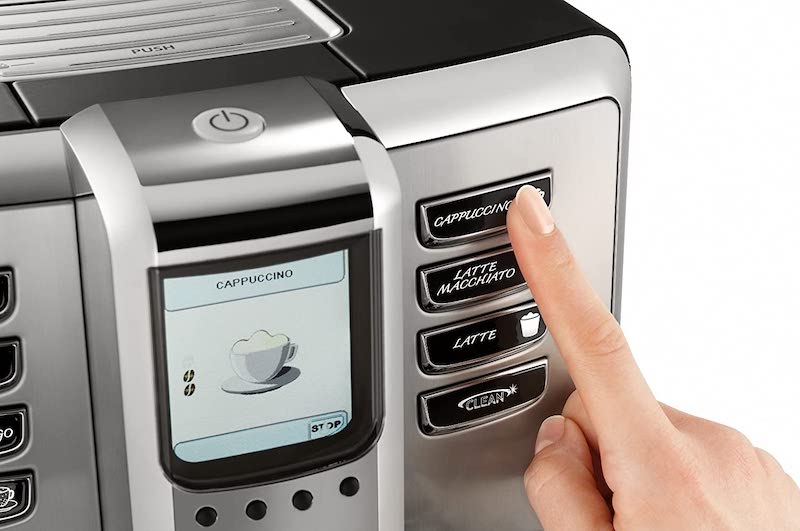 Gaggia Accademia Review – A Closer Look at the Pros and the Cons
Pros
A very nice feature which I find quite useful is the removable milk carafe which eliminates any possibility of the machine getting contaminated with spoiled milk. Through a simple movement, you can remove the carafe once you finish brewing, and put it in the fridge.
On top of that, the milk pitcher has a self-cleaning function which is a great, big plus in my book.
Another fantastic feature of the Gaggia Academia is the possibility to tweak your beverage to fine details. You can adjust your cup either before brewing, or even during the brewing everything from milk quantity to brew length, temperature or strength for each drink individually.
This allows you, for instance, to make 7 different drinks in one batch with a minimum amount of effort. This customizable characteristic makes Gaggia Accademia a perfect office espresso machine, as it can accommodate many different tastes.
The thing that I most like about this super automatic is probably the coffee itself. The drinks you can make with this machine are delicious without any tweaks.
For reasonably picky coffee lovers, all the other possible negatives the Gaggia Accademia will pale when placed in balance with the coffee quality and the reliability of the unit.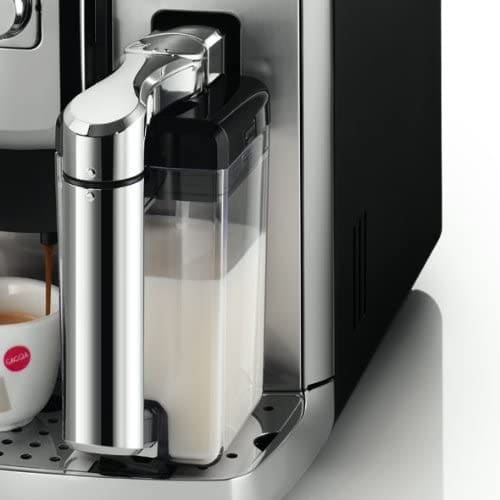 Cons
On the downside, especially for a commercial espresso machine, Accademia could benefit from a larger water tank so that it doesn't require refills so frequently (once every 6 or 7 cups).
Also on the negative side, even though the milk pitcher self-cleans, from a practical standpoint, the spent coffee pucks container and the drip trays need emptying quite frequently.
The drip trays should be emptied every day or after 5 or 6 coffees. It doesn't sound like much work, and it isn't, mainly due to its removable brewing group. However, I would prefer to do it once a week instead of once a day.
Although it's super-automatic, the milk needs manual heating by using the steam wand. This isn't a real inconvenience, but it's worth mentioning.
A lot of Academia owners complain about the milk temperature, more precisely that the milk doesn't get hot enough. I can understand this complaint and it's perfectly justifiable if you need the milk to be hot. For me, the milk temperature is just perfect the way it is.
Another thing that raises waves among the reviews is that although the product is presented as a stainless steel body, most of it is actually plastic.
Well, I can tell you that, after going through dozens of super-automatic coffee machines, the Gaggia Accademia has the right amount of stainless steel in the parts that need it.
I have friends who have had this machine for 5 years and it never broke or needed repair, so that's proof enough for me that the product is robust and reliable.
Probably the most annoying thing about this machine is the fact that the warranty in Europe is 2 years, whereas in the US is 1 year. But all the machines in this class carry the same warranty here, so I can't complain too much.

Conclusion
A well-engineered espresso machine, Gaggia 1003380 Accademia is a good buy especially for office spaces or as a commercial espresso machine, but also for your own home.
It wasn't easy to find how Gaggia rates its own machine, on their website they don't give this information. However, we could find on one of their reseller's websites that the rating is about 50 coffees per day.
Operating this machine is effortless; this makes it one of the most straightforward super automatics on the market.
The double boiler is a nice feature, by significantly reducing the time between brewing and frothing, gives a whole new meaning to the word fast.
All in all, aside from the milk temperature issue which can be fixed by pre-warming the milk, Gaggia Accademia can be judged by its cover and delivers exactly what it advertises.