Finding dairy-free alternatives in restaurants and coffee shops can be challenging. In recent years, more chains are starting to catch onto the idea that not everyone can tolerate the intensely popular western combination of milk and sugar, and indeed that's not a healthy diet even for people who can process sugar and lactose regularly. Thankfully, Dutch Bros has your back with several plant-based milks, including almond milk.
However, you should familiarize yourself with the menu and ask a Broista for help once you arrive to make sure your drink is completely dairy-free. While some traditional coffee fare such as lattes and iced coffees can be made with almond milk, drinks created from a premade mix such as the Freezes and Frosts already contain dairy in the powder that can't be removed. Even if you are able to swap out the dairy milk for almond milk, that doesn't automatically mean you have a dairy-free drink since some syrups contain milk products.

Which Dutch Bros Drinks Can Be Made with Almond Milk?
You can easily order a cold brew, latte, or chai made with almond milk at Dutch Bros. All of these types of drinks are inherently vegan, too, as long as they don't contain any flavorings. If they do, you'll need to check the Torani syrup allergen list or ask a Broista to make sure the syrups don't contain dairy. Thankfully, most are safe, but a handful have natural flavors that are derived from milk products, such as the English toffee and hazelnut flavors. Just because a drink isn't labeled with hazelnut doesn't mean it's not in there, either. Some of these syrups sneak into unassuming drinks, such as the Snickers which contains hazelnut syrup.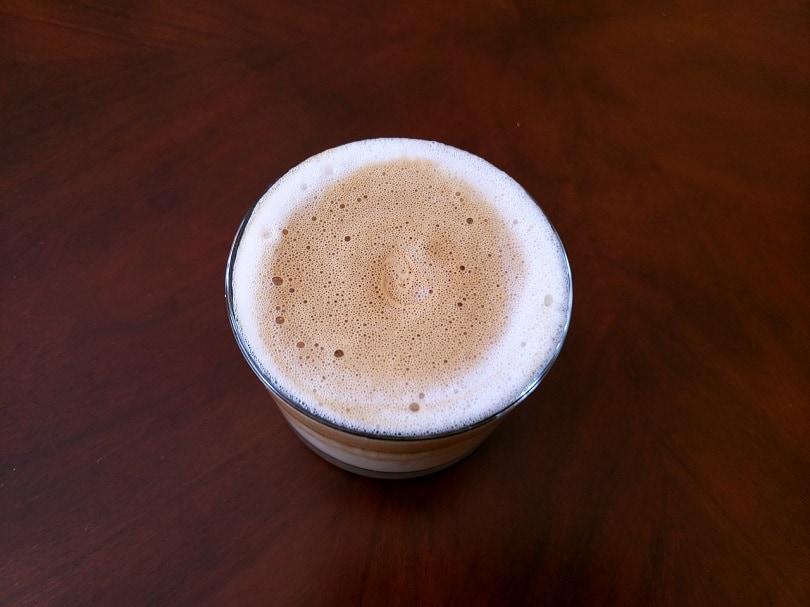 Why Can't All Dutch Bros Drinks Be Dairy-free?
While you can substitute almond milk for any milk-based beverage at Dutch Bros, there are a few drinks that unfortunately can't be made completely dairy-free. In addition to a few of the flavored drinks with syrups that contain dairy, all of the Frosts and Freezes contain dried milk products in the premade mix that can't be left out. If you simply prefer the taste of almond milk or have slight lactose intolerance, this shouldn't be a problem for you. However, if you're allergic to milk or are avoiding dairy for conscientious reasons, you'll need to choose a more friendly drink, such as an almond milk Annihilator.
Dutch Bros Plant-Based Milk Alternatives
If you're not nuts about their almond milk, you'll be glad to know that you have other plant-based options. Dutch Bros also serves coconut, soy, and oat milk. You can substitute regular milk for these in the same way you would for almond milk.

Conclusion
For the most part, it's easy to order a plant-based drink at Dutch Bros that uses almond milk and skips dairy entirely. Unfortunately, the Frosts and Freezes can't be made completely dairy-free, but you can still swap the regular milk for almond milk which should be sufficient if you're going dairy-free for the taste or to deal with mild cases of lactose intolerance. If you can't stomach dairy milk at all, opt for a drink that you can trust to be completely dairy-free, such as the Nutty Irishman Cold Brew with almond milk.