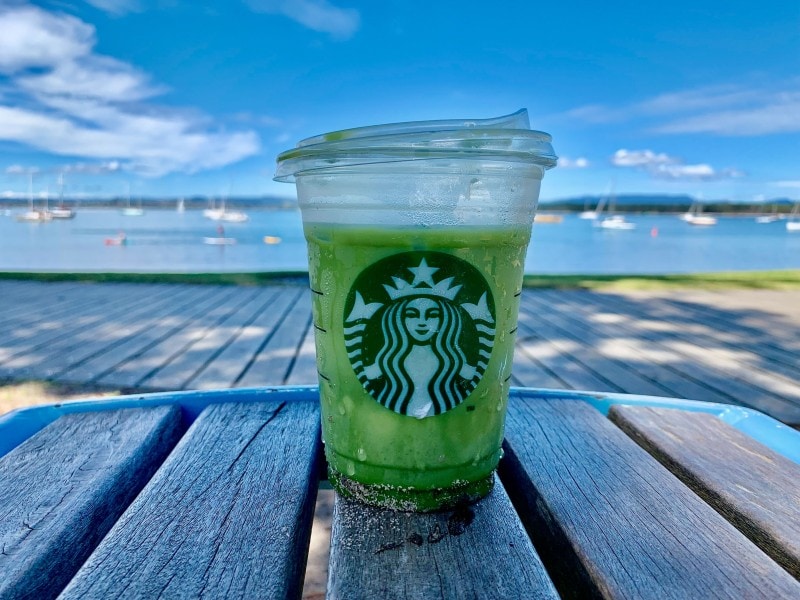 Certain days simply call for a good cup of tea instead of a cup of coffee. And when those days come, you'll want to take a look at Starbucks' impressive selection of teas. With both hot teas and iced teas on the menu, you're sure to find exactly the taste you're seeking—plus, you'll even find a couple of tea drinks on Starbucks' secret menu!
We've got the down low on tea at Starbucks, whether you're looking for the best hot tea at Starbucks, the best iced tea, or an incredibly delicious customized tea. Keep reading to learn all about Starbucks' tea menu, so you're prepared the next time a tea day arrives!

Hot Teas
Hot tea on a chilly rainy day is a classic as it warms you from head to toe, gives you the opportunity to take a moment to yourself, and still provides you with a much-needed caffeine fix. And though Starbucks has a few plain regular teas on the menu—such as chai, Early Grey, and Royal English Breakfast—below, you'll find the best hot tea drinks Starbucks offers. (All nutritional information is for the grande.)
1. Chai Tea Latte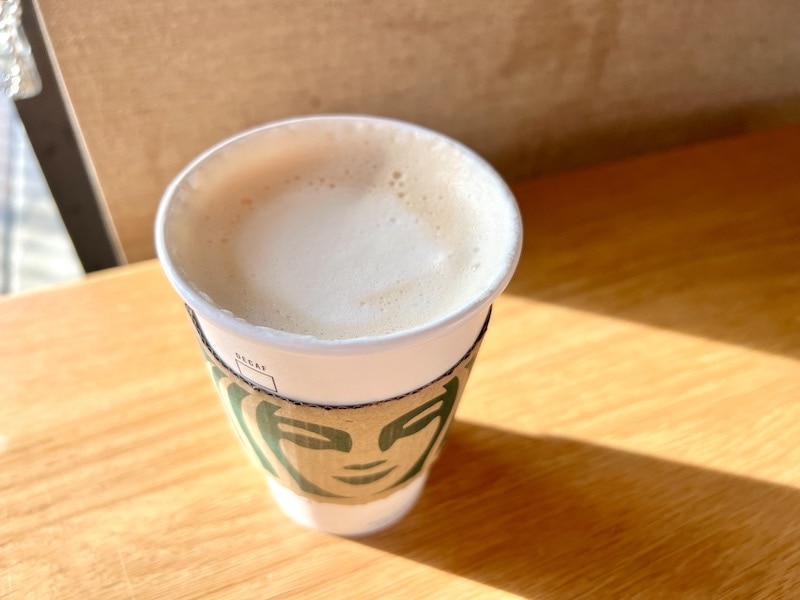 | | |
| --- | --- |
| Calories: | 240 |
| Sugar: | 42 g |
| Caffeine: | 95 mg |
While you absolutely can get a simple chai tea, you can go one better and indulge in this chai tea latte! Mixing a black tea with hints of clove, cinnamon, and other spices, plus a bit of steamed milk, then adding a foam topping creates a perfect blend of spicy and sweet. And with 95 mg of caffeine, this delicious drink has the same caffeine amount as a regular cup of joe. It is exceptionally high in sugar, though, and has quite a few calories for a mere drink.
---
2. Teavana London Fog Tea Latte
| | |
| --- | --- |
| Calories: | 180 |
| Sugar: | 29 g |
| Caffeine: | 40 mg |
Looking for a tea latte lighter in calories, sugar, and caffeine than the chai tea one? Look no further than this milky, frothy reimagining of the classic Earl Grey! With citrusy Italian bergamot blended with a touch of lavender and some vanilla syrup, this tea latte is light in taste as well as in calories. And if you switch out the regular steamed milk for soy milk, you'll get an even bigger vanilla flavor!
---
3. Royal English Breakfast Tea Latte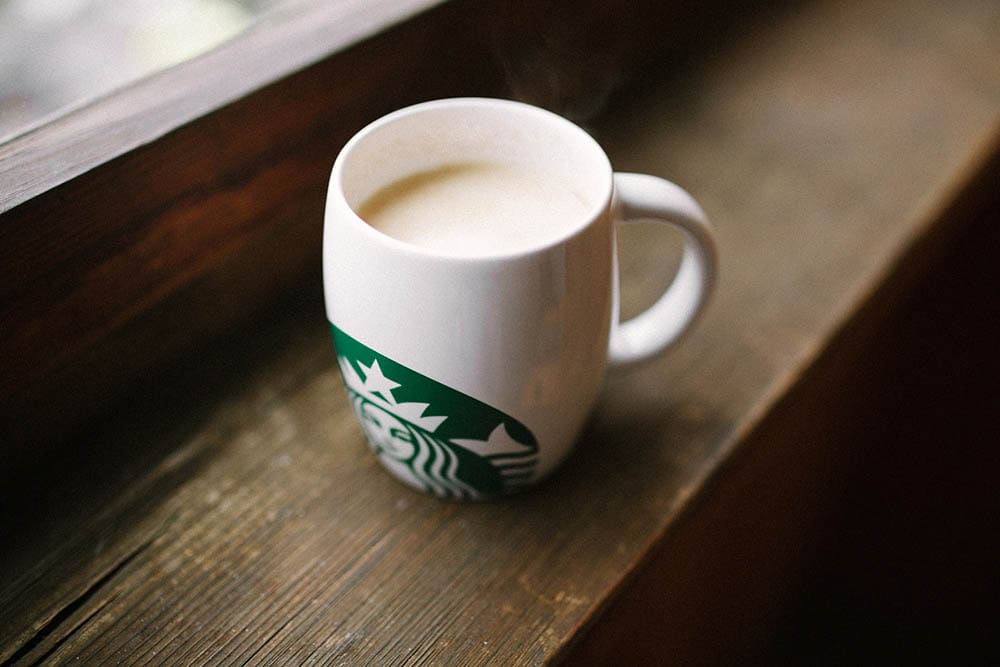 | | |
| --- | --- |
| Calories: | 150 |
| Sugar: | 21 g |
| Caffeine: | 40 mg |
Revitalize your taste buds with a twist on the classic Royal English Breakfast. With a unique blend of rich, full black teas hailing from Sri Lanka and India mixed with cane sugar and topped off with foam and milk, this latte is smooth as can be. Plus, the caffeine boost is mild with this one, so if you want to avoid that jittery, overcaffeinated feeling, this is a good option.
---
4. Matcha Tea Latte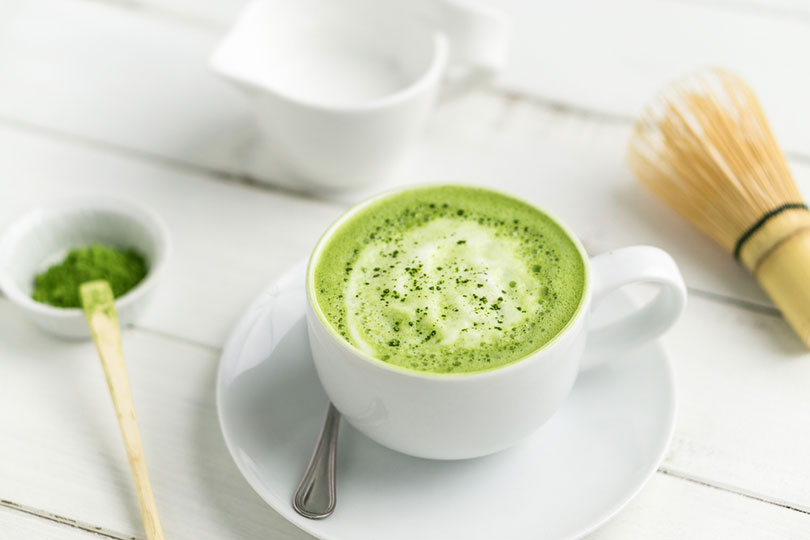 | | |
| --- | --- |
| Calories: | 240 |
| Sugar: | 32 g |
| Caffeine: | 80 mg |
Matcha is a green tea steeped in antioxidants, so it's an excellent choice to add to a latte. Plus, this tea is unique in that it's non-bitter; add in steamed milk, and you have one creamy delight. And the green color will be sure to brighten your day! However, this latte is another that's extremely high in calories and sugar, so you might not want to indulge too often.
---
5. Emperor's Clouds & Mist
| | |
| --- | --- |
| Calories: | 0 |
| Sugar: | 0 g |
| Caffeine: | 16 mg |
If it's just a cup of tea you're after, give Emperor's Clouds & Mist a go! Not only does this tea have no calories or sugar—making it a healthier choice—but it also has a very mild amount of caffeine, so it's a fabulous option for an afternoon pick-me-up. This green tea is cultivated at 3500 feet and has a slightly smoky flavor with a hint of sweetness.
---
6. Honey Citrus Mint Tea
| | |
| --- | --- |
| Calories: | 130 |
| Sugar: | 30 g |
| Caffeine: | 16 mg |
This is one of those Starbucks menu items that actually started out as a secret menu item. However, it grew so popular they ended up putting it on the real deal. Made by mixing Jade Citrus Mint® green tea with Peach Tranquility® herbal tea, then adding hot water, a bit of honey, and some steamed lemonade, this drink is truly comforting and exceptionally tasty. That added lemonade adds a lot of extra calories and sugar, though!
---
7. Jade Citrus Mint Brewed Tea
| | |
| --- | --- |
| Calories: | 0 |
| Sugar: | 0 g |
| Caffeine: | 40 mg |
This yummy drink gives you that citrusy flavor without all the calories and sugar. Instead of lemonade, this green tea is mixed with lemongrass and lemon verbena. Throw in a touch of spearmint, and you have a refreshing minty citrus flavor you'll adore!
---
8. Mint Majesty
| | |
| --- | --- |
| Calories: | 0 |
| Sugar: | 0 g |
| Caffeine: | 0 mg |
Want a great cup of tea without caffeine? Then the Mint Majesty has you covered. It's nearly identical to the Jade Citrus Mint Brewed Tea, except instead of being blended with lemongrass, this tea is mixed with a hint of lemon verbena. However, mint provides the predominant flavor here, with only a burst of citrus coming through.
---
9. Peach Tranquility
| | |
| --- | --- |
| Calories: | 0 |
| Sugar: | 0 g |
| Caffeine: | 0 mg |
If you prefer fruity flavors over mint, then you'll like the Peach Tranquility better than the Mint Majesty. It still offers you no calories, sugar, or caffeine but has a deliciously sweet mix of candied pineapple, peach, lemon verbena, chamomile, and rose hips, rather than mint. It's the perfect treat for a rainy day!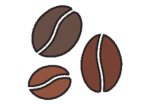 Iced Teas
Some people prefer iced teas to hot teas (particularly in the summer), and Starbucks has you covered on that front as well. While several are the iced versions of their hot tea drinks (mainly the tea lattes), others are not, so read on! (Again, all nutritional information is for the grande.)
10. Iced Black Tea Lemonade
| | |
| --- | --- |
| Calories: | 50 |
| Sugar: | 11 g |
| Caffeine: | 25 mg |
Surprisingly, the addition of lemonade here to black tea for an Arnold Palmer-type drink doesn't add a ton of calories and sugar! So, if you're looking for a nice black tea with a hint of tart lemony goodness, you'll likely enjoy this one.
---
11. Iced Peach Green Tea
| | |
| --- | --- |
| Calories: | 60 |
| Sugar: | 12 g |
| Caffeine: | 25 mg |
Get your peach on with this low-cal tea! Featuring a peachy green tea mixed with lemongrass, lemon verbena, and spearmint, this sweet, tart, and cool tea will make an excellent start to your day. Plus, the sugar content isn't terrible on this one, which makes it healthier than some of the other tea drinks available at Starbucks.
---
12. Iced Peach Green Tea Lemonade
| | |
| --- | --- |
| Calories: | 80 |
| Sugar: | 18 g |
| Caffeine: | 25 mg |
If you want to add more lemon flavor to your Iced Peach Green Tea, go with the Iced Peach Green Tea Lemonade! It has all the same ingredients as the regular tea but adds a splash of lemonade for more citrus taste. Luckily, it doesn't add all the sugar and calories of other lemonade mixes.
---
13. Iced Green Tea Lemonade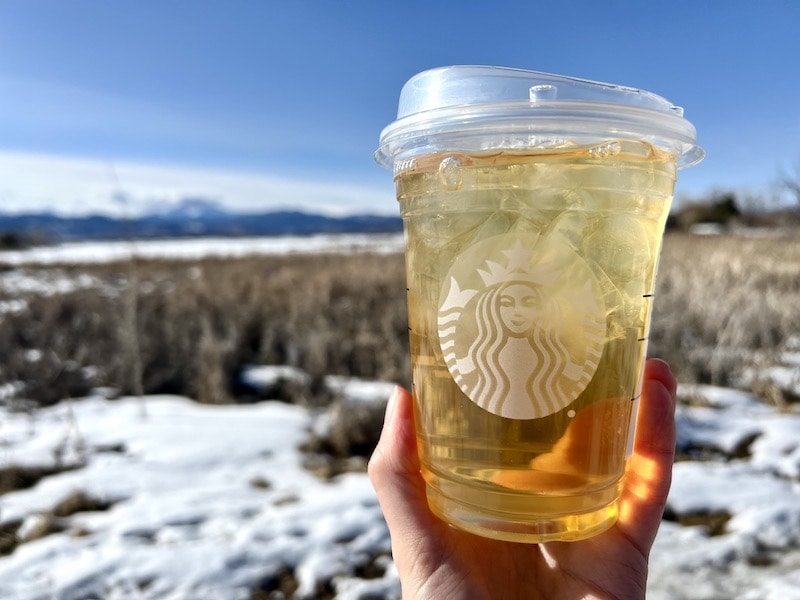 | | |
| --- | --- |
| Calories: | 50 |
| Sugar: | 12 g |
| Caffeine: | 25 mg |
 Put a twist on regular green tea with this Iced Green Tea Lemonade! It is not only mixed with a splash of lemonade but also blended with lemon verbena and lemongrass for an amazing citrus taste. Add a dash of mint, and you have a truly refreshing drink!
---
14. Iced Matcha Lemonade
| | |
| --- | --- |
| Calories: | 120 |
| Sugar: | 27 g |
| Caffeine: | 80 mg |
Matcha and lemonade may not seem like a great match, but it turns out they mix well together! The combination gives you a sweet iced drink with just a hint of tartness. Plus, the vibrant green is fun too. However, this drink has more calories and sugar than a lot of the other iced tea drinks.
---
15. Iced Passion Tango Tea
| | |
| --- | --- |
| Calories: | 0 |
| Sugar: | 0 g |
| Caffeine: | 0 mg |
If herbal tea is more to your liking, you should enjoy the Iced Passion Tango Tea. This calorie and sugar-free tea contain a sweet blend of apple, lemongrass, and hibiscus that's shaken with ice for a refreshing treat. And since it's caffeine-free, you can enjoy it at any time of day.
---
16. Iced Passion Tango Tea Lemonade
| | |
| --- | --- |
| Calories: | 50 |
| Sugar: | 11 g |
| Caffeine: | 0 mg |
Finally, you can put a twist on the regular Iced Passion Tango Tea by adding in a touch of lemonade for a sweeter treat. You'll also be adding some calories and sugar, but overall, it isn't too much; you'll still be getting a tasty caffeine-free treat!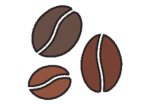 Secret Menu
And then there are the best tea drinks from the secret menu. The secret menu is simply made up of drinks customized from a regular drink base that became popular on social media. There's no nutritional information for these, as they are customizations, but here are a few fan favorites.
17. Blue Drink
We're not sure how this drink got its name, but it's certainly not because of the color, as it's not very blue at all! This secret menu item enables you to enjoy an Iced Passion Tango Tea, but with a soy milk twist, as you'll replace the water used in the drink with the milk. You'll also want to ask for vanilla syrup to replace the cane sugar used in the original tea. The addition of the soy milk means you get a flavorful tea, but one that's not so flavorful it overwhelms.
---
18. Raspberry Milk Tea
Looking for a hint of sweetness combined with milkiness? Then this is your drink. You'll start by requesting an iced black tea, then instead of using water, ask for half and half instead. Next, you'll use classic syrup in place of the cane sugar and add toffee nut and raspberry syrups. It's not an overwhelming amount of sweetness, but instead a lightly sweetened milk tea.
---
19. Iced Strawberry Matcha Tea
This drink actually starts with the Starbucks Pink Drink Refresher as a base rather than a tea drink. Using the Pink Drink, though, you'll ask for strawberry puree at the bottom of the drink and a topper of one scoop of matcha powder mixed with vanilla cold foam. The result is a multi-colored drink that's chock full of flavor.
---
20. Raspberry Passion Tango Tea Lemonade
The Raspberry Passion Tango Tea Lemonade is a customization of the regular Iced Passion Tango Tea Lemonade. To make this one, you need to request that the barista cut the cane sugar in half from four pumps to two. Then, replace those missing pumps of sugar with raspberry syrup instead.
---
21. Guava Black Iced Tea Lemonade
Really shake up your tea-drinking with this one! Start by ordering the Iced Black Tea Lemonade, then have the barista add some guava juice and four pumps of cane sugar. This drink is definitely on the sweeter side and will likely have quite a few calories and sugar content between the lemonade, guava juice, and cane sugar. It will definitely make for a nice treat every once in a while, though!

Conclusion
If you're craving a nice cup of tea instead of some joe, then you should definitely try out one of Starbucks' many tea offerings. Whether you're craving something warm and spicy or iced and sweet, Starbucks teas pretty much run the gamut. Plus, you can order some pretty tasty tea drinks from their secret menu as well!