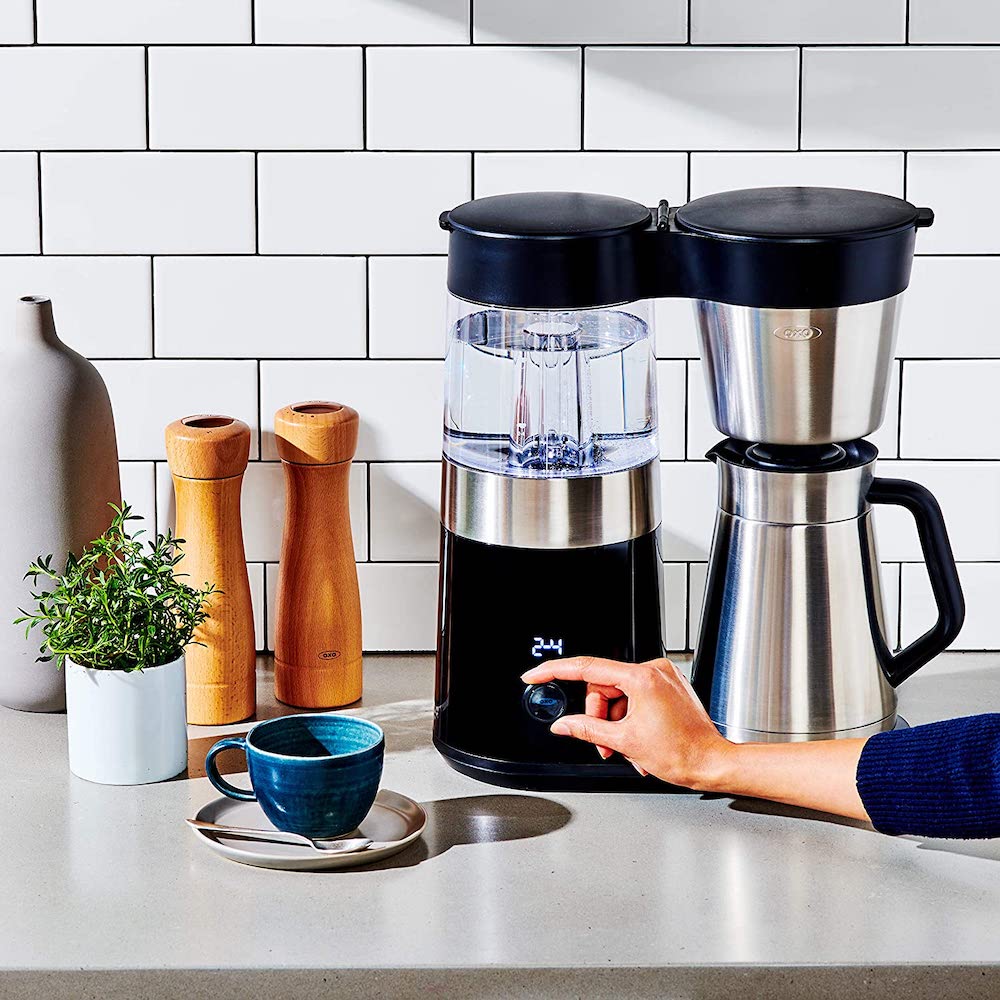 If you want to make the best possible coffee, you may want to buy an SCAA-certified coffee maker. That certification is the one used by machines in coffee shops to produce bold, rich flavors, and many users report that they just make flat-out better coffee in every category.
Many coffee makers meet SCAA standards, but will you enjoy using them? Finding the perfect combination of these two features may sound impossible, but we've done the hard work for you already.
These reviews of the best SCAA-certified coffee makers are designed to show you how easy or hard each machine is to use and how high-quality the results are. This way, you can find a model that will brew the coffee you want with as little fuss as possible.
---
Our Favorites (Last updated in 2023)
Image
Product
Details

Best Overall

Technivorm Moccamaster

5-year warranty
Controlled brewing temperature
Drip-stop

OXO BREW 9-Cup

Sleek look
Programmable
Double-walled carafe

Best Value

Bonavita 8-Cup

One-touch brew operation
Pre-infusion mode
Controlled brewing temperature

Cuisinart Pour-Over

Good temperature control
Flavor control
Thermal carafe

BUNN Heat N Brew

3-year warranty
Hot plate
Programmable
The 5 Best SCAA-Certified Coffee Makers
1.

Technivorm Moccamaster SCAA-Certified Coffee Maker – Best Overall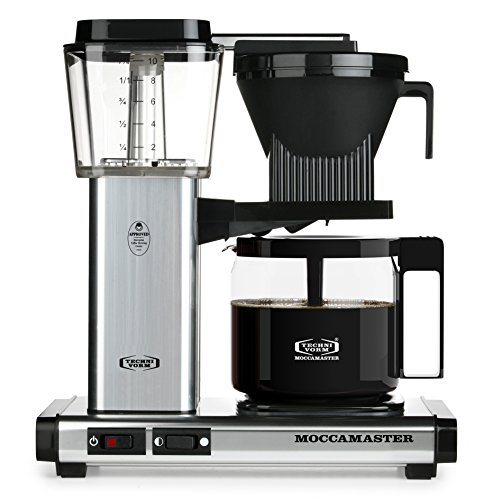 The Technivorm Moccamaster 59616 KBG Coffee Brewer is the best overall SCAA-certified coffee maker. It's available in twenty different colors, so you can make a statement with your coffee maker regardless of the décor of your kitchen. It has a drip-stop feature, so you can remove the carafe to pour yourself a cup of coffee, and it will stop brewing until you return it. Plus, this model is designed to heat water to between 196 and 205 degrees Fahrenheit, which is necessary for the SCAA certification.
This machine comes with a five-year warranty, which is much longer than you can typically get on a coffee maker. That's a great sign that the manufacturer truly believes in this product and is willing to stand behind it if something goes wrong. The only thing that could make it easier to use is a removable water reservoir. As things stand right now, you have to bring the water to the coffee maker. Still, this is a great coffee maker that will make strong coffee most people will love.
Pros
Tons of colors
Drip-stop
Controlled brewing temperature
Five-year warranty
Cons
Water reservoir is not removable
---
2.

OXO BREW 9-Cup Coffee Machine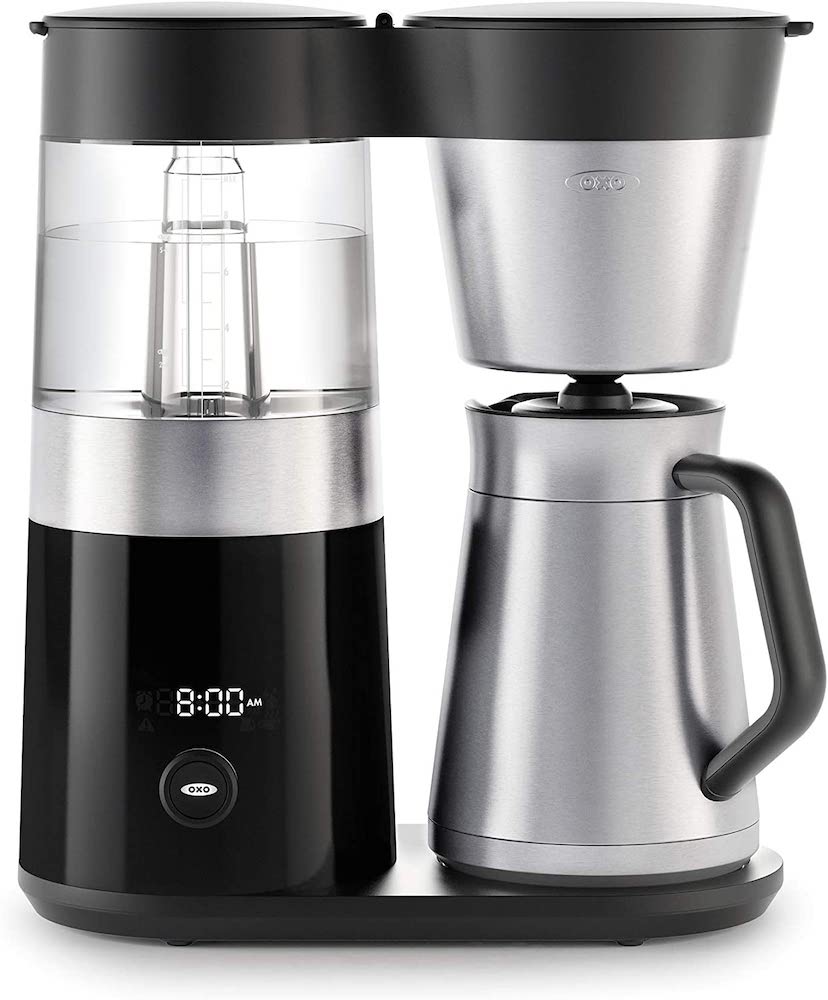 The OXO Brew 9 Cup Coffee Maker is another one of our favorite SCAA-certified coffee makers. It has one of the tightest temperature ranges, which actually exceeds SCAA requirements. Since the water is heated to between 197.6 and 204.8 degrees, you'll know that you're getting the maximum possible flavor out of your coffee. The clean, stainless steel body will help it fit in well with most kitchens. You can program this machine to make between two and nine cups of coffee, regardless of how much water is in its tank, and you can program it to brew up to 24 hours later.
The sleek, double-walled carafe keeps coffee warm for a while after it's brewed, without the requirement of using a hot plate. That means the coffee won't get burned. However, the carafe can be hard to clean since it has a relatively small opening. If there were a way to clean this model more easily, we could see it taking first. However, it makes exquisite coffee, and if that's all you're looking for, you'll be very happy with this coffee maker.
Pros
Very tight temperature range
Sleek look
Programmable
Double-walled carafe
Cons
Carafe can be hard to clean
---
The Bonavita BV1900TS 8-Cup One-Touch Coffee Maker does a number of things very well. Chief among those is making coffee. This machine holds to the SCAA-certified 195-205-degree brewing temperature, which results in an excellent cup of coffee. The pre-infusion mode allows you to alter the flavor of your coffee. Another big plus is that it's extremely simple to operate. Just flip a single switch, and you'll be brewing away.
However, what really sets this one apart is its price. You can pick it up for less than half of what you'd pay for our top-ranked choice. Given its clear value in other areas, it's easy to label this machine the best value here. If you're looking for an affordable SCAA-certified coffee machine, this one is a safe bet. The one thing that could be added to help this model rise on our list would be the option to program it, though that would detract from its overall simplicity. This is the coffee maker for people who want great coffee and a great deal.
Pros
One-touch brew operation
Controlled brewing temperature
Pre-infusion mode
Great price
---
4.

Cuisinart Pour-Over Coffee Brewer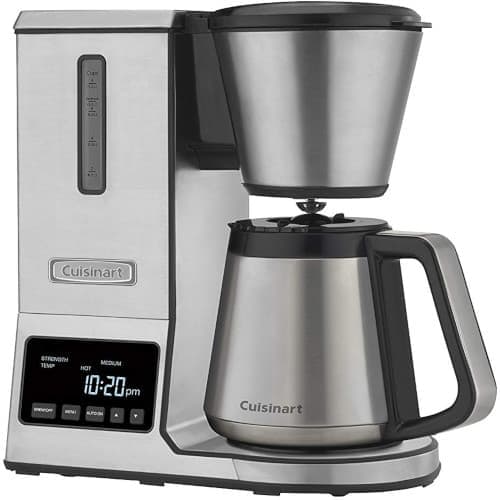 The Cuisinart CPO-850 Pour Over Coffee Brewer gives you more options than most SCAA-certified brewing machines. It has a normal brewing mode that meets the guidelines set out by that organization, but also includes an "extra hot" mode for those who like their coffee really hot. Also included in this machine are not one, not two, but three different flavor profiles. You can brew it mild, medium, or bold to suit your tastes. This machine has a stainless steel thermal carafe. If you want to keep your coffee hot for longer, but don't want to worry about burning it over a hotplate, this coffee maker has just what you need.
Unfortunately, we can't rank it any higher than fourth due to its durability concerns. The screen is especially prone to breaking, and this model doesn't have a stellar reputation when it comes to longevity. Some units reportedly give out in under a year. Cuisinart's customer service can also be tricky to deal with, which makes durability problems that much worse. This machine makes great, and highly customizable, coffee, but given its multiple problems, it's not necessarily a good buy for the price.
Pros
Good temperature control
Flavor control
Thermal carafe
Cons
Some durability concerns
Tricky customer service
---
5.

BUNN Heat N Brew CoffeeMaker (SCAA-Certified)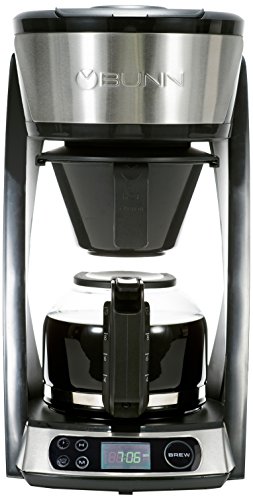 The BUNN HB Heat N Brew Programmable Coffee Maker is certified by the SCAA, but that designation alone doesn't necessarily mean it creates an experience that people will enjoy. On the plus side, it is programmable, so you can set it up in advance and wake up to the smell of hot coffee. It also comes with a hot plate, so you'll be able to keep coffee warm for up to two hours before it turns itself off automatically. BUNN gives this model a three-year warranty, so it comes with peace of mind that it won't give out unexpectedly.
Unfortunately, the carafe is underwhelming. While it is shatter-resistant, it tends to drip while you pour, which can make a big mess and is a general pain to deal with. It's also not the best on our list when it comes to flavor extraction. Other machines do a better job of getting the maximum taste out of your beans, expensive or not. This brewer might be a good choice for those who don't care too much about flavor, but that's not typically what you're hoping for when you buy a SCAA-certified unit.
Pros
Programmable
Hot plate
Three-year warranty
Cons
Drippy carafe
Underwhelming flavor extraction
---
Buyer's Guide: Finding the Best SCAA Certified Coffee Maker
The SCAA certification
After reading about these coffee makers, you may be wondering what makes the SCAA certification so special.
To start, the SCAA uses a "golden cup" standard, which requires that the Total Dissolved Solids represent 1.15 to 1.35 percent so that the solubles extraction yield is 18 to 22 percent.
Does that sound like a bunch of gibberish? That's okay. We know that doesn't make a lot of sense to those who aren't actively making their own coffee, so we'll break it down for you.
Essentially, the standard ensures that the ratio of coffee to water in your cup falls within a range that maximizes flavor. There are best practices used by people and machines to ensure that those ratios are met. Some people may like coffee that falls outside this range better, but the standard does produce coffee that most coffee drinkers really like.
For brewing machines, the water needs to be heated to within five degrees of 200 degrees Fahrenheit, or a range of 195 to 205 degrees. The coffee machines are also designed to produce turbulence, ensuring that all coffee grounds make contact with the water, meaning you'll get even, full extraction.
There are other things that go into the standard that aren't dependent on the machine, such as the water quality, and the types of filters used, though that's something that the user controls.
The bottom line? When it comes to coffee makers that meet SCAA standards, look for models that heat the water to between 195 and 205 degrees Fahrenheit and also produce turbulence so that all coffee grounds are used in production of the coffee. While brewing, stick to the golden ratio of beans to water.
Programmability
Something that can make or break a coffee maker for many people is whether it can be programmed. If you want to wake up to coffee, confirm that a machine can be programmed before you buy. Otherwise, you'll have to wait for the coffee in the morning and put the materials together before your first cup, which can be an unpleasant experience.
Some machines make programmability easier than others. One on our list does it with a simple twist of a dial. Others require you to go through a series of sub-menus, which isn't a quick and easy experience.
If you're looking to save on the price, you can typically get a machine that brews well, but costs much less than a similar one with programming. It's a good first feature to drop from your list if you want to save some money.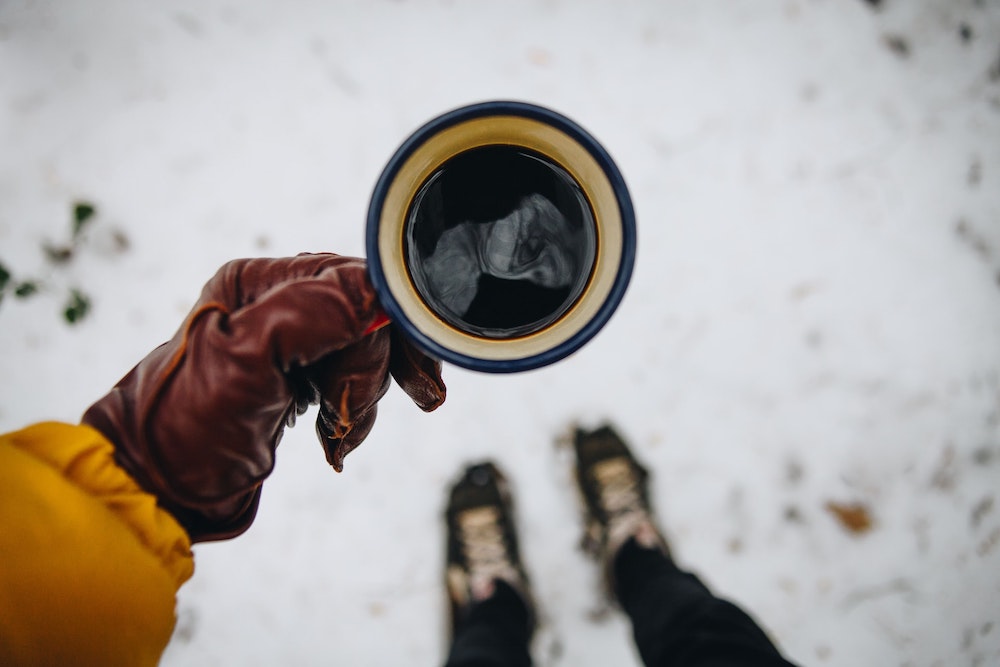 Thermal carafe vs. hot plate
Many people who are serious about their coffee's flavor will spurn machines with hot plates. The reason is simple. Hot plates can burn coffee, altering its flavor over time, even as it's kept warm. That means your cups later in the day won't be as good as the ones you got while the coffee was fresh.
Hot plates that are left on all day can also present a potential fire risk, which is why many machines now automatically turn off after two or four hours. In some instances, that means the coffee won't be kept warm as long as you'd like.
Thermal carafes are an alternative for keeping coffee hot. The area between the inner and outer wall is vacuum-sealed so that a majority of the heat is kept inside the carafe. While some thermal carafes work very well, many do not. If you're looking to keep coffee warmer for longer, you're still probably better off with a hot plate. Even better, let it cool down and reheat it in a microwave when you're ready to drink.
Brewing options
Another area where SCAA-certified coffee makers differ is the brewing options. Some allow you to make a different number of cups at a time through software settings, while others brew strictly based on the amount of water you've filled them with. SCAA-certified coffee requires a specific ratio of coffee grounds to water, so if you're changing how much coffee you're making, you need to change the number of grounds you're using, too.
However, it is nice to be able to fill the water reservoir when you need to and get the number of cups you want with a simple software setting.
Consider the temperature settings as well. Some machines allow you to brew hotter or colder than SCAA standards, so if you already know your taste falls outside those boundaries, you'll want to get one of those. Likewise, some machines allow for stronger or weaker coffee with a software setting, which again falls outside SCAA settings, but can lead to a more satisfying cup of coffee.
Our other coffee maker reviews:

Conclusion
The Technivorm Moccamaster 59616 KBG Coffee Brewer is our favorite due to its variety in appearance, drip-stop feature, and a massive five-year warranty. The OXO BREW 9 Cup Coffee Maker comes in second with its very tight temperature range, sleek look, and programmability, though its carafe is hard to clean. Next is the Bonavita BV1900TS 8-Cup One-Touch Coffee Maker, which has one-touch operation, a controlled brewing temperature, and pre-infusion mode. Its price is so great that it earns the title of best value for the money.
We hope our guide and reviews have brought you one step closer to brewing the coffee of your dreams. A dependable, effective, and easy to use coffee maker with that valuable SCAA certification awaits!