Whether it's the holidays, the beginning of fall, or the middle of summer, Starbucks has a drink that will help you get through the day. While many think Starbucks only serves coffee drinks, they have several options for non-coffee drinkers.
People go to Starbucks every day to get drinks without coffee or caffeine. There's a lot to find on a Starbucks drink menu, from teas and blended drinks to hot chocolate. In fact, we'll give you 12 of the best Starbucks drinks without coffee that you can get no matter what season it is in the list below.

The 12 Best Non-Coffee Starbucks Drinks:
1. Chai Tea Latte
If you're not a coffee fan but still love Starbucks drinks, the Chai Tea Latte is a drink you may enjoy. It is a chai tea concentrate with ginger, cinnamon, cloves, and other flavorful ingredients. While it will not give you a big caffeine boost, it has a bit of caffeine to keep you going.
---
2. Iced Peach Green Tea
https://www.instagram.com/p/CDXPq7kl9LM/
The Iced Peach Green Tea drink has only 50 calories and less sugar than other Starbucks beverages. It's a mixture of ice, peach flavoring, and green tea for a nice-tasting beverage that doesn't contain any coffee.
This one isn't too sweet, so it's perfect for those who don't like much sugar, but there's still enough sugar to taste great.
---
3. Strawberry Acai Refresher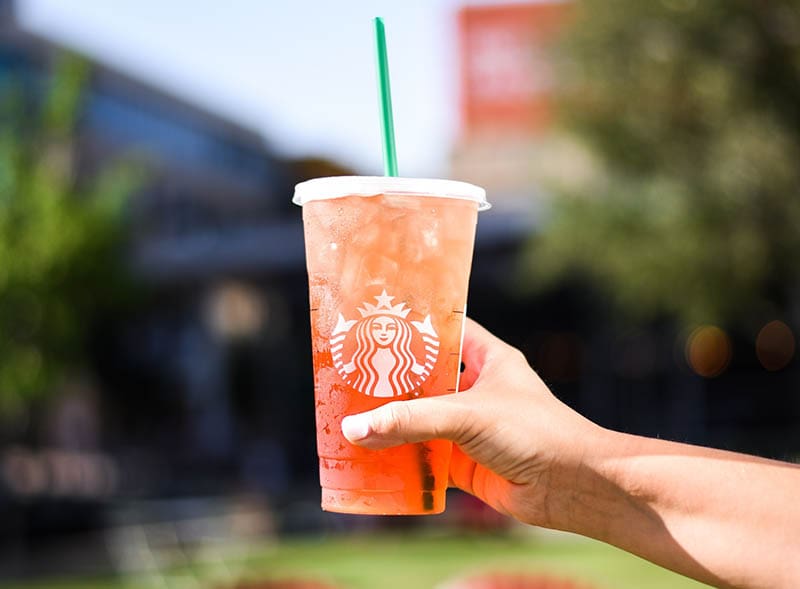 Another great drink for the spring and summer is the Strawberry Acai Refresher. Something about the name even sounds cold and refreshing. This drink has only 60 calories, making it ideal for those watching their weight.
It is a semi-sweet drink since all the sugar is natural, and it's an excellent drink for a quick pick-me-up during the day. It contains a little caffeine but not enough to make you jittery.
---
4. Pink Drink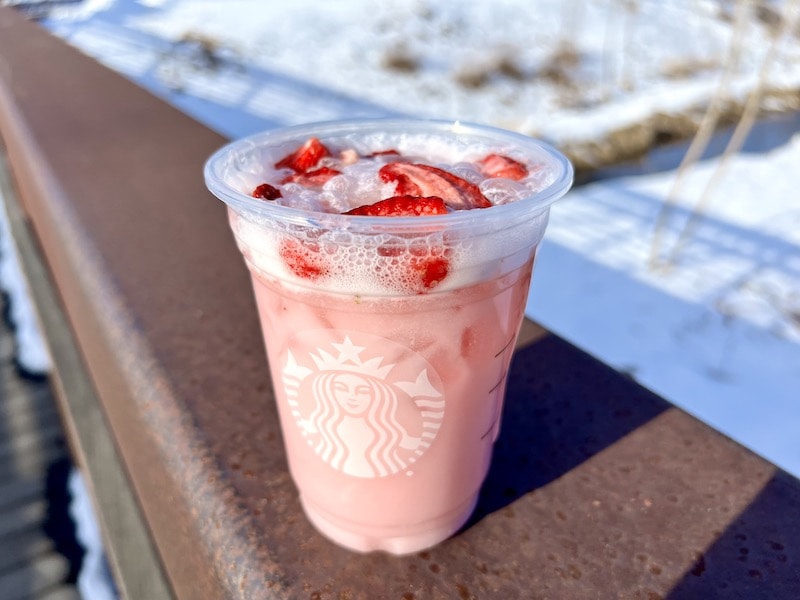 The Starbucks Pink Drink is where our calorie content begins to pick up, with this one having 140 calories per serving. It didn't start out as a Starbucks drink but became so popular everywhere that Starbucks added it to its menu.
The Pink Drink has a mix of strawberries and coconut and contains 24 grams of sugar, which might not be the best choice for someone who needs to avoid a high sugar intake. This is a great-tasting drink and one of the most popular drinks at Starbucks.
---
5. Chocolate Cookie Crumble Crème Frappuccino
The Chocolate Cookie Crumble Crème Frappuccino is a decadent drink that is basically like a milkshake but a whole lot richer. This one contains a whopping 460 calories and, as you can imagine, quite a bit of sugar. While it is high in calories, it has less dairy than a milkshake.
This is one of the best-tasting drinks at Starbucks, and though it doesn't contain coffee, if you want them to, they can add a quick shot of espresso to the mix of decadent chocolate and cookies. Don't forget to get the toppings of whipped cream and cookie crumbles for the ultimate dessert beverage.
---
6. Peppermint Hot Chocolate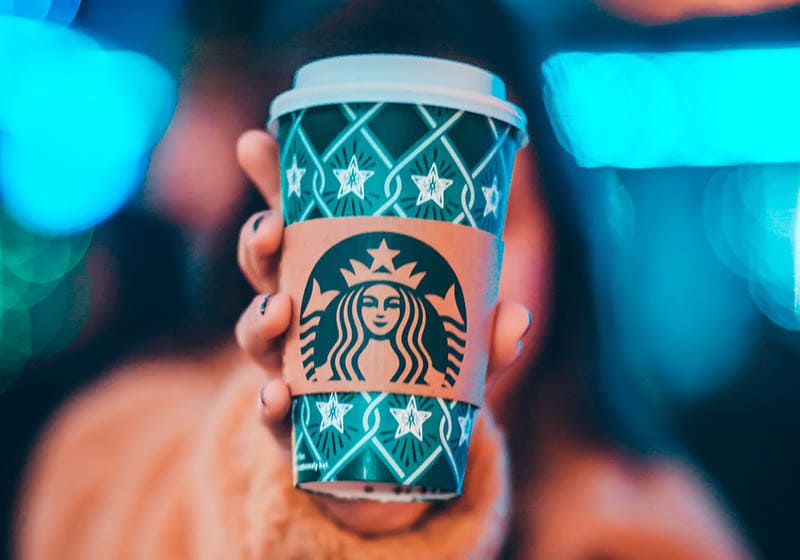 The Peppermint Hot Chocolate is just in time for the holiday season. This one is 440 calories a serving. However, if you're like us and love everything to do with Christmas, the calories won't matter to you either.
This hot chocolate is the perfect drink to stop for when you're driving around looking at Christmas lights with the family. It's filled with peppermint, chocolate, whipped cream, and a lot of nostalgia.
---
7. Caramel Ribbon Crunch Crème Frappuccino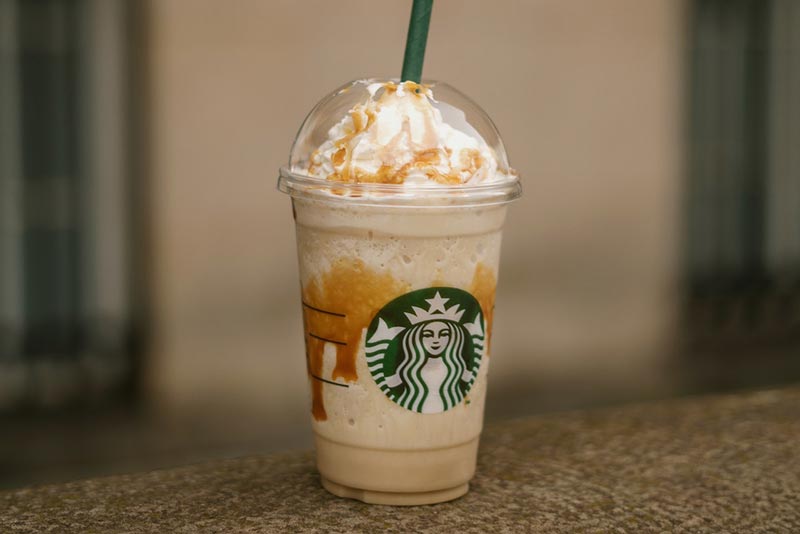 The Caramel Ribbon Crunch Crème Frappuccino is a delicious drink to order no matter what time of the year it is. It contains 470 calories, but if you're a caramel lover, you will want to order this drink and give it a try.
This is also one of Starbucks' most popular Frappes. It is chockful of caramel, crunchy cookie pieces, and whipped cream. Add all that to a caramel drizzle, and caramel explodes in your mouth at every turn. With this drink, you won't even notice that it doesn't contain coffee, but you can ask for a shot of espresso to be added.
---
8. Blended Strawberry Lemonade
Blended Strawberry Lemonade is, as you might have guessed, a blend of strawberry flavoring and lemonade. It contains 200 calories, which is higher than some and lower than others on our list. This is a cool refreshing drink that contains no caffeine.
If you're looking for a cool, iced drink to take to work or even back to your house on a scorching summer day, you might want to hit the drive-thru at Starbucks and order this concoction.
---
9. Iced Guava White Tea Lemonade
The Iced Guava White Tea Lemonade is not only a gorgeous color but a refreshing drink that combines guava, ice, white tea, and lemonade. It only contains 130 calories, making it one of the lowest-calorie drinks on our list, but not the lowest.
---
10. Salted Caramel Hot Chocolate
We all know that salted caramel was one of the best things ever invented, and it's never more evident than in the Salted Caramel Hot Chocolate you can get at Starbucks. This is a great substitute if you don't want caffeine and coffee in your drink.
The hot chocolate beverage contains 460 calories but is well worth the splurge. It's a hot drink made with hot cocoa, salted caramel, and fragrant whipped cream. If you love salted caramel and hot cocoa, this one is a winner for this upcoming winter season. You'll be glad you tried it.
---
11. Cool Lime Refresher
Most people don't want a mug of hot chocolate in the middle of a heatwave, at least not everyone. If you're looking for something cool, refreshing, and with no coffee included, the Cool Lime Refresher is the drink for you.
This drink only contains 50 calories, so it is excellent for someone who is watching their weight. This drink includes lime, fresh mint, cucumber, and a healthy dose of sugar. Give this one a taste if you're looking for something refreshing to help you hydrate on a hot summer day.
---
12. Cinnamon Dolce Crème Latte
The last drink on our list of the top 12 best non-coffee drinks at Starbucks is the Cinnamon Dolce Crème Latte. This latte has quite a few calories but is worth it, in our opinion. We love cinnamon, and this is one of the best drinks featuring the tasty spice. The crème option of this latte is the coffee-free version. It's a great substitution if you don't like coffee but still love the drink, are at your limit of coffee for the day, or want to avoid the caffeine.

Conclusion
As you can clearly see, there are quite a few delicious drinks on the Starbucks menu that contain no coffee. There are teas, blended drinks, lattes, hot chocolates, and even lemonades that contain no coffee. Of course, you can ask for a shot of espresso in many of these if you feel that you need that coffee jolt.
The point is you don't have to go somewhere else to get a drink that doesn't have coffee in it because Starbucks has you covered. Did we put your favorite non-coffee Starbucks drink on the list?
---
Featured Image Credit: TR, Unsplash