If you're familiar with coffee, you've probably heard of the Guatemalan variety. But did you know that Guatemala is the world's 10th largest producer of coffee and the second-largest producer of specialty coffee?
Most of Guatemala's coffee is roasted around or above 5,000 feet, which gives it a sparkling acidity and makes it ripe for specialty coffee aficionados.
With the world of coffee being so huge, we would like to be your guide through the hills of Guatemala. To help you find your new favorite brand, we bought and tested dozens of coffees and came up with this list of the five best Guatemalan coffee brands of the year. We've also written detailed reviews and a quick buyer's guide. Keep reading to learn about Guatemala's best coffee!
---
A Quick Glance at the Winners of 2023
Image
Product
Details

Best Overall

Volcanica Guatemala Peaberry

Exemplifies Guatemala
Nice roast
Wonderful cold brew

Cooper's Cask Cold Brew

Specifically roasted for cold brew
Organic and small batch-roasted
Great customer service

Best Ground Coffee

Two Volcanoes

Highlights Guatemalan coffee
Nice, dark roast
Flavorful

Best Decaf

Volcanica Guatemala Antigua Decaf

Great decaf
Grown in volcanic ash
Notes of chocolate and nuts come through in a creamy, full bodied experience

Pablo's Pride

Versatile
Full-bodied
Chocolate and caramel flavors
The 5 Best Guatemalan Coffee Brands
1. Volcanica Guatemala Peaberry Coffee – Best Overall
*Use code AFFECTION12 at checkout
Volcanica's Peaberry from Guatemala is a wildly popular bean and for good reason. It is a rich and complex experience. At its best, Volcanica's Guatemala Peaberry is a shining example of what Guatemalan coffee is supposed to be: a bit spicy with dazzling acidity and chocolate tones. The price tag isn't prohibitive. In fact, in the world of specialty coffee, we'd say it hovers around average.
It's a versatile bean as well. The best method for brewing this bean is a cold brew, which lets the acidity be the star of the show. This is a coffee with great body, roasted at a medium level.
There have been a few complaints that this coffee can arrive slightly stale when delivered. However, our beans arrived fresh and tasty!
SEE ALSO: Volcanica Coffee Review: Pros, Cons, & Verdict
Pros
Exemplifies Guatemala
Nice roast
Wonderful cold brew
---
2. Cooper's Cask Guatemalan Cold Brew Coffee
Though the Organic Cooper's Cask Guatemalan is specifically roasted for cold brew, it's equally delicious in a pour-over, French press, or drip machine. This is a wonderfully clear coffee with notes of orange, caramel, and chocolate. It's also certified Organic and small batch-roasted to a perfect medium level.
This tasty coffee is creamy and smooth — and it's available in a coarse grind size!
There have been reports of this coffee being delivered stale. The customer service of this roaster has a wonderful reputation, though, and is known to give full refunds.
Pros
Specifically roasted for cold brew
Creamy and smooth, with flavors of orange, caramel, and chocolate
Organic and small batch-roasted
Great customer service
---
3. Two Volcanoes Guatemala – Best Ground Coffee
As far as pre-ground coffee goes, this blend by Two Volcanoes is ideal. It's a blended dark roast, which gives this coffee the best chance to be at its most flavorful. When a roaster is doing a blend, especially in bulk, it is so easy to get the ratios of coffee wrong, to have a defect, etc. That is typically why roasters roast coffees like this so dark, especially if it is going to be sold pre-ground.
While this is a blend, it still has the notes you would expect from a Guatemalan coffee, most noticeably of chocolate and caramel. You just won't find them as pronounced.
It does need to be pointed out that with pre-ground coffee, you have a higher chance of getting a bad batch or it going stale soon after you get it because coffee's shelf life dramatically decreases after it has been ground.
Pros
Highlights Guatemalan coffee
Nice, dark roast
Cons
Goes bad quicker than whole bean
Not as bright as other Guatemalans
---
4. Volcanica Guatemala Coffee – Best Decaf
As a medium roast, Volcanica's Decaf Guatemala offering is a delightful cup. The notes of chocolate and nuts come through in a creamy, full-bodied experience. It is similar to our top pick, though it being decaf caused it to slip down the list.
This coffee was grown in volcanic ash, which is where we find so much of the brightness in the acidity. Remember, these are the same beans as the caffeinated ones, and the only difference is that these have gone through a process to rid them of their caffeine.
Pros
Great decaf
Grown in volcanic ash
Cons
Not as flavorful as regular
---
5. Pablo's Pride Guatemala Whole Bean Coffee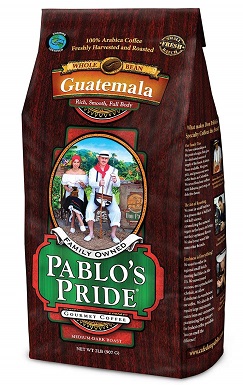 For being the last coffee on our list, Pablo's Pride is pretty good. It doesn't have the complexity that many Guatemalan coffees have, but it does carry notes of chocolate and caramel and is full-bodied.
It may be best to mess around with your brew method with this coffee. People have all sorts of different experiences with Pablo's. Some swear by percolators, other by cold brew, but all agree that this coffee is good. One gripe is that it is really low in acidity, which is what generally carries a drink.
Cons
Low acidity
Low complexity
---
Buyer's Guide: How to Find the Best Guatemalan Coffee Beans
There are so many things to think about when considering what kind of coffee to buy, even once you decide that you're going to buy Guatemalan. The roast, the area it was grown, the brewing method you have at home — these all matter. So how do you find out what is right for you when it comes to Guatemalan coffee? Here are a few factors you may want to consider…
Roast
You're buying Guatemalan beans because you're interested in their unique flavors, so you don't want a roast that will overwhelm those flavors. Light roasts leave complex fruity and floral flavors in the coffee, so the lighter a Guatemalan coffee is, the more complex it will be. Here, you will find notes of spices and fruits, along with nutty chocolate and caramel.
If you prefer dark roasts, there many good options, as well. Even with a dark roast, the notes of chocolate generally shine through in a Guatemalan coffee. You'll find hints of other flavors — fruits, spices, and caramel — but mostly, you'll be sipping on a creamy cup of chocolatey coffee.
Single-Origin or Blend?
If you're a specialty coffee aficionado, you'll probably prefer a single-origin bag. Single-origin coffee beans will have the most unique flavors, while blends often bring out a smooth, well-rounded flavor. A bag of single-origin coffee contains only beans from one producer, crop, or region in a single country. Keep in mind that blends may contain beans from all over the world, so if you're looking to explore Guatemala's specific flavors, you'll want to make sure you're choosing an all-Guatemala blend.

Conclusion
The results of the best Guatemalan coffee brands are in! Our favorite is Volcanica's Guatemala Peaberry Coffee, a spicy, acidic, and chocolatey bean sold at a reasonable price. If you'd prefer ground coffee, we recommend Two Volcanoes, which is a well-rounded blend with notes of chocolate and caramel. And if you're looking for a decaf option, try Volcanica's Decaffeinated Guatemala Coffee, which is impressively flavorful, creamy, and full-bodied.
With flavors of chocolate, caramel, and nuts, plus a sparkling high-altitude acidity, it's easy to see why Guatemalan coffee is so popular. The world of coffee is wonderfully huge, so we're glad you're exploring it. The first step can sometimes be the hardest, and we hope that these reviews have helped you on your journey for the perfect Guatemalan bean. You can continue the adventure by trying different roast levels, brew methods, and processes with your new coffee beans.
RELATED READ: What is Guatemala Antigua coffee?