Whether you live in Corpus Christi, just recently moved there, or are a tourist taking in the nightlife and combing the beaches, you probably want to know where the best coffee shops are.
That morning jolt of caffeine is what gets many of us going throughout the day and keeps us going into the night. Whether it's a cozy coffee café minutes from the beach or a modern shop that serves coffee and beer, there's plenty to love about the coffee in Corpus Christi.
In this list, we'll give you our top 10 favorite coffee shops in Corpus Christi and a little bit about them all as well.

The 10 Best Coffee Shops in Corpus Christi
1. Coffee Waves
Coffee Waves is one of the most popular shops in the Corpus Christi area. They actually have a few locations around the area, including one on the Cinnamon Shore.
Whether you want to hang out with friends or have a quiet area to work or write, this is the place. It's even possible to curl up with your favorite book, drink coffee, and relax on a rainy afternoon.
The shop has a brick wall interior, high ceilings, plenty of seating, and remote working amenities, so you won't be searching for an outlet or plug the whole time you're there.
On top of offering great coffee drinks, Coffee Waves also serve handcrafted gelato. The shop's signature drink, Hug in a Mug, is a fan favorite.
---
2. Driftwood Coffee Company
The Driftwood Coffee Company is not only a coffee roastery; it's a tasting room as well. They serve pour-over coffee at their Alameda location, and their beans are sourced from farms that that use sustainable farming techniques.
This company's coffee is served at quite a few locations in the Corpus Christi area, and you can buy beans to take home wholesale and at the Downtown Farmer's Market.
The little lounge area in the tasting room is cozy, with quite a few seating options, and the coffee, of course, is excellent.
---
3. Island Joes
14829 S. Padre Island Dr.
Located on North Padre Island, Island Joes is a coffee shop and gallery. It serves small snacks, coffee, and even art for sale by the owner. If you're looking for a good cup of coffee in a location that has an artsy vibe, you should visit this shop.
Island Joes is unique, and it's constructed t out of 10 shipping containers. If that isn't enough to get you to stop in, some of the proceeds from the sales at Island Joes go to a feeding program set up in the Dominican Republic.
The shop also has a pet-friendly patio, so Fido can come along, and they sometimes offer event nights, such as games, movies, and open-mic nights.
The employees are friendly, and the coffee is roasted in-house. This is definitely one you should check out when you're in the area and looking for a caffeine fix.
---
4. Stingers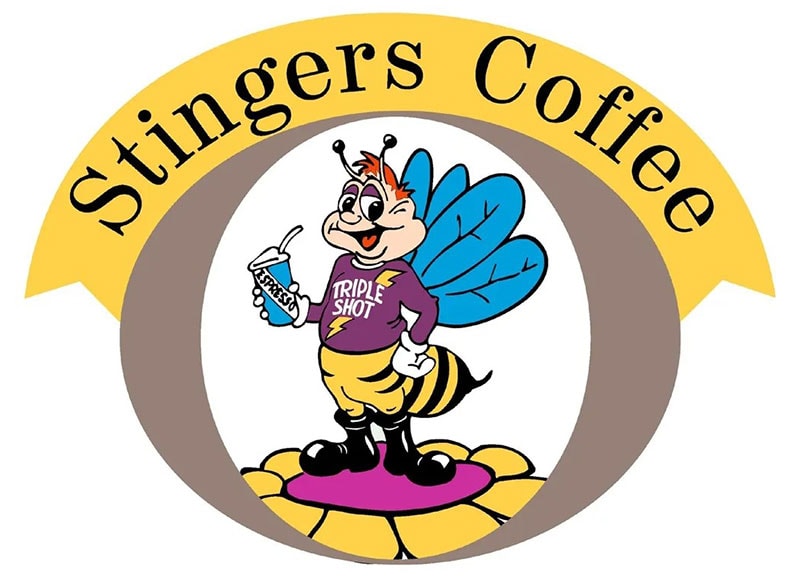 Stingers features bold flavors in its coffee and is located on the South Side of Corpus Christi. Its claim to fame is the clever drink flavors that you can't find at any other coffee shop.
Stingers uses fair-trade coffee, local dairy suppliers, and bakeries, and the food and coffee are delicious. You can sit on the patio to drink your coffee or take advantage of the ambiance inside. The shop has plenty of seating and several charging outlets, and the Wi-Fi is fast. What more could you ask for in a local coffee shop?
---
5. Roasted Coffee Shop
The Roasted Coffee Shop isn't exactly your average café. The café features wooden floors, green accents, brick walls, and nice artwork on the walls.
Roasted Coffee Shop is a cozy, intimate place to drink your cup of Joe. However, the team is also capable of infusing your favorite caffeinated beverage with CBD. CBD is said to help relieve pain, anxiety, and sleeping issues..
However, it's best to check with your doctor before trying any CBD product, just to be on the safe side.
The shop also features free Wi-Fi, discounts you won't want to miss, and of course, great coffee.
---
6. Café Calypso

The Café Calypso is a cozy coffee shop that adjoins a store called Half Price Books, which for many of us conjures up visions of curling up in a chair in front of a fireplace with a mug of coffee in one hand, and a book in the other for a long afternoon of reading.
They have reasonable prices, floor-to-ceiling bookshelves, and great coffee to boot.
---
7. Bien Merite Café
The Bien Merite Café isn't just a coffee shop; it's a bakery as well. It's pretty, bubbly, bright, and has touches of greenery spread throughout. The shop serves coffee, tea, and baked goods, and the customers feel like they've been transported to a café in France for breakfast or even dinner.
You should stop by and have a cup of your favorite caffeinated beverage when you're in the area.
---
8. The Coffee Mugg
The Coffee Mug is a Harry Potter lover's dream. It features an enchanting ambiance, wizardly trinkets, and a sort of study quarters that would make any fan of Hogwarts proud. You've guessed it. This is a Harry Potter-themed coffee café that is magical and welcomes everyone, even muggles.
Visitors to this magical coffee shop can try concoctions such as Hufflelove, Goblet of Fuego, and Hedwig. Try them all, then see if you can pick a favorite. We bet you can't!
---
9. Hester's Café
1710 S Alameda St (At 6 Points)
Hester's Café is described by many as crazy good and a café where everything rocks. With two different locations, you can find indoor and outdoor dining. Not only does the café serve great coffee, but they also serve food as well. The café is also a bakery, so you can sit, drink your coffee, and enjoy a tasty pastry at the same time.
The café is owned by a couple of high school sweethearts and has been in business since 2006. The café is closed on Sundays in compliance with the owner's Christian beliefs.
---
10. Eleanor's Coffee Bar + Market
Eleanor's Coffee Bar + Market makes it into number 10 on our list of the best coffee shops in Corpus Christi. This is a cozy little café situated in a vintage coffee plaza.
The décor is minimalist, with plants scattered throughout the building. You can eat, shop in the market, or just sit at one of the tables and enjoy a cup of delicious coffee. The shop has premium coffee, scrumptious breakfasts, and sweet pastries, and it even offers a unique version of a yogurt bowl that you're not going to want to miss.

Final Thoughts
These are just a few of the best coffee shops in Corpus Christi, Tx, as we see them. From Harry Potter-themed cafes to cafes that will transport you to France for a day, there's something for every coffee lover in Corpus Christi; you just have to know where to find them.
---
Featured Image Credit: Oleksandr Nagaiets, Shutterstock