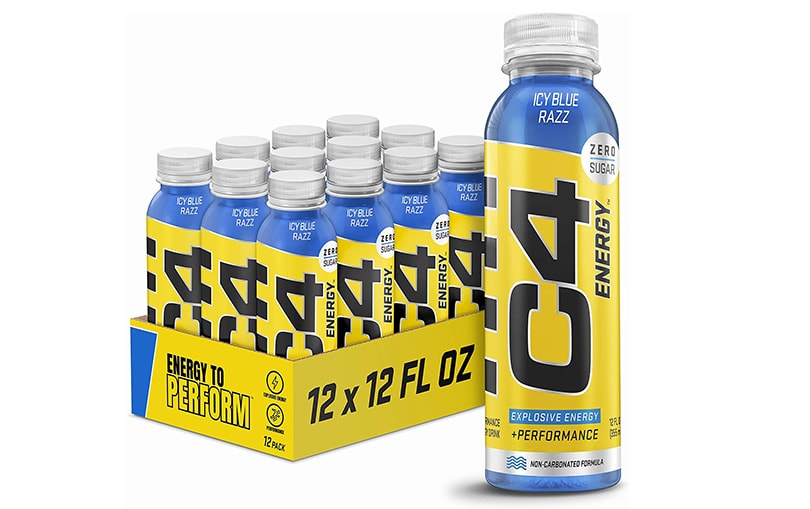 The new energy drink C4 from Cullucor will give you the energy that you need to finish your workout, and it also tastes great. Many people wonder how much caffeine is in a serving, and the answer is about 300 mg in a can of C4 Ultimate or 150 mg in powdered C4. Keep reading as we compare that number to other common beverages and see what other helpful ingredients are in C4 that can help you get more out of your workouts.

How Much Caffeine Is in C4?
Caffeine in C4 Powders
Original Powder
The original powdered C4 contains 150 mg of caffeine per serving, and it has 30 servings in each container. You can also purchase a larger 60-serving container in several flavors, including cherry limeade, fruit punch, icy blue razz, orange burst, watermelon, pink lemonade, and strawberry margarita.
Caffeine in Other C4 Powders:
Extreme Powder
The Extreme Powder comes in the same great tasting flavors as the original, but it increases the amount of caffeine to 200 mg per serving.
Ultimate Powder
The C4 Ultimate Powder increases the caffeine to 300 mg per serving. It's available in icy blue razz, orange mango, sour patch bros, and watermelon.
Dynasty Powder
The Dynasty Powder is a version of the C4 formula, and it increases the caffeine amount to 350 mg per serving.
Caffeine in C4 Drinks:
C4 Energy Drink — 12 Ounce Can
The 12-ounce cans provide you with the convenience of a premixed drink that you can drink whenever you need it. It delivers 150 mg of caffeine without any sugar.
C4 Energy Drink — 16 Ounce Can
The 16-ounce cans of C4 Energy drink provide you with the same great taste and formula as the 12-ounce cans, but the extra fluid increases the caffeine to 200 mg. The 16-ounce cans of Smart Energy C4 also come in at 200 mg per can.
C4 Ultimate — 12 Ounce Cans
Like the C4 Ultimate powder variety, the Ultimate Drink provides you with 300 mg of caffeine per container, so you will have plenty of energy to go through your day.
https://www.instagram.com/p/CULRsO5MhsY/
Caffeine in C4 Go Packs:
Cellular C4 Go Packets
The Cellular C4 Go Packs provide you with a quick way to get the boost of energy that you need to complete your daily tasks. Each packet contains a single serving of powder that you can mix with 6–8 ounces of water 30–40 minutes before a workout.

How Much Caffeine Is Safe to Consume Each Day?
The amount of caffeine that a person can consume varies. For example, people who drink coffee regularly build up a tolerance and can handle much larger quantities of caffeine than people who don't drink it that often. Other people, especially children, are sensitive to it, and a tiny amount can make them hyperactive or even have difficulty sleeping. Most experts recommend limiting your caffeine intake to about 400 mg per day to avoid health problems.
If you follow this recommended guideline, you should limit yourself to only one serving of the Dynasty or Ultimate varieties of the C4, but two servings of the Original or Extreme should be safe.
How Much Caffeine Is in Other Common Products?
Coffee
When you are determining the limits of your C4 consumption, it is important to remember that there is caffeine in many other products. For example, a standard cup of coffee (8 ounces) can have anywhere from 65 to 125 mg of caffeine, depending on the brand and roast. Darker coffee will have more (if you measure by the scoop) than a medium or light roast. If you get your coffee from a commercial location, like Dunkin' or Starbucks, it's easy to get more than 8 ounces, which will increase your caffeine consumption considerably.
Soda
Like coffee, the amount of caffeine in each can will vary by brand, and some brands even add a boost to give their products more kick. However, the typical 12-ounce can of soda has 30–50 mg of caffeine, which is less than half that of coffee. This low number might surprise you, because many people do get a boost from soda, but the extra energy mostly comes from sugar.
Energy Drinks
Energy drinks, like 5-Hour-Energy, are the hardest to determine, as many of these do not have the amount of caffeine listed on the container. Some studies have also found that many companies mislabel their products, so they can contain more or less than stated. Since it's hard to track your caffeine intake with these products, and many can have more than 200 mg per serving, we recommend avoiding these products when using C4, so you can maintain good health.

Summary
There are several varieties of C4 that will provide you with enough caffeine to get you through your workout. It contains several other ingredients that will also help you get the most from your efforts. The minimum amount is 150 mg of caffeine per serving, but if you don't drink too many, you won't need to worry about a caffeine overdose. We recommend starting slow if you don't drink caffeine regularly and limiting other caffeine sources, like coffee.
See Also: