Energy drinks are a popular way to add some pep to your step and keep you going through a long day. They've become the favored drink of gamers, thanks to their purported positive effects on alertness and accuracy. Along with caffeine, they often deliver a full charge of vitamins and sugar rush in a single can.
Not all energy drinks are packed with sugar, though. There are plenty of low- or zero-sugar options on the market nowadays, including Rockstar Pure Zero. It's an energy drink made by PepsiCo with zero sugar and 240 mg of caffeine in a 16-ounce can.
Let's take a look at what else is in Rockstar Pure Zero and how much caffeine it has compared to other similiar drinks.

What Is Rockstar Pure Zero?
Rockstar is an energy drink brand that was established in 2001 and is based in New York. PepsiCo purchased the company in 2020 for $3.85 billion. It is popular worldwide, available in 20 flavors, and sold in over 30 countries.
Rockstar Pure Zero is the brand's take on a zero-sugar version of its original beverage. While it has no sugar, it still contains 240 mg of caffeine per can, as well as B-vitamins, guarana, and taurine.
It comes in eight different flavors:
Silver Ice
Fruit Punch
Mandarin Orange
Grape
Watermelon Kiwi
Mango Guava
Limon Pepino
Tangerine Mango Guava Strawberry
All of the flavors of Rockstar Pure Zero contain zero sugar and 240 mg of caffeine per 16 fl oz.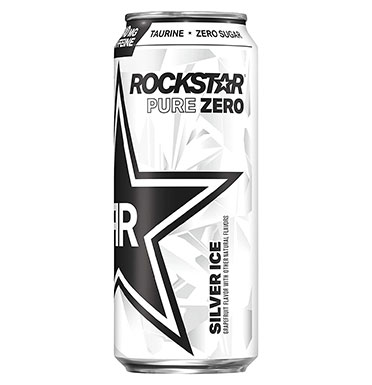 Caffeine in Rockstar Pure Zero vs. Other Energy Drinks
Now that we've explored Rockstar Pure Zero and its flavors, let's take a look at how it matches up with other zero-sugar or low-sugar energy drinks on the market and how much caffeine they contain per serving.
| | | | |
| --- | --- | --- | --- |
| Energy Drink | Caffeine Content | Calories | Sugar |
| Rockstar Pure Zero | 240 mg/16 fl oz | 20 | 0 g |
| Red Bull Sugar-Free | 80 mg/8.46 fl oz | 10 | 0 g |
| Monster Ultra | 150 mg/16 fl oz | 10 | 0 g |
| Starbucks Triple Shot Energy Zero Sugar | 225 mg/15 fl oz | 25 | 0 g |
| Bang Energy | 300 mg/15 fl oz | 0 | 0 g |
The caffeine content of Rockstar Pure Zero is on the higher end of the spectrum when you look at the range of options on the market. There are a few other brands with more caffeine out there, such as Bang Energy, but Rockstar Pure Zero is still considered a caffeine-heavy product.
Rockstar Pure Zero Caffeine vs. Other Beverages
So far, we've compared Rockstar Pure Zero to other energy drinks, but now it's time to compare it with other caffeinated beverages, including coffee, tea, soda, and caffeinated water.
| | |
| --- | --- |
| Beverage | Caffeine Content |
| Rockstar Pure Zero | 240 mg/16 fl oz |
| Starbucks Pike Place Coffee | 310 mg/16 fl oz |
| Black Tea | 84 mg/16 fl oz |
| Coca-Cola | 34 mg/12 fl oz |
| Aha! Caffeinated Sparkling Water | 30 mg/12 fl oz |
Rockstar Pure Zero has more caffeine when compared to other caffeinated beverages. If you're looking for an energy drink that's high in caffeine, low in sugar, and has plenty of flavors to choose from, Pure Zero might be a great option for you.
See also: 

Fun Facts About Rockstar Pure Zero
As of 2020, Rockstar had a 0.3% market share of the US non-alcoholic beverage market.
Rockstar has been subject to boycotts from the LGBTQ community, motivated by comments made by the brand's founder.
There are several alcoholic versions of Rockstar energy drinks available in Canada.
Rockstar sponsors concerts, special events, and extreme sports competitions.
---
Featured Image Credit: