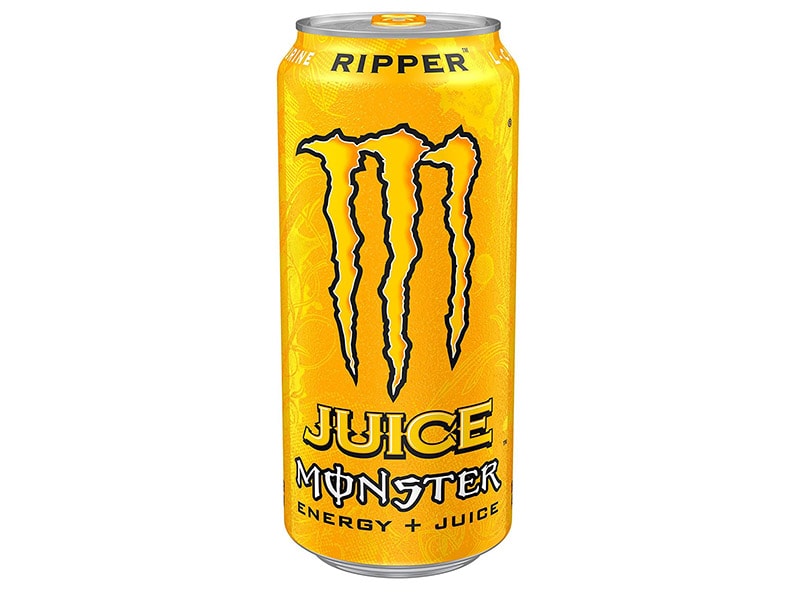 Monster produces many energy drinks and juices that are extremely popular, including Monster Ripper. Monster Ripper is an energy drink that contains caffeine, and it's wise to know how much of the stimulant is in the formula so you don't overdo it.
However, the amount of caffeine in this drink seems to be determined by the country and location in which the drink is sold. In fact, some countries have outlawed and discontinued Monster Ripper altogether. In the United States, the caffeine content of Monster Ripper is 160 milligrams (mg) of caffeine per 16.9-ounce can. That's a lot of caffeine, but how does it stack up to other energy drinks? Does it have more or less caffeine? Keep reading to find out.


Caffeine Content of Monster Ripper vs Other Leading Energy Drinks
Monster Ripper contains 160 mg of caffeine, and here's how it stacks up to other leading energy drinks.
| | |
| --- | --- |
| Monster Ripper | 160 mg per 16.9-ounce can |
| Bang Energy | 300 mg per 16-ounce can |
| Starbucks Triple Shot Energy | 225 mg per 15-ounce can |
| 5-Hour Energy Shots | 200 mg per 2-ounce shot |
| Celsius | 200 mg per 12-ounce can |
| Nos Energy Drink | 160 mg per 12-ounce can |
As you can see, Monster Ripper has a bit less than most of the energy drinks on our list, but it still contains more than sodas and most coffee beverages. If you're searching for a beverage with one of the highest caffeine amounts, you should try Bang Energy. However, both Monster Ripper and Bang are not for the faint of heart. The daily recommended allowance for caffeine consumption is no more than 400 mg a day, as put forth by the FDA.
Drinking one can of Monster Ripper puts you at about half of that amount. If you have a caffeine sensitivity, the issue could be even worse, so it's best to contact your doctor before drinking any caffeinated drinks.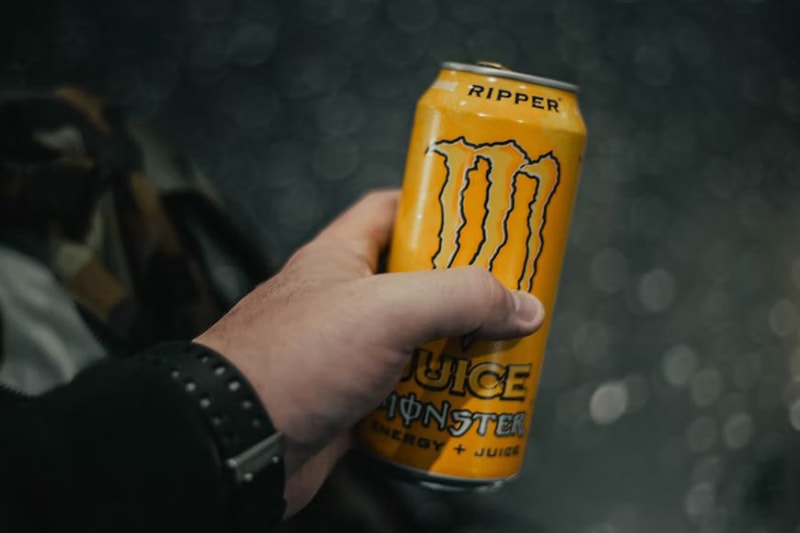 Which Flavors Does Monster Ripper Come In?
Monster Ripper comes in a variety of flavors.
Blue Razz
Mango
Pineapple
While some people love the sweet, tarty taste, others say that the taste is a bit too sweet. In addition to the 160 mg of caffeine, Monster Ripper also contains 52 grams of sugar.
Where to Find Monster Ripper
Monster Ripper is widely available in the United States, and you can find it in convenience stores, grocery stores, and online retailers. Due to restrictions, Monster Ripper is not available worldwide.


Wrap Up
Monster Ripper contains 160 mg of caffeine and is considered a highly caffeinated energy drink. It comes in a few flavors and provides a jolt of energy when you need it the most. Compared to similar beverages, Monster Ripper contains less caffeine but has more than most sodas, teas, and coffee drinks. Although it's safe to consume daily, you should limit your consumption to no more than two cans if you follow the FDA's limit of 400 mg a day.
See Also: