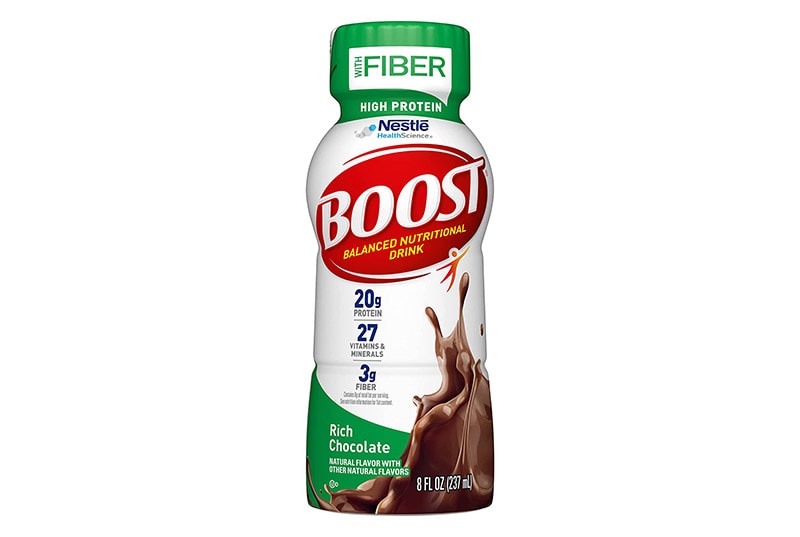 Boost Nutritional Drinks are designed to supplement your healthy diet with liquid nutrition. It's said to work great for many people but has been known to have a few side effects that we'll discuss later. Boost Nutritional Drinks contain no caffeine except for the chocolate version. The chocolate in the drink contains 5 milligrams (mg ) of caffeine or less. How does the caffeine content compare to other drinks on the market? We'll compare a few of them in the blog below for you.

Caffeine Content Comparison
Boost Nutritional Drink vs Other Drinks
As we previously stated, most Boost Nutritional Drinks contain no caffeine. However, the chocolate blends contain 5 mg of caffeine due to the cocoa in the chocolate.
| | |
| --- | --- |
| Boost Chocolate Nutritional Drink: | 5 mg in an 8-ounce bottle |
| Bang Energy: | 300 mg |
| Starbucks Triple Shot Energy: | 225 mg |
| Monster Energy: | 160 mg |
| Bang Energy: | 300 mg |
| Red Bull: | 80 mg |
| Coca-Cola: | 34 mg |
| Pepsi: | 38.9 mg |
As you can see, Boost's Nutritional Drinks contain less caffeine than other drinks, and they are quite a bit better for you.
What Is the Boost Nutritional Drink?
The Boost drinks are made by Nestle and are available in a few formulas. According to the formula you choose, this drink is said to have benefits for athletes, older people, people who are overweight, vegans, vegetarians, and even those people who suffer from gastrointestinal and other medical disorders. They are also a great source of complete protein and other nutrients.
Which Flavors Does Boost Have?
Boost has a few flavors that are all caffeine-free, except for the chocolate drink.
Rich Chocolate
Very Vanilla
Peaches and Cream
Creamy Strawberry
Side Effects of Boost Nutritional Drinks
There have been reports of a few side effects people have suffered when drinking Boost Nutritional Drinks.
Can hinder weight loss
Can affect kidney function
May interact poorly with medications
These are just a few side effects that can occur, especially if you have health issues. If you're considering adding Boost Nutritional Drinks to your diet as a supplement, it's best to contact your doctor to find out if it's the right choice of supplement for you.
Are Boost Nutritional Drinks Okay for Adults & Children?
These drinks are supplements and, therefore, intended for adults. It's best to ask your doctor before drinking this yourself and before giving it to a child.
Can You Drink More than One Boost in a 24-Hour Period?
A good rule of thumb to follow with Boost is not to drink more than three bottles a day. It's intended to be taken with a meal or as a snack, not to replace a good, healthy diet.
Where Can You Purchase Boost Nutritional Drinks?
You can find Boost Nutritional Drinks anywhere that these drinks are sold, such as brick-and-mortar stores, online retailers, and on the company's website.

Final Thoughts
Boost Nutritional Drinks are an excellent way to supplement your regular diet, but they shouldn't be used to replace regular meals. The drinks are caffeine-free, except for the chocolate version, which has 5 mg of caffeine due to the cocoa in the chocolate. There have been reported side effects, especially for people with health issues. As with any supplement you add to your diet, it's best to consult your doctor first to ensure that it's the best choice for you and won't interact with any medicines you're already taking.
---
Featured Image Credit: Amazon