Millions every day take vitamins and supplements for better health and wellness, especially athletic and active people looking for ways to increase their performance and stamina. The supplement industry is one of the largest in the world, often colliding with other billion-dollar industries like coffee and energy drinks.
MTC oil, CBD, and collagen are examples of supplements currently being added to coffee, creating a submarket for coffee lovers and supplement users alike. While collagen coffee is on the rise in the exercise world, the 'supplement and coffee' trends often don't pan out in the long run. So, is collagen coffee different and should you try it? Let's take a look at this new coffee hype:

What is Collagen?
Collagen is a protein that our bodies need, responsible for elasticity and tissue connectivity in our bodies. Collagen is in our skin, bones, muscle, tissue, and ligaments, so it's a no-joke protein that we need. Collagen contains over 18 amino acids and over 8 essential amino acids, each of which is incredibly important for our health. There are different types of collagen in the body, but they all have the same function of keeping the body together. In other words, collagen is responsible for youthful-looking skin, smooth joint movement, and overall bone health.
What are Collagen Peptides?
When shopping for collagen, there will be terms like "peptides" and "hydrolyzed" that can be confusing. Peptides are the active components of collagen- without the peptides in the supplements, there are no health benefits. Collagen peptides are the end result of processing collagen into a supplement, whereas hydrolyzed is just the term for the process itself. Simply put, both collagen peptides and hydrolyzed collagen will give you the same results.
How Do Collagen Supplements Help?
Collagen is a hot topic in the fitness and supplement world, so quite a few studies are available on its effectiveness as a supplement. Studies show that taking collagen on a short-term and long-term basis may help with healing skin and aging. It may also help with joint movement and pain, but the results of studies are mixed and limited. As for muscle recovery, the studies are limited as well and the results are mixed.
While collagen can bring some benefits, it's not going to drastically improve your health. Collagen is just like other supplements in that it may or may not work for you, so it's worth a try. Although supplements are not an FDA-regulated product, a high-quality, well-known brand of supplements that carry collagen should be safe. As with any supplement, consult with your doctor before trying it.
Will the Heat of Coffee Reduce the Collagen's Effectiveness?
Hot coffee has a temperature range of around 200°F, so there might be a concern that it could burn or devalue the collagen. Thankfully, most collagen supplements are hydrolyzed, which means that they're already processed and won't break down from the heat. Make sure to look for the word 'hydrolyzed' on any collagen supplement.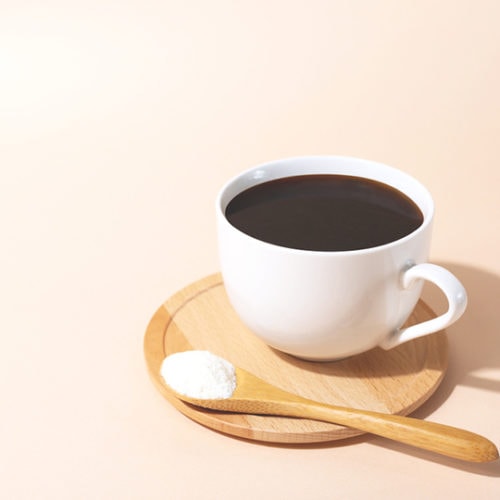 How to Add Collagen Powder Supplement to Coffee
Adding collagen to your coffee is easy. Here's the simplest way to add collagen to your coffee:
Equipment
Coffee mug

Spoon

Shaker (optional)
Ingredients
1

cup

hot coffee

1

scoop

collagen powder
Instructions
Pour a hot cup of coffee into a medium or large mug.

Measure out the recommended dose, using the scoop that comes with the powder.

Stir well until blended. If it's not mixing well enough, use a shaker bottle.

Fix your coffee like normal once the collagen is fully mixed.
Notes
Image credit: YuliaLisitsa, Shutterstock
Nutrition

Collagen in Coffee: Final Thoughts
Collagen is on the rise in popularity, promising multiple health benefits and youthful skin. While the science is still on the fence if it is truly beneficial, some collagen users swear by it. Many enjoy adding it to their morning coffee, which is totally fine as long as it's in hydrolyzed form. If you're curious about collagen in coffee and want to see if it'll benefit your overall health, it's worth giving it a try. As we said above, always consult with your doctor before trying any new supplement.
RELATED READ: Buttermilk in Coffee: Should You Try It?
---
Featured Image Credit: YuliaLisitsa, Shutterstock