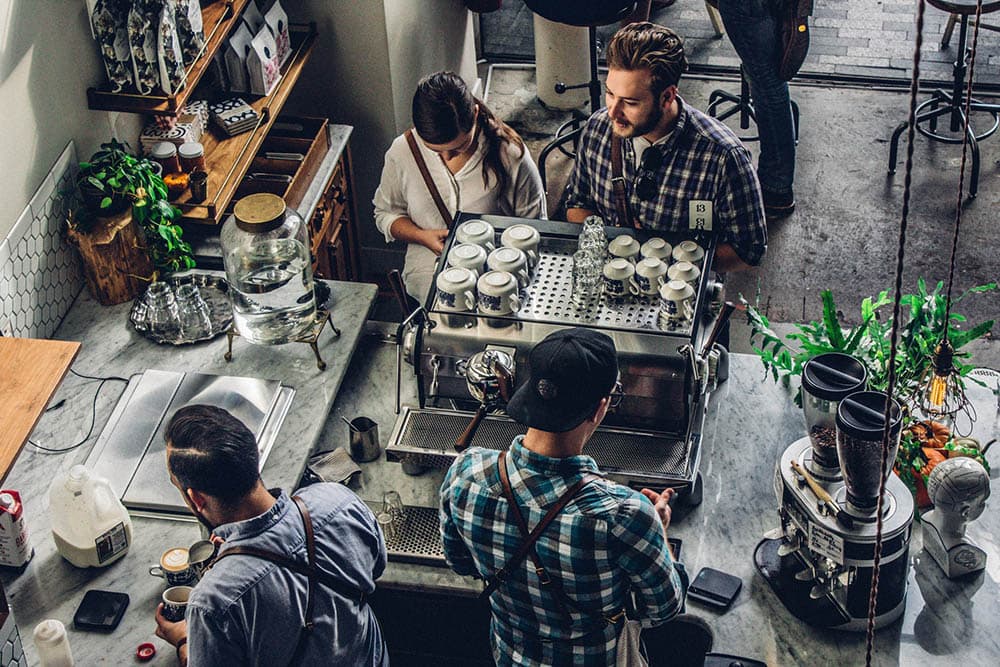 Madison, Wisconsin, has a vibe all its own. This capital city is family-friendly and known for its art scene. And, there's an independent coffee shop for every appetite and budget.
There's no way you could visit every cafe in Madison in just one trip. As you stroll along the isthmus, you'll find yourself overwhelmed by the cafe-lined streets.
To make your visit a little easier, we've rounded up the 10 best coffee shops as a starting point.

The 10 Best Coffee Shops in Madison, Wisconsin
1. Michelangelo's Coffee House
Michelangelo's Coffee House occupies prime real estate on State Street. As the cafe points out, "All roads lead to 'Michelangelo's." After you've finished your tour of the Capitol building, swing in for a cup of coffee and a bite to eat.
The cafe partners with Equal Exchange and Cafe Social. Next time you're in Madtown, swing by the "home of the small-batch brew."
---
2. Mother Fool's
1101 Williamson St., Madison, WI
Mother Fool's is more than a coffee shop; it's a self-described "cafe/general store/art gallery." You can sip on a hot beverage while browsing through their selection of local popcorn, wild rice, and garlic.
And, did we mention that it hosts magic shows from time to time? Its slogan is, "Coffee makes me nice," and we couldn't agree more.
---
3. Finca Coffee
Finca means "farm" in Spanish, and it's a fitting name. This shop buys its coffee directly from farmers in El Salvador. And that's no coincidence, as the owner is also from El Salvador and spices up the menu with Central American influences. You can get a panini anywhere, so be sure to try Finca's homemade Salvadoran quesadillas and pupusas.
---
4. Grace Coffee Co.
With six locations throughout the Madison area, you're never far from Grace Coffee Co. It roasts its coffee in-house, but beverages often take a backseat to the bake case. Grace Coffee Co.'s menu is seasonally inspired. In the spring, you can expect treats like Peep toaster pastries.
If you have to choose just one coffee drink, go for the cold brew. This drink garnered national attention at the 2021 US Cold Brew Championships.
---
5. Crescendo Espresso Bar + Music Café
719 Hilldale Way
1859 Monroe Street
Like other coffee shops on this list, Crescendo roasts its coffee in-house. It offers coffee subscriptions so you can enjoy the fresh-roasted beans at home. Pair a cup of joe with a breakfast sandwich or burrito.
Crescendo is a coffee shop with a sense of humor, in a state that takes cheese very, very seriously, Crescendo announced a new spring drink, the Mac and Cheese Latte. While this savory latte would make for an interesting dare, you won't find it on the menu. It was an April Fool's joke.
---
6. Cargo Coffee East
750 East Washington Avenue
The family-owned Cargo Coffee East is more than a cafe. It's also a cozy place to catch local live music or watch up-and-comers during open mic night. In addition to the delicious coffee and espresso drinks, it also serves wine and beer.
Cargo Coffee creates its tasty sandwiches with local Madison Sourdough croissants. Their classic menu includes wraps and soups for lunch.
---
7. The Victory
The Victory is a local coffee shop that doubles as a gallery for local artists. Stop in for breakfast or lunch. The stars of the menu are the house-made granola and waffles. Be sure to follow up your meal with an espresso float or shake.
If you have a sweet tooth or sweet teeth, you're in luck. The Victory serves up decadent donuts in flavors like Chai and Churro.
---
8. Fair Trade Coffee House
The Fair Trade Coffee House lives up to its name, as it serves coffee roasted by Equal Exchange. This spacious cafe is open late, so night owls have a place to get their caffeine boost.
Go for something different and try a Turkish Latte or a Cafe Miel. If you're in the mood for a caffeine-free drink, you can't go wrong with Strawberry Fields or Cheeky Monkey smoothie.
---
9. Johnson Public House
The Johnson Public House takes the avocado toast trend to the next level. It"s known for the creative toast specials, like avocado and confit oyster mushrooms with feta.
This coffee shop is less than a block from Lake Mendota. If the weather is nice, take your coffee and meal to go and enjoy the views at James Madison Park.
---
10. Black Locust Café
829 East Washington Avenue
The Black Locust's extensive menu offers plenty of omnivore, vegetarian, and vegan delights. Its rotating selection of sweet and savory crepes will make you a return visitor.
In addition to coffee, beer, and wine, it also serves a small menu of cocktails.

Madison Is a Haven for Independent Coffee Shops
While the big coffee chains offer predictability, Madison's coffee shops provide an experience. Whether you want an early breakfast or a late-night snack, you'll find it along Madison's lakeshore.
Each coffee shop offers something different, but you'll note some common themes. Madison is home to several family-owned shops and in-house roasters, and the coffee doesn't get any fresher.
---
Featured Image Credit: Joshua Rodriguez, Unsplash