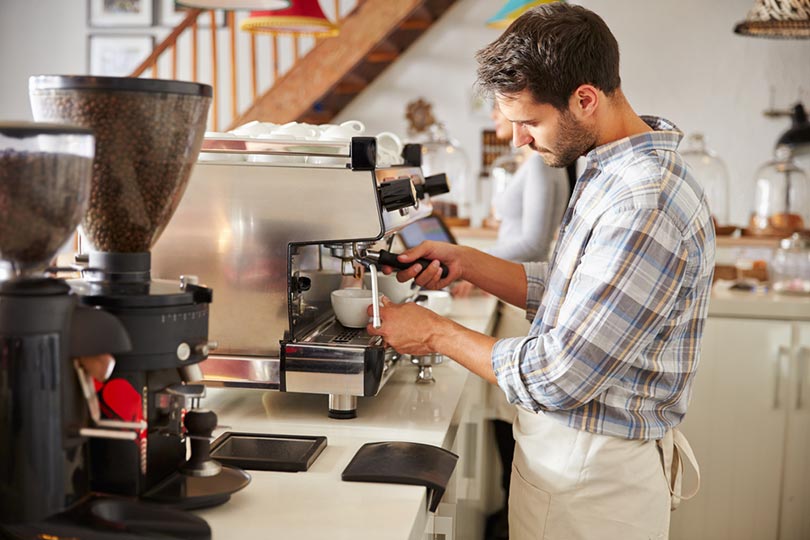 Life in Lubbock, like so many cities around the US, starts with a great cup of coffee each morning. For those who prefer grabbing that cup of coffee on the go, finding the perfect coffee shop is a must. Whether you're in the mood for a good atmosphere, baristas who are excellent at their craft, or simply a place that makes a good cup of joe when you're in a rush, Lubbock has something for everyone. Here's a look at our favorite coffee shops in Lubbock. You'll be surprised at what's waiting for you if you take the chance and stop by any of them.

The 8 Best Coffee Shops in Lubbock
1. J&B Coffee
2701 26th Street, Lubbock, Texas
If you're looking for an iconic coffee shop in Lubbock, J&B Coffee is the place you want to visit. This coffee shop has been around since 1979. Beloved by locals, this shop offers delicious coffee drinks and an atmosphere everyone loves. It's one shop you simply cannot miss when in Lubbock.
---
2. Monomyth Coffee
2024 Broadway, Lubbock, Texas
One of Lubbock's newer coffee shops is Monomyth Coffee. At this cozy local shop, they aim high when it comes to the expectations of its customers. They serve amazing coffee drinks featuring syrups made in-store. You'll also find tasty pastries and a welcoming atmosphere.
---
3. Sugar Browns Coffee Co.
67th Indiana Ave Lubbock, Texas
Sugar Browns is one of the most popular coffee destinations in Lubbock. This local coffee shop is known for its bold coffee flavors and an atmosphere people simply love. If you have time to sit and enjoy a good cup of coffee, then bringing your current book or laptop will make a visit to Sugar Browns complete.
---
4. Bara' Coffee
4404 122nd Street, Lubbock, Texas
If you're looking for a coffee shop off the beaten path, Bara' Coffee is a great destination. This little shop is the perfect place to sit and relax with a cup of coffee. Their coffee beverages are yummy and their pastries are memorable. If you want a quiet, out-of-the-way shop, this is your answer.
---
5. Yellow House Coffee
3017 34th Street, Lubbock, Texas
Yellow House Coffee has everything you're looking for in a local coffee shop. Their coffee is top-notch. They have a great assortment of drinks to choose from, and they have tasty pastries and cinnamon rolls to curb your appetite when called for. If you're looking for a new place to try, go on an empty stomach and enjoy.
---
6. Gold Stripe Coffee Roasters
2610 Salem Ave Suite 5, Lubbock, Texas
With humble beginnings as a mobile coffee shop, Gold Stripe Coffee Roasters has grown and is taking Lubbock by storm. You can visit the brick-and-mortar shop to sip a beloved coffee beverage and connect with friends, or order online and enjoy your favorite beans at home.
---
7. Ninety-Two Bakery & Café
6303 82nd Street, Lubbock, Texas
When you step through the doors of Ninety-Two Bakery & Café you'll instantly smell the deliciousness. This shop not only hand-crafts coffee beverages to your liking, but they also have a full food menu to curb your hunger. If food isn't an option, but you want a sweet treat, their pastries are also light and delicious.
---
8. He-Brews Coffee
2700 Marshall, Lubbock, Texas
He-Brews isn't your typical coffee shop. Located inside the Walk by Faith radio studio this faith-based coffee company serves up delicious drinks and much more. With an indoor area and a beautiful patio, you can sit and enjoy your coffee then rent a kayak or paddleboard for a day of adventure.

Final Thoughts
As you can see, there's no shortage of great coffee shops in Lubbock. If you're a local to the area or visiting the lone star state, make sure to take the time to visit each one. With the tasty coffee, friendly faces, and welcoming atmosphere you'll experience, there's no doubt your first trip to any of these coffee shops won't be your last.
---
Featured Image Credit: Monkey Business Images, Shutterstock