If you're anything like us, coffee is more than just a beverage you enjoy every morning. It's a passion, a chosen career, and a lifestyle. It's your favorite form of social interaction, and few things bring you as much joy. Especially given how many other people enjoy their mornings in the comfort of a coffee shop, you may be thinking of opening your own.
Opening a coffee shop is an exciting endeavor, but it's also rather scary. There are countless things you need to plan and execute before the first cup is served, and even after that, running a coffee shop will be difficult. But we don't want to stop you! That's why we put together this list of tips to help you on your journey of starting a coffee shop. Let's get started!

Top 14 Tips for Starting a Coffee Shop:
1. Planning
Actually, let's not get started just yet. Opening a coffee shop is a time- and work-intensive endeavor that requires a lot of careful and calculated planning. Your planning phase could take anywhere from a month to a year, depending on where you are in the thought process and how dedicated you are to making this happen.
SEE ALSO: Which US City Has the Most Coffee Shops Per Capita?
---
2. Franchise vs. Self-Owned
The first significant decision you'll need to make is whether you'll be purchasing a franchise or starting your own company and building it from the ground up. Both options come with their own pros and cons.
Buying a franchise usually means you don't need to worry about outfitting a commercial space, finding vendors for the products you plan to sell, or — in some cases — marketing, which can be incredibly difficult for an unknown company. You'll usually pay a fee upfront and ongoing franchise fees, but a lot of work is done for you, and you get a team of professionals who will back the brand.
Alternatively, owning your own company means you aren't held to the rules of a franchise. You'll pay no fees to a corporation, and you can do what you want when you want.
---
3. Create a Business Plan
You should make sure to create a business plan early on in the planning stage. Prepping a business plan isn't the kind of glamorous work most people envision when they think of starting their own business, but it's necessary for a few reasons.
If you're going to be looking for any kind of lending, you'll need a solid business plan to prove your coffee shop will be profitable. You should also want to prove it to yourself! Creating a business plan and predicting how and when all of the pieces will fit together will also put your mind at ease a bit, knowing what can be expected in the future.
---
4. Find Your Target Market/Create Your Brand
Many businesses with products as popular as coffee skip this step, but branding and catering to a specific audience is your best bet for gaining and retaining customers. Would you prefer to go to a coffee shop that's merely close by or one that you know is filled with like-minded people who are passionate about what you love?
We recommend coming up with a very well-defined person that your coffee shop will be perfect for — like people who love outdoor adventure or people who love art — and catering to that group first.
---
5. Decide on Your Product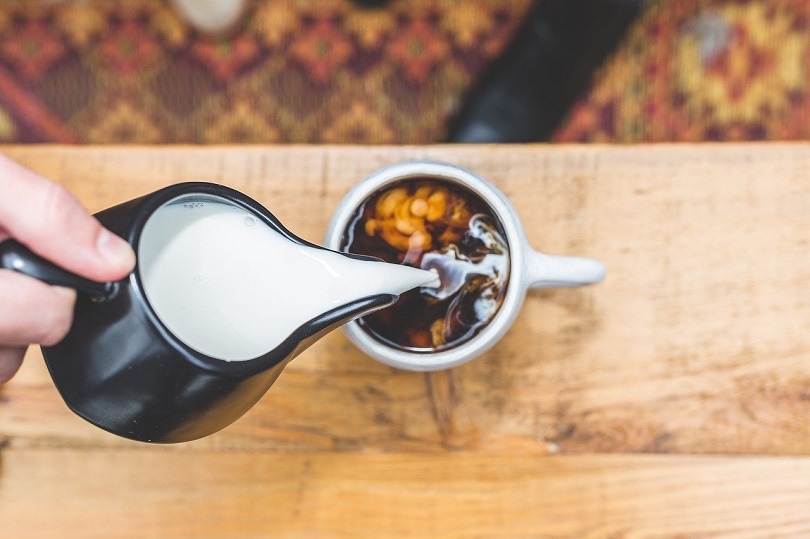 Now you're ready to think about the product you'll sell! Of course, we mean coffee, but also anything else you'll offer to your customers. Where will you source your beans? Will you roast them yourself? Do you need to buy a roaster?
In this step, you should also consider if you'll offer breakfast or lunch food, snacks, pastries, tea, soft drinks, and even Wi-Fi. These are all things that could keep your customers coming back, which is precisely what you want!
---
6. Form Your Business
Once you have a lot of the planning done and are confident in the direction you're moving, you can form your business! Going through this legal process is a critical step because it determines how you'll be taxed, how your employees will be paid, and what entity is responsible for any legal issues if there are any later on.
The most common business structures are Limited Liability Companies (LLCs), C Corporations, and S Corporations.
---
7. Get Funding
With all of this planning, you're probably getting an idea of just how expensive opening a coffee shop can be! The last tip in the planning stage is to get funding early on. You can meet with local lenders or venture capitalists to discuss financing and repayment. Although it may be tempting, we strongly recommend against asking friends and family to pitch in.
You may want to consider crowdfunding on platforms like Kickstarter, or you may consider looking for a small business grant or government funding programs.
---
8. Action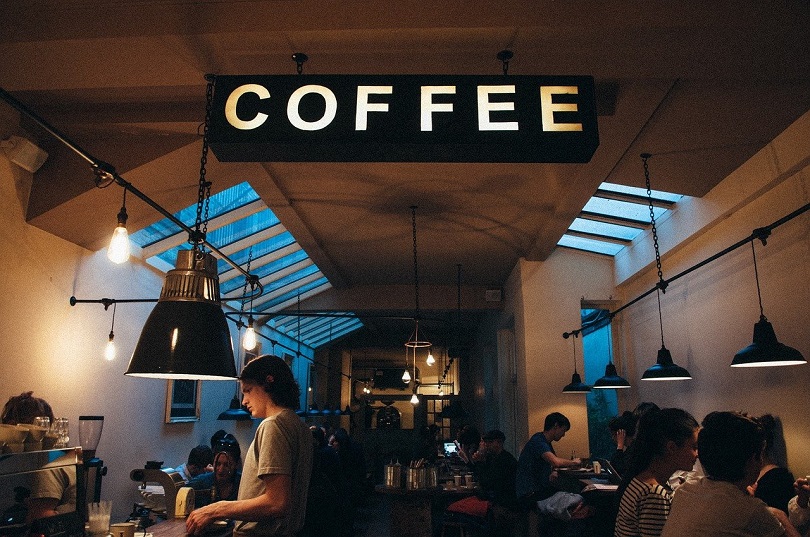 After all that planning, you're finally ready to dive into getting some things done! It may have seemed like a lot to do in the planning phase, but having your future set out in front of you is critical when undertaking something as serious as starting a coffee shop. And trust us, it only gets more complicated from here! However, these next tips are exciting and will likely motivate you to keep moving toward your goal.
---
9. Find a Location
You're likely ready at this point to find a location for your coffee shop! There is a lot of planning that will go into this step too, but you'll really need to get out and go on the hunt for the perfect location. Consider the below tips for finding a place that will serve you well.
Cost of Rent
The cost of renting your space is critical because it'll be the amount of money you pay monthly, whether your business is booming or not. Don't dive into the first location you find that might be convenient or centrally located. You should consider the cost of renting the space above all else because the perfect place at double your budget isn't the perfect place!
Traffic
You should consider both vehicle and foot traffic when choosing the site for your coffee shop. People driving by your coffee shop will be reminded of your product every time they pass by.
Foot traffic could make or break a coffee shop too. Many larger businesses have hefty marketing budgets to drive traffic to their stores, but potential customers naturally walking by your shop is a great way to get free advertising. New customers may decide to stop in for a coffee on their way to run errands, and they may return if they love your product.
Size
The size of a retail space is vital for any business, but it's especially important for a coffee shop. Many people frequent coffee shops that have a good atmosphere, so a wide-open space with few people inside won't be ideal. Conversely, an area that's too small can make your shop feel overcrowded and turn people away.
Parking
Lastly, we strongly recommend you consider parking. Many food establishments live and die by their parking. If customers can't conveniently get to your shop, they likely won't go at all. Ensure your location has plenty of dedicated parking, or customers may find a different shop even if they love your coffee or atmosphere.
---
10. Outfit Your Space
Once you find the perfect location for your coffee shop, it's time to get it ready for servicing your customers! There are a few different steps involved in prepping your space for business.
Renovation
Depending on the space you find, you may need to carry out some renovations. These could include replacing flooring, painting, updating light fixtures, replacing doors, or updating the bathrooms.
Prepare to Serve
You may also need to have equipment installed to make your space look and operate like a coffee shop. This step may include installing a coffee roaster, putting in a counter and cash register, installing shelving for take-home products, putting in refrigerators, ovens, stovetops, sinks, and any other equipment that you'd need to serve coffee and food if you choose. Don't forget to choose a great commercial espresso machine and coffee grinder!
Decorate
Last but certainly not least, you should decorate your coffee shop. At this point, you should have a very good idea of who your target customer is and the people you'll be working to attract into your shop. The decor you choose should be in alignment with your target customer.
For example, if you're targeting people who love both coffee and art, you may want to start by setting up a small art exhibit in a corner of your shop with pieces from local artists. If you're targeting people who love biking, hanging a road bike from the ceiling or using bike parts to decorate will draw your target customer's attention.
Have fun with this step, and you'll be more likely to create something spectacular.
---
11. Hire and Train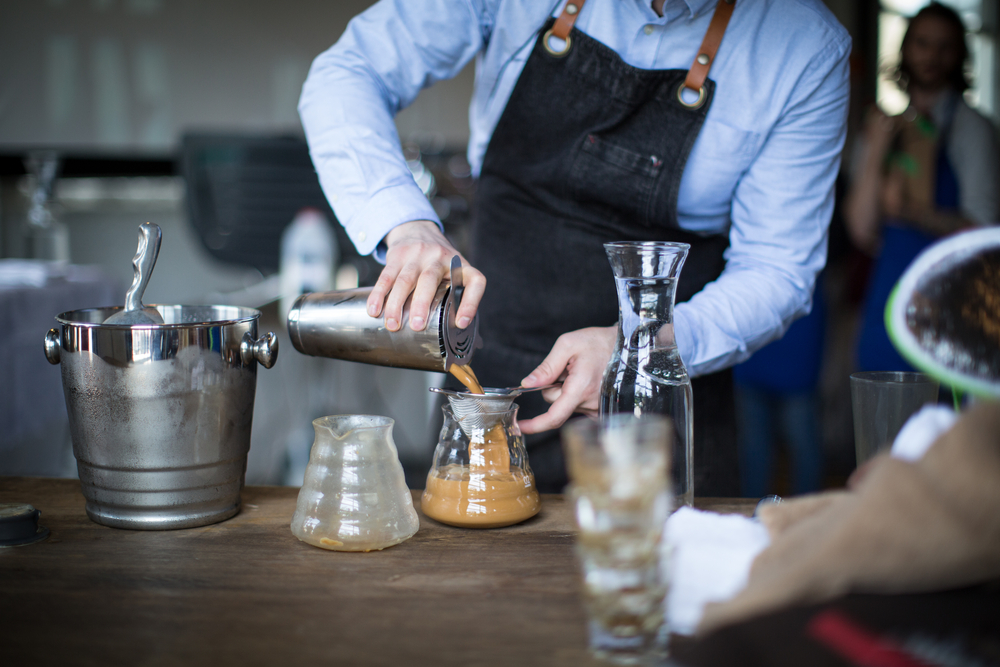 The last piece of the puzzle before you move onto the very exciting launch stage is to get a team of like-minded people to stand behind you on opening day. You may need someone skilled with roasting coffee, a barista or two, and a cashier. These people will all need to be hired and trained before opening day to ensure that your first day of business is a smooth success.
Alternatively, you can choose to run the coffee shop yourself. Doing so is a big undertaking, and while we recommend hiring and training others to back you, you could handle everything yourself if you have a small enough shop.
---
12. Launch
You're finally ready to open your coffee shop! Well, almost. By this point, you should have your shop outfitted with all of your equipment, decor, and product. Now all you need is a crowd of customers. These next few tips will help take you from a proven concept to booming success.
---
13. Market/Hype Up the Launch
Before you actually open your doors, you want to make sure that people are waiting outside to come in. That's where your launch marketing comes in. Your goal here is to drum up excitement for your new coffee shop and get your shop's name in front of as many people as possible.
You can do this by running social media accounts and advertising campaigns locally to let people know you're opening. Try teasing with photos of the interior of your space, including some background information on yourself and why you're starting a coffee shop, or highlighting the decor and the brand you're building to attract specific customers on opening day.
You may even want to consider reaching out to local news stations or bulletins to let them know about the planned launch. They may be interested in covering your story and telling their readers a little bit more about you and your endeavor.
---
14. Execute Your Launch
Finally, on your opening day, swing those doors open and welcome in the world! Your opening day is very likely to be hectic and a bit overwhelming. A little stress is expected, so stay positive! You and your team of employees will figure out the most effective ways to operate the day-to-day duties, and with your help, things will be organized in no time.
It's always important to focus on two things when it comes to starting a coffee shop: quality of product and customer service. Without one or both of these things, you're setting yourself up for failure. Never compromise on your product, and always ensure that you and your employees provide excellent customer service and have a warm and welcoming demeanor when interacting with customers.
Wrapping Up
There you have it: our 14 tips for starting a coffee shop. We know there's a ton of information here, and it can get overwhelming, but remember to stay optimistic, engaged, and positive. This is your vision, and you'll get to share your passion with the people in your community. There are few things more exciting than that, so never forget why you wanted to start a coffee shop in the first place.
This business will be your baby, so make sure you follow these tips above for successful planning, execution, and opening of your new business. And let us be the first to say: congratulations!
RELATED READS:
---
Featured image credit: Free-Photos, Pixabay