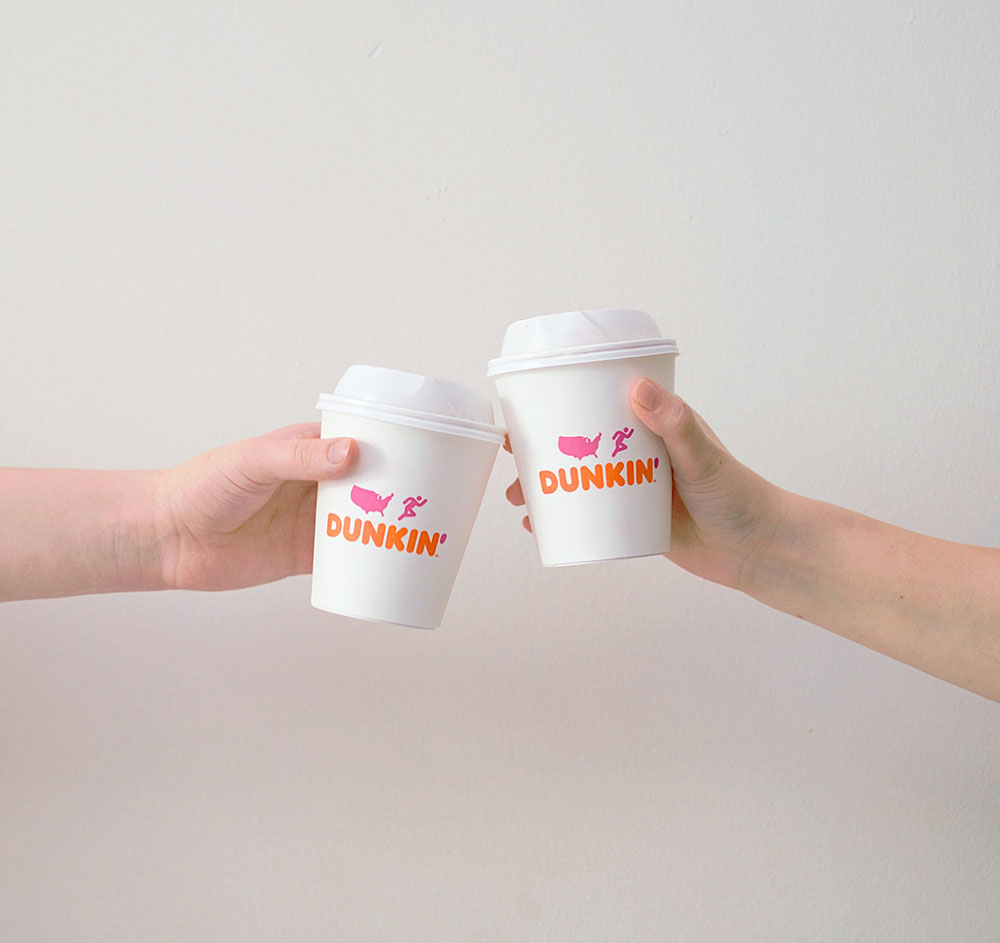 If you're a fan of coffee, you've most likely tried a cup of freshly brewed coffee at your favorite Dunkin' Donuts location. Those who have tasted it understand the love so many coffee lovers have for this brew. The rich, bold flavors stay with you throughout the day. There's also the added bonus of the company having so many different coffees and flavors to choose from.
While you may love stopping by Dunkin' Donuts, a popular donut chain that began in the 1950s, have you ever considered Dunkin' Donuts' caffeine content? Most of us don't. For coffee drinkers, we simply order our favorite beverages and continue our day. But, for people who are watching their caffeine content or find themselves suffering from intolerances, knowing Dunkin' coffee's caffeine content is crucial. Let's take a look at how much caffeine is in Dunkin' Donuts coffee so you can better understand what you're getting each time you stop by.
The short answer is that a 14-ounce cup of Dunkin' Donuts brewed coffee contains 210 mg of caffeine. Keep reading to learn more!

How Much Caffeine Is in Dunkin' Donuts Coffee?
When you gulp down a 14-ounce cup of Dunkin' Donuts brewed coffee, you are consuming a whopping 210 milligrams of caffeine. In the past, this amount was much lower. Over the years, however, Dunkin' Donuts has raised its caffeine content by changing how its coffees are brewed. This now puts them on the same level as the coffee giant, Starbucks. Unfortunately, however, not all Dunkin' Donuts consumers are fans of this change. For years, coffee enthusiasts appreciated the lower caffeine levels in Dunkin' Donuts coffee as their go-to for a lighter pick-me-up. But the market seems to be demanding higher levels of caffeine these days, and companies are changing their brewing methods to meet demand.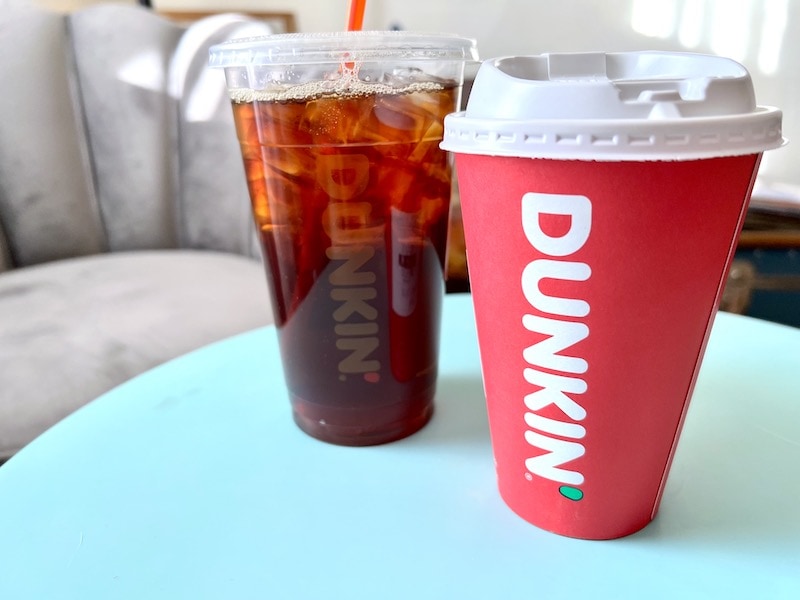 Let's take a look at the caffeine content of a few of Dunkin' Donuts' most beloved coffees and coffee beverages.
| | |
| --- | --- |
| Brewed coffee  (14-ounce) | 210 mg |
| Decaf coffee  (14-ounce) | 10 mg |
| Espresso | 118 mg |
| Latte (14-ounce) | 166 mg |
| Americano (14-ounce) | 284 mg |
| Iced Coffee (16-ounces) | 198 mg |
| Cold brew (14-ounce) | 260 mg |
| Iced latte  (16-ounce) | 118 mg |
Is the Dunkin' Donuts Caffeine Content Considered High?
Like with any coffee shop you visit, caffeine is present in most drinks. While you may be wondering if the caffeine content at Dunkin' Donuts is higher than others, you'll be pleased to know the answer is no. In fact, Dunkin' Donuts is on par with or lower than other popular coffee shops around the world. Let's see where a regular cup of coffee measures up against other coffee shops and their famous regular cup of coffee.
| | |
| --- | --- |
| Coffee Bean & Tea Leaf (16-ounce) | 333 mg |
| Starbucks (16-ounce) | 310 mg |
| Caribou (16-ounce) | 305 mg |
| Dunkin' Donuts (14-ounce) | 210 mg |
Being Safe with Caffeine
While it's natural to worry about the amount of caffeine you consume daily, understanding your own body can make things easier for you. If you have a high tolerance for caffeine, you may be able to drink more than the recommended daily suggestion of 400 milligrams. If not, sticking to half that amount may be best suited for you. If this is the case, a Dunkin' Donuts Iced Coffee's caffeine level of 198 mg may be the only coffee beverage you need throughout the day.

Final Thoughts
As you can see, Dunkin' Donuts wants to be a respected part of the coffee wars we witness daily. Whether you've been visiting Dunkin' Donuts for years or are new to their offerings, expect a great cup of coffee and the expected 210 mg of caffeine. If this is tolerable for you, Dunkin' Donuts may quickly become your next favorite place to hang out.
See Also: Homemade Dunkin Donuts Chai Latte Recipe: Easy Steps!
---
Featured Image Credit: Isabella and Zsa Fischer, Unsplash