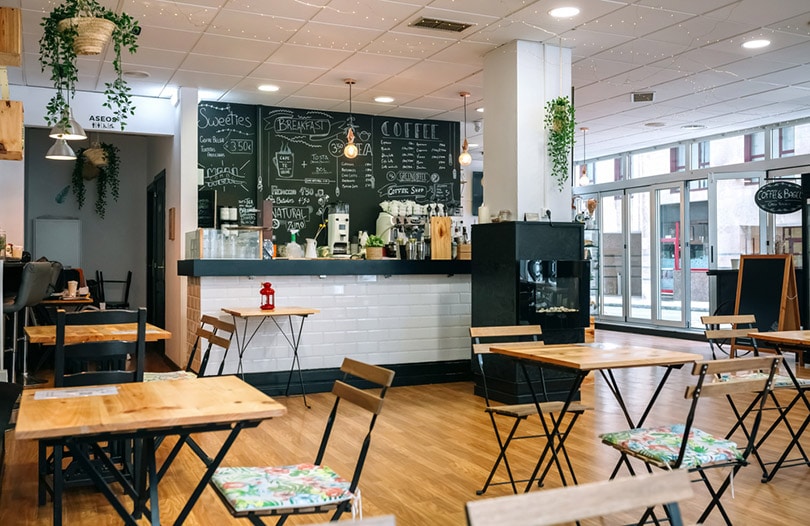 Seattle is one of the most important locations in coffee culture and history, a place where coffee shops and baristas strive to make the best-tasting coffee possible. Home to coffee giants like Starbucks and Seattle Best, local coffee shops are proving that quality is simply better than quantity. Skip the long lines at the big coffee chains and head over to one of Seattle's many different types of coffee shops. Here are 10 of the best coffee shops in Seattle:

The 10 Best Seattle Coffee Shops
1. Fulcrum Café
590 Bell St, Seattle, WA 98121
What to Order: Espresso, Drip-brew (single-origin coffee)
Fulcrum Café is an important coffee shop in Seattle, offering traditional coffee flavors and keeping up with modern times. With three brands (Fulcrum, Silver Cup, and Urban City) featuring different aspects of coffee, they're able to offer some of the best-tasting coffees for everyone. Single-origin and traceable coffee beans are the hallmark of Fulcrum Café, so you'll have access to top-notch coffee that they roast in-house. They also offer a small yet satisfactory food menu and non-coffee drinks, all within a cozy yet sleek interior that leaves you wanting a second cup.
---
2. Anchorhead Coffee
CenturyLink Plaza, 1600 7th Ave Ste 105, Seattle, WA 98101
What to Order: Single-origin espresso, Nitro Cold Brew
Anchorhead Coffee might be a Duvall-based roastery, but their retail location in Seattle is hard to beat. The intimate, cozy interior and the high-quality coffee beans provide quality over quantity. While they offer single-origin coffee beans from many different locations, their most popular batches come from Ethiopia. They also have fresh baked goods to pair with their top-notch brew, so it's a great place to settle in and engage with friends. With many repeat customers and regulars that they know by name, Anchorhead Coffee strives to be a part of the community.
---
3. Seattle Coffee Works
108 Pine St, Seattle, WA 98101
What to Order: Light-roast Espresso, Iced Latte
Coffee shops can have an elitist feel to them, but Seattle Coffee Works likes to step away from that kind of environment. Their specialty is in single-origin coffee, roasting them expertly and consistently to bring out the flavor notes. Light and medium roasts are the most popular, though they offer a variety of roasts and beans. The interior has a traditional coffee shop feel with a modern ambiance, combining two worlds into a calm environment. Whether you're looking for a quieter social setting or a place to delve into a book, Seattle Coffee Works is the perfect coffee shop for that.
---
4. Caffe Ladro
2205 Queen Anne Ave N, Seattle, WA 98109
What to Order: Medici (Orange Zest Mocha), Gibraltar
Caffe Ladro has a bit of an underdog vibe, a coffee shop that opened up right next to the world-famous Starbucks. The name means "coffee thief" in Italian, a tip of the hat to the courage it took to challenge the big coffee franchise. High-quality beans from carefully sourced farmers in major coffee-growing regions, Caffe Ladro strives to provide premium coffee and espresso on a consistent basis. The coffee shop has a dimly-lit, rustic feel to it that adds to the friendly environment, making it one of the best places to grab a coffee in Seattle.
---
5. Café Allegro

Alleyway, 4214 University Way NE, Seattle, WA 98105
What to Order: Mocha, Cappuccino
Café Allegro is a hidden gem of artwork and a distinct feel to it, a hub for creativity and community. Opening as the first espresso bar in Seattle, they remain a steady competition for the newer coffee shops. Their original espresso blend and handcrafted drinks have stood the test of time, competing against multiple coffee shops in the same area. They also sell small-lot batches of premium coffee and a variety of baked goods, so it's a great place to take a break and enjoy a piece of Seattle history. If you're in the University area, Café Allegro is a great place for some coffee and art.
---
6. Elm Coffee Roasters

240 2nd Ave S Seattle, WA 98104
What to Order: Espresso, One and One (black coffee and espresso), Cortado
Single-origin coffee beans and small-batch roasting are the signatures of Elm Coffee Roasters, a roaster and coffee shop that enjoys the whole coffee shop experience. They work directly with coffee farmers in select locations, both for top-notch quality and economic sustainability. But Elm Coffee Roasters isn't only about the coffee, but also about having a welcoming energy and a place to enjoy socializing. The minimalist atmosphere and distraction-free environment prove to be a great choice, as it cultivates conversation with a great cup of coffee.
---
7. Fonté
1321 1st Ave, Seattle, WA 98101
What to Order: Turkish Latte, Espresso
There's a little bit for everyone at Fonté, whether you want to try the Italian blends or the single-origin coffee beans. The in-house roaster's coffee shop in downtown Seattle succeeds in its sleek European atmosphere, complete with an array of breakfast and lunch items. It's a great coffee shop for a lunch date with friends while also experiencing some of the best coffee in Seattle. While the warm interior will make you want to stay, there are plenty of quick things to eat along with your coffee to go. Their Turkish latte is one of their signature drinks, which alone is a reason to visit.
---
8. Caffe Vita Roasters
813 5th Ave N, Seattle, WA 98109
What to Order: Stressless (Adaptogen) Hot Cocoa, Cardamom Rose Latte
Caffe Vita Roasters is not new to the coffee-roasting game, selling their fresh-roasted coffee since 1995. The small but warm interior is a nice break from the larger coffee shops in Seattle, making it a great place if you're on a solo trip in the city. Explore single-origin coffee and hand-selected coffee bean blends, as well as delicious espresso-based drinks. They also serve a variety of bites and baked goods to eat, which pairs so well with their fresh-roasted coffee. With its location downtown and a welcoming environment, it's no surprise that Café Vita Roasters is a local favorite.
---
9. Espresso Vivace
532 Broadway E, Seattle, WA 98102
What to Order: Latte, Iced Latte, Oat Milk Latte
Latte art is a staple in coffee and espresso culture, which many give its popularity credit to the owner of Espresso Vivace, David Schomer. They sell a variety of espresso blends and single-origin beans, choosing high-quality beans for their customers. Latte art enthusiasts will enjoy the vibe and, of course, the art skills that the baristas at Espresso Vivace have. Their espresso is consistent, and the latte art is always superb, making it an important stop in Seattle. It can get busy in the stores and may feel a little overwhelming, but their walk-up sidewalk coffee shop is an easy fix to that.
---
10. Victrola Coffee Roasters
310 E Pike St, Seattle, WA 98122
What to Order: Cortado, Latte
If you like to read in a rustic environment or grab a window seat to people-watch, Victrola Coffee Roasters on Pike Street is a great stop. It has that classic cozy coffee shop feel, so enjoy a nice cortado or latte. Victrola Coffee Roasters selects high-quality beans and roasts them in-house, using globally sourced beans to deliver premium coffee. It can get busy quickly, and you may be waiting for your coffee, so it's not the best stop for on-the-go coffee. However, the wait is usually worth it, especially for their popular cortado.
---
Honorable Mention:
Starbucks Reserve Roastery
1124 Pike St, Seattle, WA 98101
What to Order: Try as much as you can! There are seasonal drinks, pour-over batches, tasting menus, drafts of cold brew, and cocktails. It almost has a wine-tasting feel to the experience.
Seattle is home to the oldest Starbucks in the world, but it's still a typical Starbucks and lacks the complexity of premium coffee shops. However, Starbucks heard the pleas for better-tasting coffee and launched the Starbucks Reserve, a luxurious upgrade from their normal franchise coffee.
They specialize in small-batch roasting and very rare, premium-quality coffee, making it a true step away from the original Starbucks flavored drinks. It's simply a great experience, and the coffee is infinitely better than their regular stores, so it's worth the stop if you're in Seattle.

Conclusion
Seattle is chock full of coffee shops and cafes, offering some of the best-tasting coffee in the world. There are local roasters, coffee shops specializing in single-origin, and modern pour-over cafes that have all established themselves in Seattle's history, creating a truly unique coffee culture. If you're looking for coffee shops to visit, you won't have to look hard to find a high-quality cup of coffee.
Looking for more coffee shops?
---
Featured Image Credit: David Pereiras, Shutterstock